Strawberry Rhubarb Mini Pies are sweet, tangy, full of flavor and are packed into a delicious, flaky crust that use pantry staples and refrigerated pie dough.
Strawberry rhubarb mini pies are filled with fresh sweet strawberries and tart rhubarb that are topped with a buttery flaky crust. These mini pies are simple to make using a cupcake tin and are the perfect single-serving size.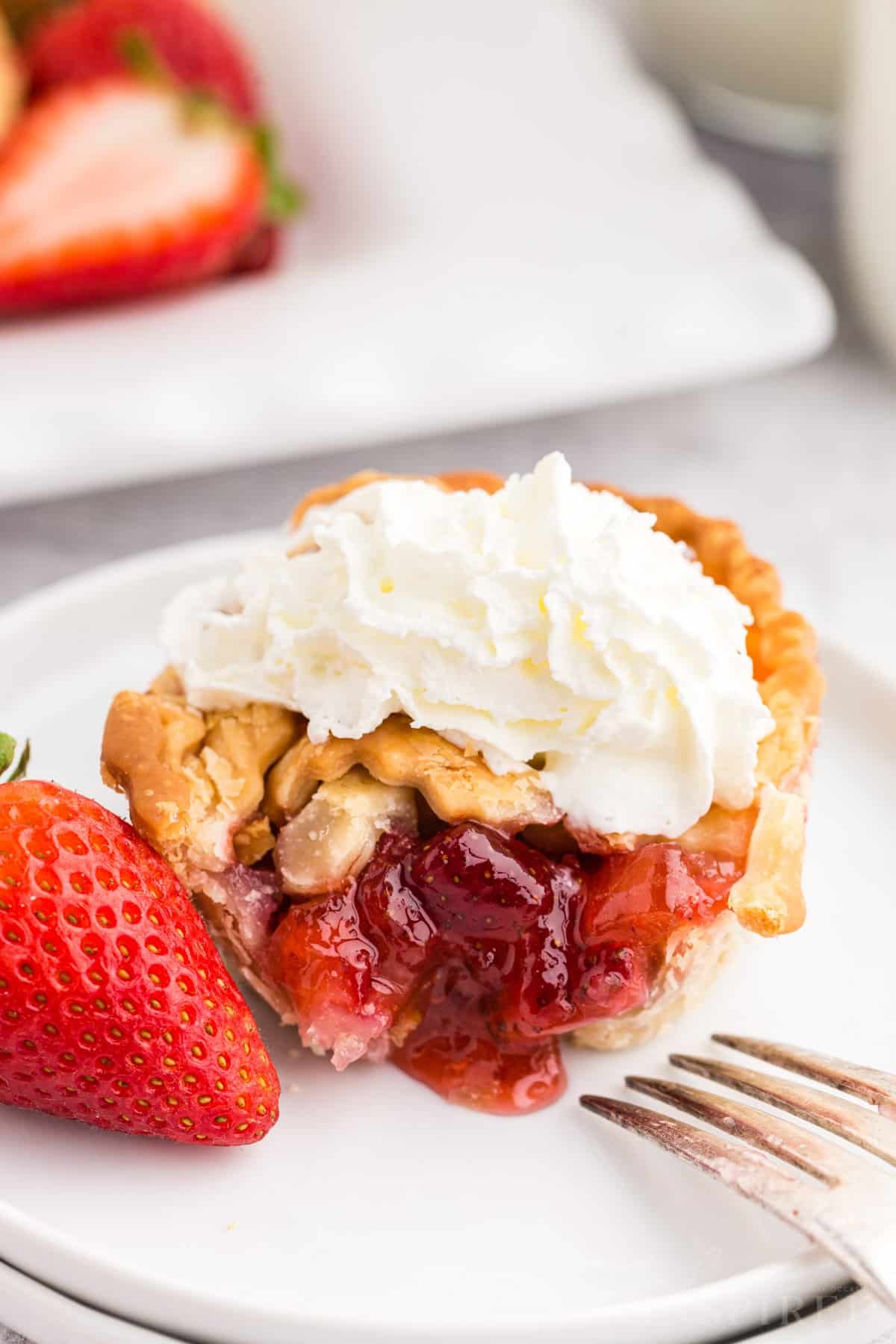 While I love making a whole strawberry rhubarb pie with juicy strawberries and chunks of rhubarb, they are super cute and easy to serve when they are mini-sized! It's a perfect way to serve desserts when you want to have more than one option for guests and you are going for a more elegant presentation.
Even though rhubarb is a vegetable, you can quickly turn it into a sweet treat! If you have leftovers you can add them to a large saucepan with lemon zest and sugar. Wait for it to cook down, then use it as a topping, mix it in with yogurt, or turn it into more pies.
Mini strawberry rhubarb pies are always a hit around our house! If we don't want to bother with fresh fruit, we used canned fruit filling and they turn out delicious! Our favorites are apple hand pies, raspberry, peach, and cherry cheesecake. I recently used a similar recipe to make mini blueberry pies, and I just know there will be a lot of these in our future!
Jump to:
🍓 Ingredients:
fresh strawberries – you can use frozen berries if you have to. Thaw them completely and drain them as much as possible.
fresh rhubarb – you'll want to chop the rhubarb stalks into small pieces so they fit in the pies. Don't forget if you get fresh from a farmer's market or something that the leaves are poisonous so you never want to cook with those!
sugar – helps to sweeten the filling
cornstarch and all-purpose flour – acts as a thickener.
vanilla extract – adds a little more flavor to the filling.
refrigerated pie crusts – for ease we are using store-bought, but homemade is always better if you have a few extra minutes. Use my butter pie crust recipe for these miniature pies.
salted butter – unsalted butter can also be used.
For a complete list of ingredients and their measurements, please refer to the printable recipe card 📋 at the bottom of the post.
Optional Garnish:
a scoop of vanilla ice cream or whipped cream, a sprinkle of turbinado sugar
Equipment Needed:
Muffin tin
Pastry brush – to seal the edges with water
Biscuit cutter or circle cookie cutter – if you don't have a cutter you can use the rim of a glass.
Sharp knife or pizza cutter – to make the lattice top.
Substitutions and Variations
Use your favorite fruit – swap the strawberries and rhubarb out to make different fruit pies.
Crumble topping – if you would rather not have a flaky pie crust, use the recipe for my streusel crumb topping instead.
Homemade mini pie crusts – You can make these little pies using your favorite oil crust or butter crust recipe. Remember when using your own dough, you will need a lightly floured surface while cutting the dough disks.
Store-bought filling – we love using fresh ingredients, but you can also use strawberry rhubarb pie filling from the store, or any other flavor.
🔪 Instructions:
PREP: Wash and chop the fresh fruit into chunks. Preheat oven to 425 degrees.
Step 1: Add the berries and rhubarb to a large mixing bowl.
Step 2: Combine flour, cornstarch, sugar, and vanilla, with the strawberries and rhubarb. Stir and set aside.
Step 3: Unroll the crust on a piece of parchment paper and use a round cookie cutter to circles in the pie dough. Gather the dough scraps and re-roll to cut out the remaining dough rounds.
Step 4: Press the dough into the muffin cups of a well-greased pan.
Pro Tip: If the crust is left out for too long, it gets overly soft. If needed keep cold until you are ready to use. However, it does need to sit out for about 10 minutes before rolling.
Step 5: Spoon the fruit mixture into each of the mini pies. Add a piece of cold butter to the top of each pie filling.
Step 6: Lay out the other crusts and cut them into ¼″-⅜ inch strips using a pizza cutter or pastry cutter.
Step 7: Create a lattice top over each of the pies. Use a pastry brush to brush the crust edges of the circle to seal and crimp edges.
Step 8: Wrap dough strips around the perimeter of the tops of the pies for the extra crust. Bake for 20-25 minutes or until the filling is bubbly and the tops have a golden color.
SERVE: Remove from the oven and cool on a wire rack. Serve with vanilla ice cream or a dollop of whipped cream!
Be careful when rolling out the dough, we don't want it to be too thin.
Instead of a lattice crust, feel free to cut out dough circles that fit the top of the pies and seal them. Just be sure to add a couple of slits in the top so they can vent.
Try to handle the crust when re-rolling as little as possible. The dough gets tougher the more it's handled.
Some like to use an egg wash on top before baking.
If you notice the crusts are browning too quickly, wrap the edges with foil.
Recipe FAQs
How to store mini strawberry rhubarb pies?
For the first 24 hours store the pies on the countertop or cover them with plastic wrap in the fridge for up to 3 days.

Why do people put rhubarb in a strawberry pie?
Rhubarb has a distinct, tangy flavor that pairs well with the sweetness of ripe strawberries, making for a delicious and well-balanced flavor profile. Rhubarb also contains natural pectin which helps to thicken the pie filling and can add a complex texture. This is especially important in strawberry pie, as strawberries tend to release a lot of liquid when cooked. The addition of rhubarb can help to counteract this and create a firmer filling.
More Strawberry and Rhubarb Desserts
Strawberry Rhubarb Mini Pies
Strawberry Rhubarb Mini Pies are sweet, tangy, full of flavor and are packed into a delicious, flaky crust that use pantry staples and refrigerated pie dough.
Miniature Pies
Ingredients
2 cups chopped strawberries
2 cups chopped rhubarb
1 cup granulated sugar
2 tablespoon cornstarch
3 tablespoons all-purpose flour
1 teaspoon vanilla extract
3 rolls of refrigerated pie crust 3 single crusts
3-4 tablespoons salted butter
Instructions
Preheat oven to 425°F.

Wash and chop fruit into small chunks. Place in a medium mixing bowl.

Add sugar, cornstarch, flour, and vanilla extract to the fruit and stir. Set aside.

Prepare pie crusts. Set pie crusts out at room temperature for about 10 minutes. Unroll the crust just before you are ready to cut so that it doesn't dry out. Use a bowl or biscuit cutter (3-inch round) to cut circles from the dough. Gently gather together any scraps and re-roll to cut out additional circles.

Press dough into each cavity of the well-greased muffin tin.

Spoon strawberry rhubarb filling into each muffin tin cavity. (The filling will cook down so don't worry about overfilling).

Place a small piece of butter over the top of the filling in each pie.

Lay out additional crusts and cut into ¼-⅜" strips using a pizza wheel or wavy dough wheel.

Create a lattice pattern with pieces of theses strips over the top of each mini pie.

Brush a bit of water around the edge of the circle to help the tops seal and press the tops to the sides.

Place an additional strip of dough around the perimeter of the top if you would like extra crust around the top.

Bake for 20-25 minutes, covering the tops of the pies with aluminum foil if crusts get too dark. Remove from oven once the filling is bubbling up though the lattice crust.
Notes
Storage: Store pies on the countertop for the first 24 hours or covered with plastic wrap in the refrigerator for up to 3 days. Notes: Do not roll the crusts too thin. If using refrigerated pie crust, it will be too cold straight from the refrigerator so set it out a bit in advance to warm to room temperature. This makes it more pliable and easier to work with when pressing into the muffin tin. The crusts also get overly soft if left out too long. Keep cold until you're ready to start making the pies. If you don't want to do the lattice crust, simply cut out rounds that will fit over the tops of the pies and pop them on! Be sure to cut a slit or two in the tops of a solid crust to leave room for venting. When you piece together the scraps of crust to re-roll, handle as little as possible as the crust will get tougher the more it is handled.
Nutrition
Calories: 308kcal | Carbohydrates: 43g | Protein: 3g | Fat: 14g | Saturated Fat: 5g | Polyunsaturated Fat: 2g | Monounsaturated Fat: 6g | Trans Fat: 0.1g | Cholesterol: 8mg | Sodium: 198mg | Potassium: 140mg | Fiber: 2g | Sugar: 18g | Vitamin A: 112IU | Vitamin C: 16mg | Calcium: 31mg | Iron: 1mg