While Graham worked on the chicken coop this weekend and the girls insisted on being indoors, I stared at their unfinished quilts looming on my sewing table. I need to get started on the third quilt top, but I just haven't gotten the motivation. So what did I do? I made throw pillows. Thought I'd try out an idea to copy the ruched bedding I've spotted in retail stores. I needed easy and this technique totally worked and was indeed easy!
Ruched Pillow Instructions:
For a 16″ finished throw pillow, I cut a strip of fabric 18″ wide from selvage to selvage. Draw a line 5″ in from each side, parallel to the long edges.
Fold and press on these lines (press right sides together if your fabric has a right side).
Now, just gather all the way down these two folds – I ran the folded edges through my machine with the ruffler foot and the finished length came out perfect to make a 17″ square pillow top. You don't need the ruffler foot though, you can run a gathering stitch and cinch it up.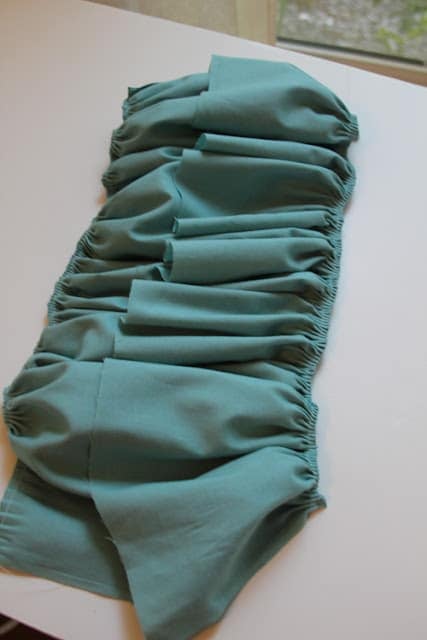 Next, press open your folds. Wah-la! Your gorgeous ruching. As you press the gathers open, shape the pillow top into a nice square. The better your press and shape the gathers now, the easier it will be to stitch the pillow top to its back in a neat square.
To secure and finish the gathered seams, I cut a 2″ strip, and folded the sides in to make a ¾″ wide strip of fabric.
Place the strips over your gathered seam on the right side and stitch down each edge.
Finally, take the pillow top and stitch it to a 17″x17″ backside for your pillow using a ½″ seam allowance. (I like to use envelope backs for my pillows – here's a great tutorial:
Super Simple Throw Pillows
).
Turn the pillow right side out and check to make sure everything is sewn right and the cover fits the pillow. Then, turn the cover inside out again and trim the corners and serge or finish the edges.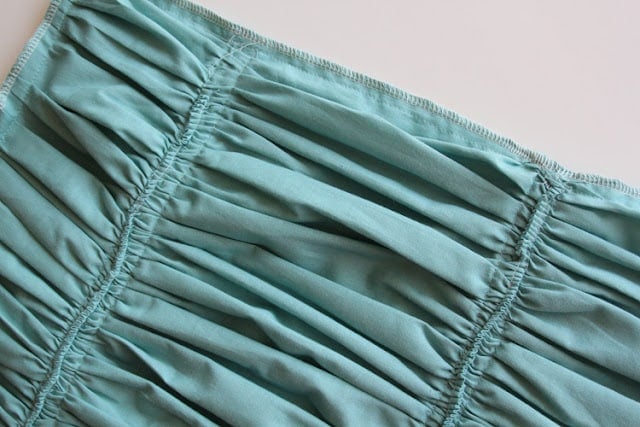 Turn it right side out again and press. That's it! Pop your pillow in and enjoy!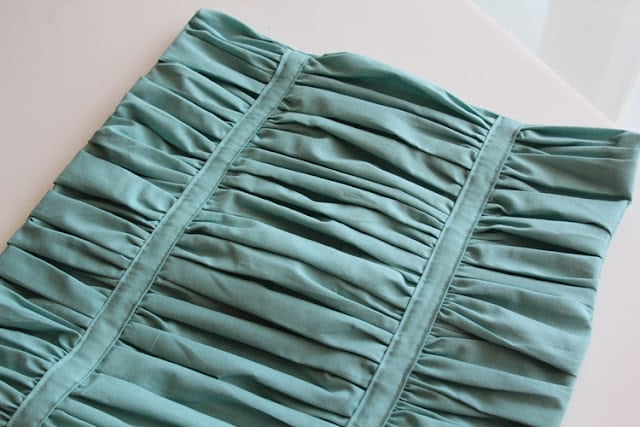 So fun, right?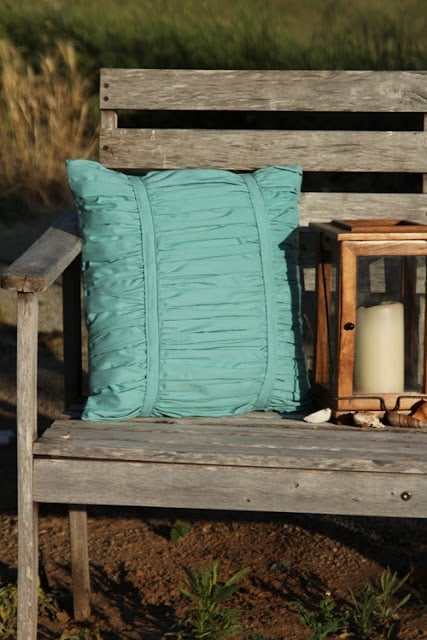 Linking this project up at Tatertots and Jello and Positively Splendid!