It's Monday and we're kicking this week off with new fall clothes! I'm feeling pretty pleased with myself as I managed to sew not only a dress for Addie, but also a nice, wearable top for myself. And on top of that, I used one of the sweater knit fabrics that I purchased in the L.A. fabric district way back during Fabric Weekend. Why am I sharing both pieces today? Well, because both were sewn from Blank Slate Patterns. and I'm sharing my creations for the BSP Fall Tour! I'm a huge fan of Melissa, the designer extraordinaire behind BSP, and I'm happy to a couple more of her patterns with you. You may remember the W Pants I sewed for Olivia a couple months ago, which were also a Blank Slate Pattern. I'll provide affiliate links for you in this review so that you can find the same patterns that I've used here.
Let's start with the Pristine Swing Dress. I was drawn to this girl's dress pattern because 1) it uses knits and that is Addie's favorite thing to wear right now, 2) the long sleeve option makes it a great piece for fall/winter sewing, and 3) the unique woven yoke on the front allows for some interesting pattern mixing. To me, this style perfectly blends the wearability and comfort of a knit dress with the style and beauty that crisp wovens add to a garment.
The dress was not difficult to sew, but required careful work to make sure everything came together correctly. The design is simply genius. Not only is the knit/woven mixing visually interesting, but the woven fabric up at the top provides support and structure around the neckline where you might otherwise get some wavy lines or pulling on a knit fabric. I did need to do some extra clipping around the neckline to get everything to iron out flat, but it did all come together. I used a sweater knit for the sleeves and main part of the dress. This was fabric that I picked up for $2 / yard at one of the smaller shops in the L.A. fabric district. For the contrast fabric, I used a polka dot quilting cotton from Robert Kauffman. I love the way the polka dots brighten up the dress – and the heavier sweater knit give the dress a nice weighted drape. The sleeves were slightly long for Addie's taste – I thought I could slip them by her with just a little room for growing, but she was insistent that we roll them up for the photos, so that's what that's about.
The contrast fabric wraps around the back of the dress and makes the cute little button and loop closure pop.
Since the Pristine Swing Dress has an adult counterpart, the Rose T-Shirt, I really wanted to sew a shirt for myself to coordinate. After sewing the girl's dress, the Rose T-Shirt was easier. The front yoke is constructed the same way, although you use knit for the back and facings instead of a woven like in the girl's dress. I like the way this feels when worn. However, I wish I had used a fabric on the front facing that was similar in color to the mustard woven because the black and white knit does show just slightly at the neckline. Maybe some understitching would help, I'm not sure. I think in the future, I will just be sure that my two fabrics don't contrast so much.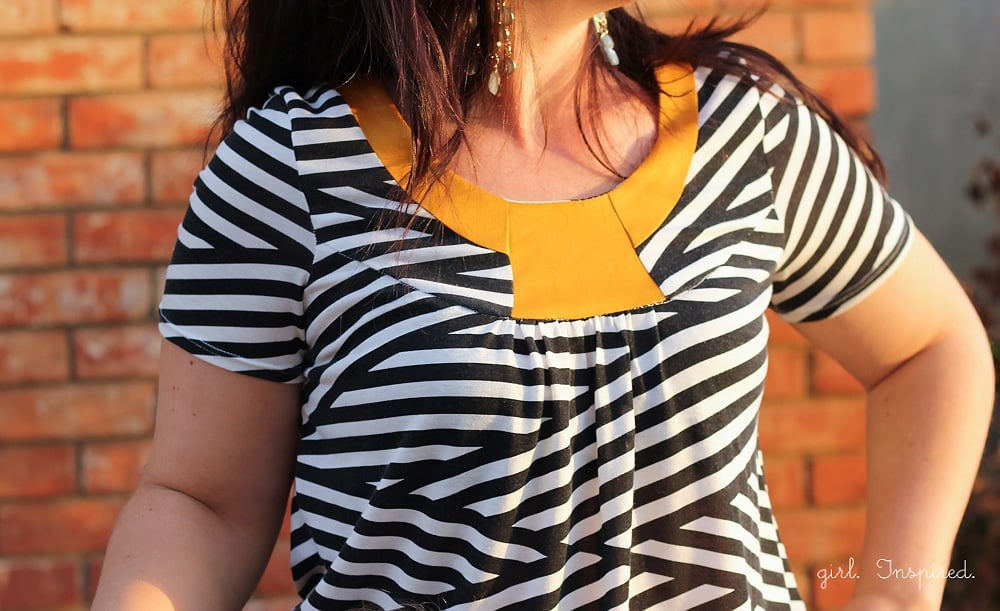 I used a multi-direction striped knit from Girl Charlee for my shirt. The mustard contrast fabric is the same Sateen I used in the Schoolgirl Sophisticate shirt. It's golden and has the most beautiful sheen – I think it stands out from the black and white and makes a nice fall piece. The pattern includes a sleeveless option, ¾ length sleeves, and long sleeves. It also has two length options. I cut the longer length and didn't even bother hemming it – it's just folded under a little for wearing with jeans. Actually, I'm planning to make a couple more of these with long sleeves. The longer length will be perfect for wearing over leggings this winter (though I'm a shortie, so you'll want to measure to see where the tunic length will hit on you!)
Addie and I tried to do a photo shoot together for our coordinating outfits. We could probably stand to practice our co-self-portraits a bit more, though Addie took charge of the remote and had a blast snapping away. See that snickering smile? That's a girl who's happy being in charge!
Alright! To purchase your copy of the Pristine Swing Dress and/or the Rose T-Shirt, be sure to visit:
Blank Slate Patterns
And carve out a little fall sewing time this week! Also, you can hop over to Melly Sews over the next couple weeks to check out quite a few Blank Slate Pattern reviews.