Every birthday party that we throw around here is my new favorite – I think it's just so fun celebrating each of my girls in the stage that they're at. Olivia turned eight last week and had a very intimate spa birthday party to celebrate. We created a clean, fresh, relaxing "spa" environment with lots of comfortable spaces, beauty concoction-type activities, and pampering. A party of five was the perfect size for my quiet 8-year-old and this style party.
We held the party at home and decorated the space with plush fabrics and inviting foliage. I gathered plants from around the house and supplemented with a few new orchids (holy cow, they're so gorgeous, I just can't resist), and some inexpensive house plants. Ornamental cabbages, in particular, are cheap and add such great color and texture to the surroundings.
Glass apothecary jars and white ceramic bowls were rounded up and repurposed to hold bath salts, soaps, cotton balls, hair towel wraps, and other necessities. I don't usually do a lot of signage for parties, but I spent an evening putting together some labels for all of the various spa items. Super fun, right? Are you interested in printables??
Olivia provided the spa menu – it was really important to her that we had healthy and neat food. Cheese cubes with toothpicks, carrot and celery sticks with hummus, blueberry muffins, deviled eggs, and….smoothies!! Banana smoothies, Olivia's favorite.
For the pampering….I purchased two inexpensive foot spas and borrowed another so that three girls could line up at the same time and soak their poor, tired feet. We brought down the girls' anywhere chairs from their bedrooms and set them up in a line.
I sewed a couple makeshift faux fur rugs – a rectangular zebra rug and a "polar bear" white fur rug. This was maybe a wee bit excessive, but sometimes I just get these ideas in my head and I can't help myself. I bought the faux furs from Joann's with coupons and backed the fabric with painter's canvas dropcloth – they were quick to put together and the girls looked picturesque lounging on them during the party. So worth it!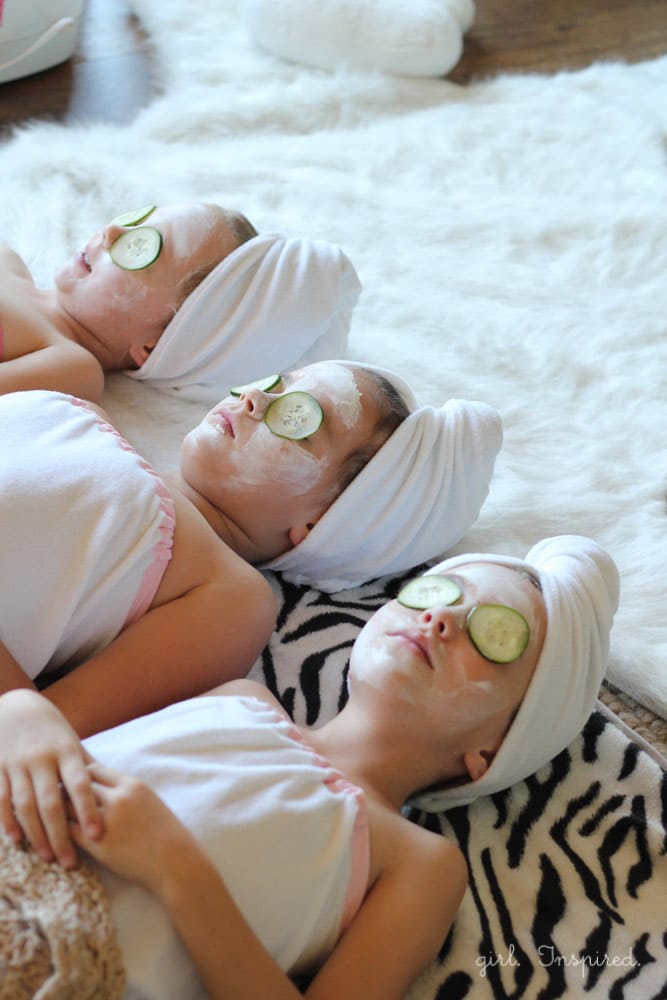 To accompany spa time, I sewed little slip-on robes and a hair wrap for each girl. Oh my! These were such a big hit and took about one day of work to sew all of them up – not too bad! They look comfortable in their spa gear, no? I also found the neck pillows on clearance at Joann's and sewed some covers for them really fast out of a fuzzy white minky fabric.
So, the girls soaked their feet and received pedicures from my sister and me. We also gave their sweet little cheeks some pampering with a face mask and cucumbers for their eyes. I had little white washcloths (cheap six-packs from Target) on display. Damp washcloths were heated in the microwave and then (cautiously) given to the girls to lay over their faces and eventually remove the masks. Just typing this makes me want to go heat up a washcloth for my face – it feels so good, right?
We had just a couple other hands-on activities – mixing up personal bath salts and making soap bars. First of all, I provided some unscented white bath salts and little glass jars I found at Joann's. Each girl scooped the bath salts into a jar, dropped in some almond oil scent (produced specifically for soap-making) and coloring (again, soap-colorant), and then gave their jars a good shake. I didn't know if this would be fun for them or just for me, but they loved it. They then proceeded to have a second round of foot-soaking so they could add their new bath salts to the water – so cute!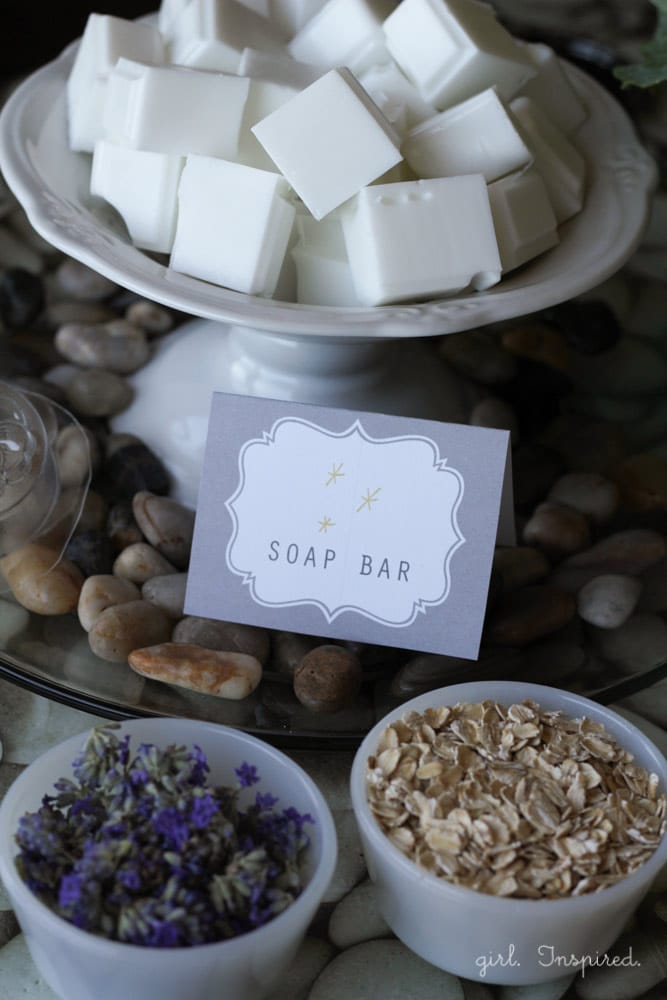 "We" also made some decorative soaps. Just to be clear – soap-making, even the melt and pour style like we did, can be very dangerous. To use this as a children's party activity, I melted the soap pieces in a single measuring cup without child assistance. The girls were allowed to pick a decorative mold and add oatmeal or lavender to their empty mold. I let the girls decide on a color for the soap as a group – I mixed the color and scent as they watched from a safe distance. Then, I poured the soap into each of their molds, moved the molds to the refrigerator and then popped them out when they were cool. We pretty much had 1:1 adult:child supervision during this activity – please be very cautious and fully aware of the risks of this activity if you are considering it for your party.
And…the cake. I made a three layer chocolate cake with dark chocolate filling and buttercream frosting. I tried out a fern mold with some powdered gumpaste mix to make the ferns. They were really finicky and I wasn't too thrilled with my first results. I decided to pipe some random fern-like leaf-like shapes onto the cake. Once I did some piping, I added in the gumpaste ferns and I think they blended well and complimented the frosting. What really makes the cake is the awesome milk glass jadeite cake stand!!
For party favors, each girl got their own make-up bag containing a lip gloss, cute pen, and emery board. There was enough room to add their bath salts and soap, as well as their hair wrap. They also got to take home their robes.
A party just my speed. It was pretty easy to prepare and decorate for and everyone enjoyed the slower pace and relaxed environment. Thank you to my lovely beauty assistants, Mom and Kylene. And happy birthday once again to my sweet Olivia.
Supplies:
Jadeite Milk Glass Cake Stand, chevron favor bags, drink containers, chevron straws: Sugar Confetti Shop
Soapmaking Supplies and Bath Salts: Michael's Craft Store
Toweling, Minky, and faux fur fabrics: Joann's
Jars, makeup bags, neck pillows: Joann's
Orchids and plants: Home Depot, Eisley's Nursery
Spa Beauty Products: Target
Invitations: Handmade using template by One Charming Party
Robes and Hair Wraps: Handmade by me, spa towel sewing tutorial can be found here
Cake: Fern Mold and decorating supplies from Joann's, decorated by me