Today, we're starting a transformation that has been long overdue; we're finally giving our master bedroom the makeover it…WE…deserve.  After finishing the girls' bedrooms, my husband and I are just that much more excited to create an inspired space that reflects our style.  Currently, our bedroom boasts an eclectic gathering of mismatched vintage and modern furniture and the same beige paint that we used throughout the entire house when we built it 7 years ago.  It's time to finally turn our room into a finished retreat.  Some of the adjectives that we'd use to describe our ideal space include:  rustic, romantic, soft, and polished.  And though we have quite a few elements in the room that need to go, we have also made several purchases over the last couple years that will remain.
I put together a collage with some of the furnishings that we currently have and love:  two vintage nightstands, a chandelier, and a rug.  These pieces will remain in the room and we're hoping to draw color inspiration from them.  You can also catch a glimpse of the app we're using to choose paint colors.
Choosing paint colors for a room has always been a challenge for us.  For this project, we are using a Sherwin-Williams smartphone app called ColorSnap® to help us along.  I've been known to be technologically challenged at times, but the free Color Snap app really was easy to install and use on my phone.  Once the app downloads and you register, you can snap photos of any inspirational image (or have the app pull photos from your camera).  You tap an area on the picture and the app matches the color to a palette of 1500 Sherwin-Williams paint colors.  It's pretty cool!  
As an example, here is a picture I snapped of some of the foundation pieces in the room – a nightstand, drapes, and decorative mirrors.   The circles in the picture to the left are eight areas that I tapped on the picture – at the bottom of the picture, you can see the palette of paint colors that correspond to the eight circles up above.  When one of the colors is highlighted, "Sticks & Stones" in this case, you can also see a smaller palette of colors to the right of the paint name.  You can then tap on this smaller palette and the screen expands to show more colors that coordinate to the selected color (as shown in the picture to the right).  You can continue to scroll through coordinating color palettes by tapping the circular icon in the center of the highlighted palette colors, "Extra White" and "Creole Cottage," in this example.  So, lots of options and tools to play with!
I did one palette of eight colors for each of the main elements that will remain in the room.  I was able to label the palettes and save them within the app.  There is also an option to email or share the palettes on Facebook.  I really like that I can use these tools not only to help with paint color selection, but also for color matching and coordination when I'm out shopping for accessories.  We'll have to see how that works out – I don't have fabric or paint swatches for the furnishings in my room, so I'm glad I'll at least be able to reference my phone!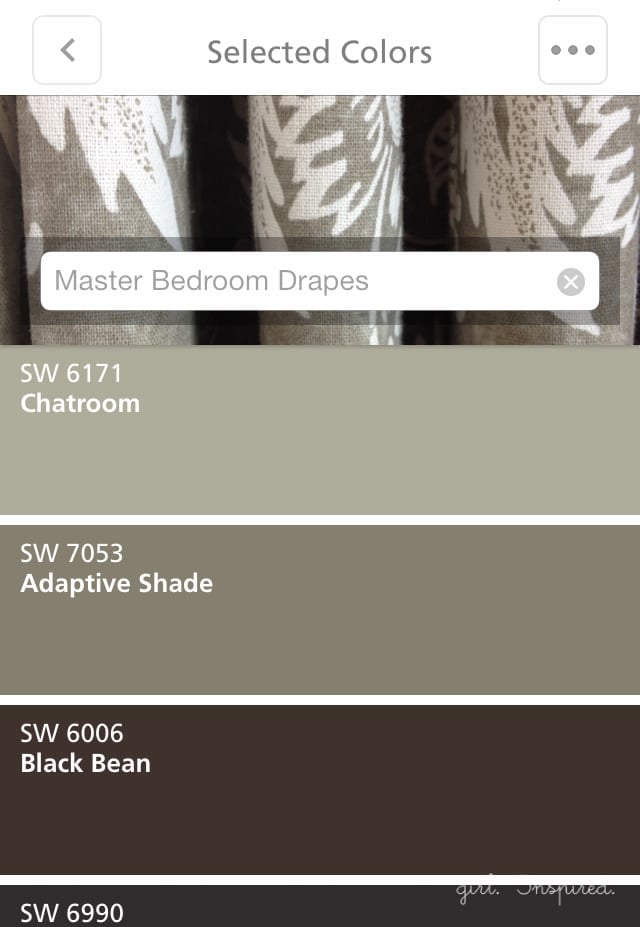 Each palette is saved separately, but a quick tap gets you back into the palette and lists all of the colors for easy reference or further exploring.
After some consideration, we've decided to work from a color palette using our drapes.  It's interesting to see the variety of hues that the app picks up based on the way the light and shadows hit the curves and folds of the fabric.  I think we have a great start for narrowing down our color choices and getting this project underway!  I'm so excited!!!
Pretty soon, this cluster of furniture is going to be highlighted in a beautiful master bedroom that I get to live in!!  I'll be sharing sneak peeks of our progress on Instagram, so please check in!  Sherwin-Williams has some amazing color inspiration on Instagram and Pinterest, too – great resources to visit if you're looking for inspiration to do a makeover of your own! To  win a $50 Sherwin-Williams gift card, I want to know…What room would you makeover with Sherwin-Williams?
Sweepstakes Rules: 
No duplicate comments.
You may receive (2) total entries by selecting from the following entry methods:
1.     Leave a comment in response to the sweepstakes prompt on this post
2.     Tweet (public message) about this promotion; including exactly the following unique term in your tweet message: "#SweepstakesEntry"; and leave the URL to that tweet in a comment on this post
3.     Blog about this promotion, including a disclosure that you are receiving a sweepstakes entry in exchange for writing the blog post, and leave the URL to that post in a comment on this post
4.     For those with no Twitter or blog, read the official rules to learn about an alternate form of entry.
This giveaway is open to US Residents age 18 or older. Winners will be selected via random draw, and will be notified by e-mail. The notification email will come directly from BlogHer via the [email protected] email address. You will have 72 hours to respond; otherwise a new winner will be selected.
The Official Rules are available here.
This sweepstakes runs from 5/12/2014-6/1/2014.
Be sure to visit the Sherwin-Williams brand page on BlogHer.com where you can read other bloggers' posts!