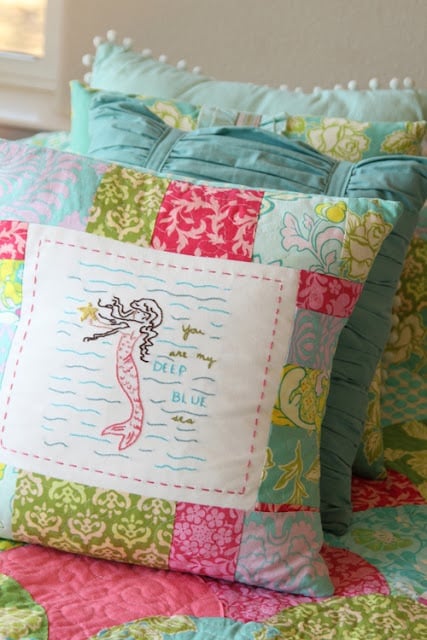 Throw pillows are such a great sewing project – they are simple to sew, quick to finish, and can make a huge impact in any space. I sewed a pile of pillow covers to use as party decor for Addison's mermaid party.
The color and style that they added to the bland outdoor space was incredible. As a bonus, I used remnants and scraps from the quilts I'm sewing for the girls' bedroom, and the pillows now have a second (and much longer) life as bedding decor inside!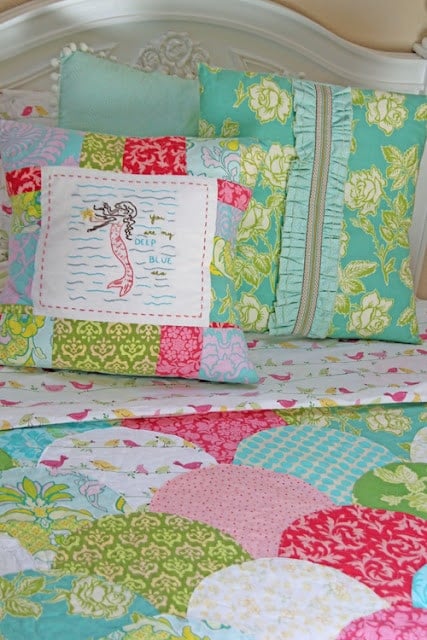 Add a quick ruffle strip on the horizontal or vertical center of the pillow or stack two ruffles with a ribbon stitched down the middle. Insert pom-poms or other trim around the perimeter. I showed you a while back how to easily make a
ruched throw pillow
. It looks so nice with its coordinating pillow friends!
The embroidered mermaid pillow took a little longer to finish, but is still a relatively quick project. I made a pieced border out of coordinating scrap squares in varied widths and then embroidered this darling mermaid image onto a white center. You can find Sarah Jane's
mermaid embroidery pattern
in her
shop
. Love her whole new line of fabric,
Out to Sea
, coming out soon.
I also used a disappearing ink pen and made a square border about ½″ inside the white panel. With embroidery floss, I hand stitched a simple border, mimicking throw pillows (from Pottery Barn Kids) that are already in the girls' room. After embroidering the pillow, I stacked the top with a light batting and quilted it in freehand swirls, just around the border. Just love how this pillow turned out!
Did you notice the finished quilt there under the pillows? I've finished one – just two more to quilt and bind! When, oh when, will I be done?