Learn How to Make Marble Cake with Mix! It's a beautifully moist and soft cake with swirls of vanilla and chocolate cake mix batter, covered with a melt-in-the-mouth rich chocolate frosting.
Originally brought to America by German immigrants and called Marmorkuchen, marble cake is a very pretty, moist, and soft cake covered with a melt-in-the-mouth rich chocolate frosting. Learn how to make marble cake from mix and impress your family and guests!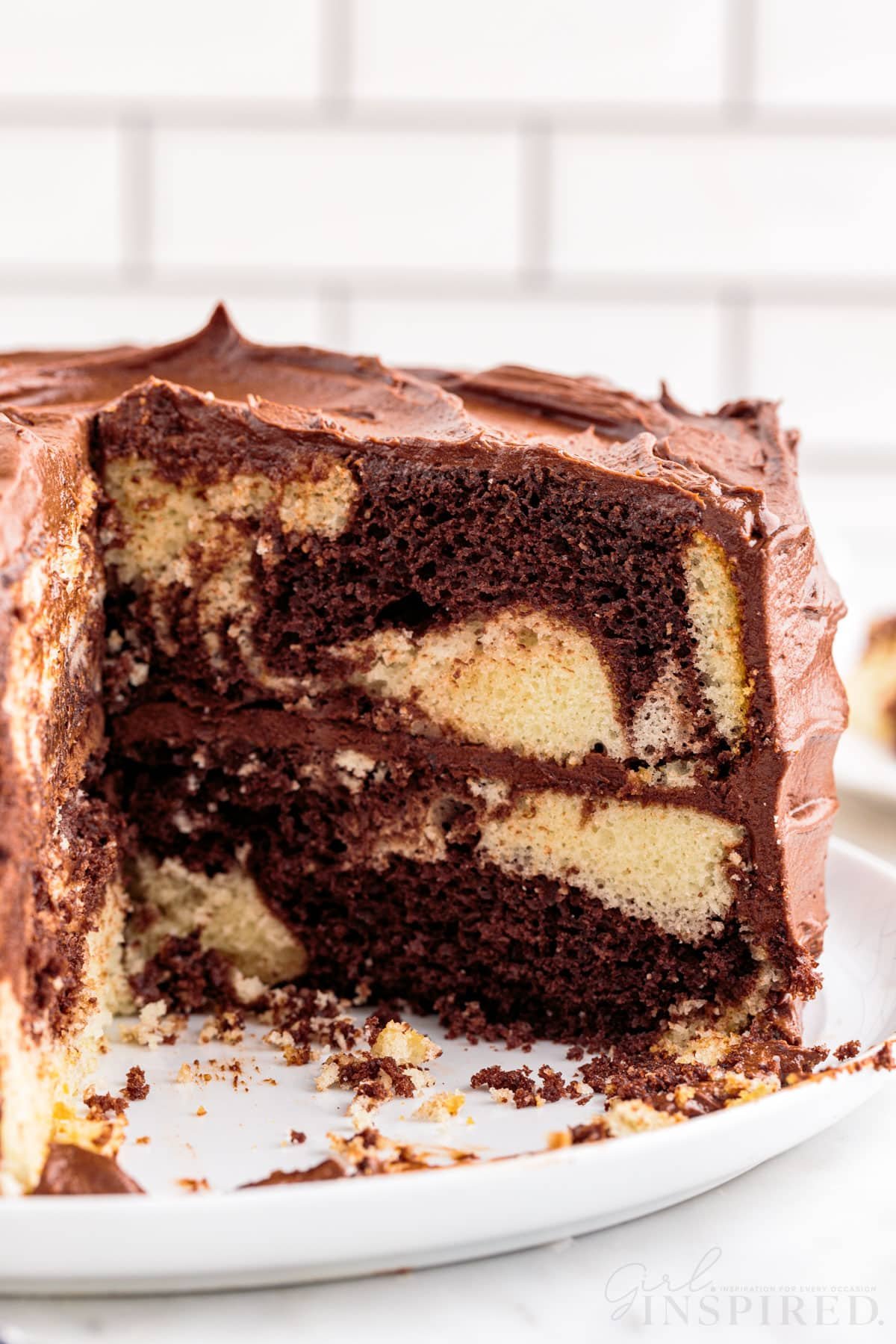 The use of buttermilk increases the moisture and flavor of this cake, and for me, this is vitally important for baked cakes. Dry cakes are flavorless and a real disappointment, but not this Marble Cake! The chocolate frosting, which is very similar to this Decadent Dark Chocolate Buttercream, also helps to keep the cake moist while adding loads of rich chocolate flavor. You could add Italian Meringue Buttercream or combine the two to carry through the theme of vanilla and chocolate mix.
Don't be put off by thinking this is a complicated recipe. I will walk you through every step of making marble cake from mix while you have loads of fun easily creating that marbled effect and serving a fantastically beautiful cake to friends and family! If you love interesting patterns and flavor combinations in cakes, try this Pumpkin Swirl Cheesecake, Neapolitan Cake, or Peanut Butter Chocolate Layer Cake!
This video will walk you through the steps to make your marble cake from cake mix. After watching, scroll down to the recipe card to print out the specific measurements and steps. You'll have a perfect marbled cake on the table in no time!
Why You'll Love Marble Cake
Marble cake is a beautiful cake that turns regular cake mix cake into a gourmet dessert – perfect for holidays and other special occasions.
While this cake may look complicated to make, it isn't at all. Once you've made both cake batters, it's merely a matter of following my method for adding the batter to the cake pan and creating a swirl pattern.
This marble cake is moist with a sweet and rich chocolate frosting, tasting even better a day or two later.
What Ingredients do I Need for Marble Cake?
Cake mix – I've used white (or yellow) cake mix for the white cake ingredients and chocolate cake mix for the chocolate cake ingredients. Both are required to make the marble effect in this cake.
Butter – Salted and softened. You'll need ½ cup of salted butter for each cake mixture and 1 cup for the frosting.
Eggs – 3 large eggs are required per cake mixture. Allowing the eggs to reach room temperature will help with a smoother batter.
Sour cream – ¼ cup is required for each cake mixture.
Milk – 1 cup of milk is required for each cake mixture. You could also use buttermilk.
Vanilla extract – Use this for both cake mixtures and ensure that it's high-quality.
Cocoa powder – The frosting is already quite sweet, so I recommend using unsweetened cocoa powder.
Hot water – Heated heavy cream can be used instead of hot water for the frosting. If you use hot water, use filtered water that's been heated.
Powdered sugar – You can sift the powdered sugar for a smooth finish if you like.
Chocolate baking bar – German chocolate is my choice, but a regular semi-sweet baking bar can also be used in the frosting. It will be melted and cooled before adding it to the other frosting ingredients.
PRO TIP: The key to perfecting that desired marble look in this cake is to add the vanilla and chocolate cake mixture to the cake pan in piled dollops of batter, rotating the cake pan as you do so. Next, you want to use a knife to cut through the batter and swirl the two colors but don't over-swirl the mixture as this will cause the colors to blend.
How to Make Marble Cake From Cake Mix
PREP: Prepare the vanilla cake mix batter and the chocolate cake mix batter with an electric mixer in separate mixing bowls while the oven preheats. Start to assemble the cake mix batters into two prepared cake pans by dropping alternating scoops of vanilla batter and chocolate batter into the pans. Ensure that the pans are only two-thirds full for there to be sufficient space for the cake to rise.
Gently create swirls in the vanilla cake batter and chocolate cake batter using a knife or metal skewer but don't over-swirl the batter.
BAKE: Bake the marble cakes for about 40 minutes at 325F or until a toothpick inserted into the center of each cake comes out clean. Allow the marble cakes to cool in the cake pans for 10-15 minutes before removing them from the cake pans and transferring them to a wire rack to cool completely.
CHOCOLATE FROSTING: While the cake cools, start to prepare the chocolate frosting. Chop the chocolate bar into small pieces and melt it in a double boiler or in the microwave, stirring regularly until the chocolate is melted and smooth. Set the melted chocolate aside to cool. Add the cocoa powder, butter, powdered sugar, and cooled melted chocolate into a mixing bowl and whisk until fluffy and smooth.
FROST THE CAKE: Level the tops of each of the marble cakes and place the first layer of cake in a cake dish, spreading chocolate frosting over the top. Place the second layer of baked marble cake over the first and frost the top of the stacked marble cake as well as the sides until completely covered and smooth.
Because I like extra height in my stacked cake recipes, I merely trim off the extra high points of the cooked cake with a serrated knife (like a bread knife) to make the surface flat for frosting. Very simple.
Frosting and assembling cakes is made easier by freezing the cake layers beforehand, as they will be firmer to work with. To do this, cool the layers well before wrapping them in plastic or aluminum foil, and then freeze them for an hour or up to a week before frosting and assembling them. No thawing is necessary at this stage.
It's really helpful to be able to prepare frosting in advance. Chill it in the refrigerator if you want to use it a little later, or chill it if the texture of your frosting is too soft to stay in place on your cake.
Once the frosting is chilled, you can either beat it by hand or by using a stand mixer.
Because frosting is considered not to be shelf stable, it is advisable to keep your cake chilled or in a cool spot until you want to serve it or freeze it.
If you store your fully assembled cake in the fridge with plastic wrap, consider inserting a few toothpicks into the cake on the top and the sides. That way, when you wrap the cake in plastic, the plastic won't stick to and ruin the frosting.
Fun Fact
Marble cake was originally brought to America by German immigrants and called 'Marmorkuchen,' directly translated as 'German marble cake'!
Variations
You could make cupcakes instead of a whole cake using the ingredients of this recipe. Use cupcake wrappers filled halfway with a scoop of chocolate mix and a scoop of vanilla mix. Swirl the mixture gently or make streaks by inserting a thin-bladed knife or kabob stick to make your pattern. Bake for about 20 minutes, and insert a toothpick to check for doneness.
If your heart is set on using buttermilk in this recipe and you don't have any, make your own buttermilk by mixing one cup of whole milk with either one tablespoon of lemon juice or white wine vinegar. Let it sit for 10 – 15 minutes or until it is slightly curdled or thicker.
Make gluten-free marble cake by ensuring that gluten-free packaged cake mixes are used in this recipe.
What Is The Best Utensil To Blend The Two Mixtures Into A Marbled Pattern?
A knife!
Please do not use a spoon or anything other than a knife as per my recipe directions. By inserting the knife, which has a thin blade, right down to the bottom of the cake mix, you can make gentle strokes and swirls without overmixing the two flavors together to become one! You create and determine your own marbled design.
What Can I Do With Any Leftover Batter Once I've Filled My Pans?
If, like me, you prefer your cakes to have extra height, then fill your pans to be at least ¾ full of mixture. When baking, the pans might overflow when the mixture rises. To avoid a mess in the oven, I usually place my cake pans on a flat sheet pan to catch any spillage from the cake mix flowing over the rim. If you have pans deeper than 9 inches in size, you can also use them.
How Long Can I Store My Freshly Baked Cake?
Store your cake at room temperature on the countertop for 2 to 3 days in an airtight dome container, preferably in a cool area. Alternatively, keep the cake refrigerated for up to 7 days by covering it with plastic wrap or in an airtight container.
Can I Freeze My Cake And Frosting?
Yes, you can. Freeze the frosted cake for up to 3 months. Thaw it overnight in the refrigerator and bring it to room temperature before serving.
How to Make Marble Cake From Cake Mix
Learn How to Make Marble Cake with Mix! It's a beautifully moist and soft cake with swirls of vanilla and chocolate cake mix batter, covered with a melt-in-the-mouth rich chocolate frosting.
Ingredients
White Cake Ingredients
1 package white or yellow cake mix
½ cup salted butter softened
3 large eggs
¼ cup sour cream
1 cup milk or buttermilk
1 teaspoon vanilla extract
Chocolate Cake Ingredients
1 package chocolate cake mix
½ cup salted butter softened
3 large eggs
¼ cup sour cream
1 cup milk or buttermilk
1 teaspoon vanilla extract
Frosting Ingredients
1 cup salted butter softened
½ cup unsweetened cocoa powder
½ cup hot water or heated heavy cream
2 cups powdered sugar
4 oz. German chocolate or semi-sweet baking bar, melted and cooled
Instructions
Preheat the oven to 325°F. Spray two 9-inch round cake pans with non-stick cooking spray (or use the wrappers from the butter to grease them thoroughly).

In one mixing bowl, combine the white cake ingredients: cake mix, butter, eggs, sour cream buttermilk and vanilla extract. Beat on low speed for 1 minute and then on medium-high speed for two additional minutes. Set aside.

In a second mixing bowl, combine the chocolate cake ingredients: chocolate cake mix, butter, eggs, sour cream buttermilk and vanilla extract. Beat on low speed for 1 minute and then on medium-high speed for two additional minutes.

Using an ice cream scoop or large spoon, pile dollops of cake batter into the pans, rotating between the white and chocolate cake mixes. Fill the pans about ⅔ of the way full to prevent overflowing – you may not use all of the batter. *See notes

Use a knife to cut through the batter and swirl the two colors. Do not over swirl which can result in the colors blending.

Bake for about 40 minutes or until a toothpick inserted into the cakes comes out with just a few crumbs (the pans are going to be more full than with a single cake mix, so the cook time will likely be 5-10 minutes longer than indicated on the box of cake mix.

Cool the cakes for 10-15 minutes and then remove the cakes from the pans and let them cool completely on a cooling rack.

Meanwhile, prepare the frosting. Chop the German chocolate baking bar into small pieces. Use a double boiler or 30-second increments in the microwave to melt the chocolate. Stir until fully melted and set aside to cool.

Use a whisk to stir together the cocoa powder and hot water (or hot cream) until smooth and shiny.

In a large mixing bowl, beat together the softened butter, cooled German chocolate, cocoa powder mixture, and powdered sugar. Beat until fully combined and fluffy.

Level the tops of the cakes (and any lip from overfilled cake pans) with a serrated knife.

Frost the bottom cake layer with about ½ cup of chocolate frosting. Stack the second cake layer on top of the first, top side down. Frost the top and sides of the cake with the remaining frosting.
Video
Notes
This is an easy recipe using boxed cake mix. Of course you can duplicate a similar effect with a homemade or made from scratch cake recipe. Note that the amount of batter and overall finished cake size may vary. You can make this marbled cake in a 9×13 baking dish. Drop the scoops of rotating batter and swirl in the pan. Cook time will vary slightly; begin checking the cake for doneness at 30 minutes.
Nutrition
Calories: 797kcal | Carbohydrates: 92g | Protein: 9g | Fat: 46g | Saturated Fat: 26g | Polyunsaturated Fat: 4g | Monounsaturated Fat: 12g | Trans Fat: 1g | Cholesterol: 172mg | Sodium: 893mg | Potassium: 308mg | Fiber: 3g | Sugar: 59g | Vitamin A: 1165IU | Vitamin C: 0.2mg | Calcium: 232mg | Iron: 4mg