Recent events have alerted the sewing community to a growing need for homemade face masks. After talking with several nurses, state health officials, and consulting several online resources, I put together a video tutorial to show how to make a homemade face mask with a piece that will crimp around the nose, stretchy ties, and an inner pocket for adding a filter or additional layers of protection. These masks are similar to a medical mask or surgical mask, but it is vital to check with individual communities/hospitals to see where and how these masks can be utilized. Home use is encouraged!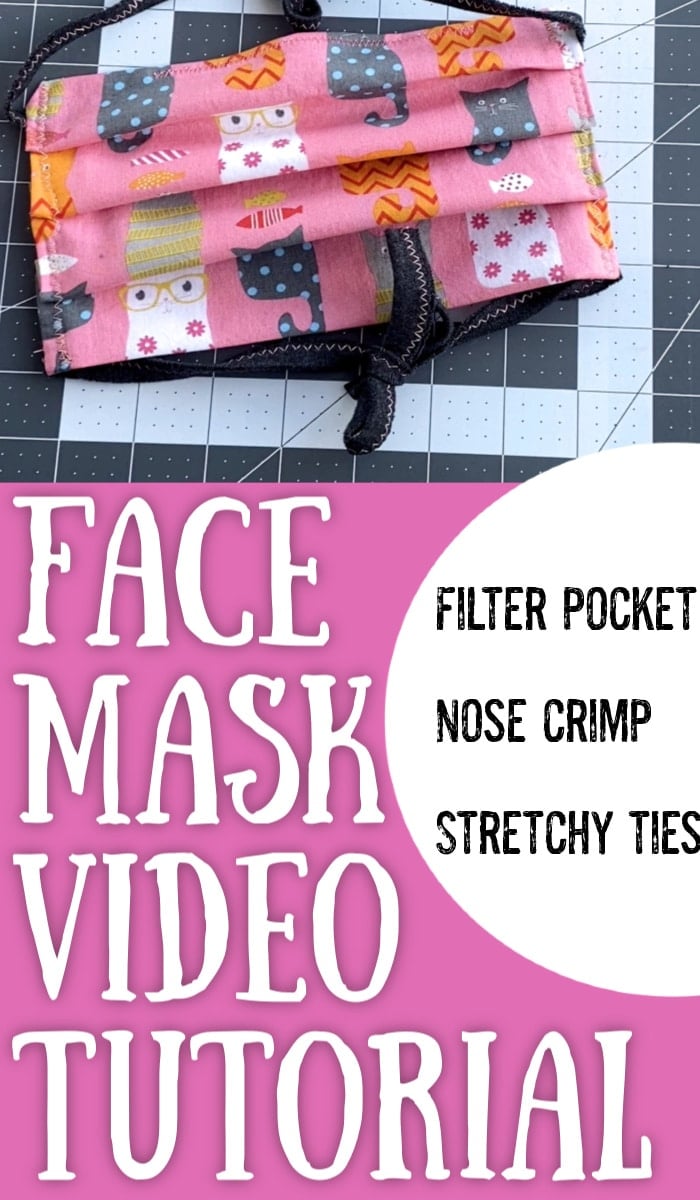 Please note: this is a homemade face mask of my own design using components thought to be most useful to the average person and perhaps those in close proximity to infectious persons. Please consult hospitals and appropriate officials to determine any special requirements beyond your own personal use. This tutorial and its creator make absolutely no warranties or assertions as to the effectiveness of homemade face masks and this information is provided for educational purposes only.
Homemade Face Mask Video Tutorial:
This is a video tutorial as I would like to put out helpful information as quickly as possible. Please watch the video for complete instructions.
I am including some additional thoughts and information below:

Tips for Sewing Face Masks:
Materials
The nose crimp piece really makes the mask much easier to shape around the bridge of the nose. I used materials that I had on hand (i.e., a twisty tie or a piece of wired craft ribbon). If you don't have either of these items, you might have something else – floral wire, etc. If not, just omit this step – you will still have a face mask that gives you added protection.
I used 100% quilting cotton for this cute cat face mask. I have made additional masks with soft knit fabric. If you have 100% cotton t-shirts that you can use – that would probably be the softest and most comfortable. 100% cotton material is best to allow for breathability.
Elastic Information
There are many face masks that utilize elastic – either ¼″ elastic or the small elastic cording. Both of these make great stretchy straps. If you are making a face mask for your own at-home personal use, and you have elastic available, by all means, use your elastic! However, there is not a lot of elastic available to purchase right now so these instructions will give you a different option while maintaining some elasticity in the straps for extra comfort.
Heads are sized differently thus making these tie straps a great general option. In addition, I have learned that hospitals do not believe that our elastic will withstand sterilization procedures for medical use. This is another important thing to take into consideration when adding your mask straps.
Filter Resources and Information
Once again, I am not in the medical field; I am not a medical expert. This tutorial, design, and anything made using these instructions is for educational purposes only. I make no warranties, express or implied, that the instructions or products created from these instructions can reduce or eliminate the transmission of any virus, pathogen, or particle. Use of this tutorial for anything other than educational purposes is at your own risk. Please consult a qualified health professional for all medical and pathogen transmission advice.
If you do not sew or know someone who sews, you can make this NO SEW FACE MASK FROM A TSHIRT in a pinch!