With the rising need for extra caution, self-monitoring, and safety practices, more people are looking toward face mask alternatives for everyday use. Based on anticipated recommendations from the CDC, I would urge anyone who is able, to sew a homemade face mask. However, for those who cannot sew, I have created a really simple No Sew cloth face mask that you can make from any t-shirt in your home – you can then insert a piece of tightly woven fabric like flannel or quilting cotton to create a less porous barrier.
Watch the video and then read on for printable instructions and detailed steps: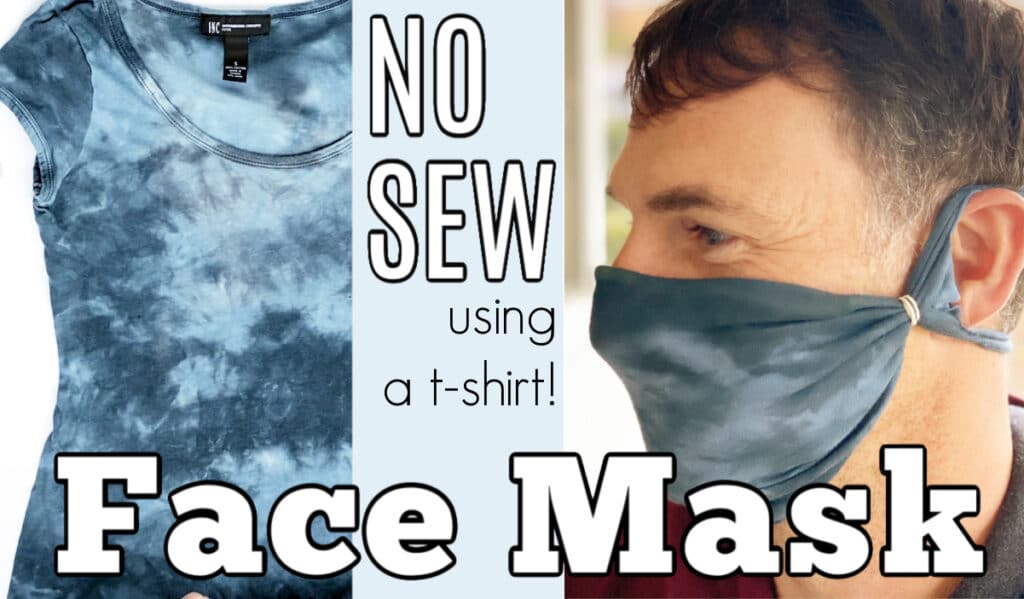 You can even tuck a pipe cleaner up around the top edge and to help shape the mask around your face. Elastic is not needed (it's not needed for my sewn mask tutorial either). This is a functional alternative for covering your nose and mouth while still being able to breathe easily.
How to Make a No Sew Face Mask
Time needed: 5 minutes.
How To Make a No Sew Face Mask from a T-shirt
Gather Supplies

To make this no sew cloth face mask, you will need the following supplies:
1. 100% cotton knit t-shirt
2. scissors (fabric scissors are great)
3. 2 rubber bands, loom bands, or elastic hair ties (thinner smaller bands work best)
4. a square of flannel, quilting cotton, or other non-porous material to use as a filter
5. optional filters for the mask – filters are available here –> https://amzn.to/348TVI9 affil

Wash and dry the t-shirt and set it out in front of you.

Cut off bottom band and sleeves.

Cut straight across to remove the bottom band from the t-shirt. Repeat straight across under the arms so that you're left with a uniform tube of fabric.

Open up fabric.

Cut straight up the center of the FRONT (or BACK) of the t-shirt, but do not cut through both layers.

Form rectangle.

Fold out the two sides so that you have one rectangle of fabric.

Form tube.

Fold the rectangle in thirds along the horizontal line.

Form mask shape.

Slip one small band over each end and adjust them to pinch the fabric forming a "front" and "sides" to the mask.

Adjust width of face mask area.

Hold the fabric up to your face and adjust the placement of the bands so that they hit at your side cheeks, just inside your ears.

Form Ties

Time to cut the fabric to form stretchy ties/straps. Cut from the outer edge of each side, in toward the bands. Leave about 1″ doubled fabric on the top and the bottom.

Cut excess fabric.

Cut the inner area completely away from the mask. Since you are using a cotton knit, the cut edges are not going to fray.

Adjust the length of the straps.

You can now adjust the length of the "straps" to tie behind your head and neck. You can even cut the straps shorter and then tie the top to the bottom to make little loops to go around your ears. Open up the little pocket formed from the trifold to insert a piece of heavy cotton or flannel. The t-shirt material is wonderful for stretch and no sew, but not as effective as a barrier on its own.

Add filter and/or nose shaping piece.

You're all done! You can now tuck a filter material inside for extra protection. Just open up the folds, place the filter, and refold.
How To Use a No Sew T-shirt Face Mask
Friends, let's use common sense. This is not the mask to make for your local hospitals or nurse friends. This is simply a way to create a face covering to encourage social distancing and remind yourself and others not to touch faces, mouths, or noses. It's not going to hurt to wear a face mask. If you're procuring supplies to sew a mask or unable to access elastic or pre-made masks, this is a really easy option that almost anyone can utilize.
Homemade Face Masks – Sewn and Serged Versions
There is a video and free pattern download available for a sewn face mask without elastic and with a filter pocket. Please visit the Homemade Face Mask Video and Pattern here.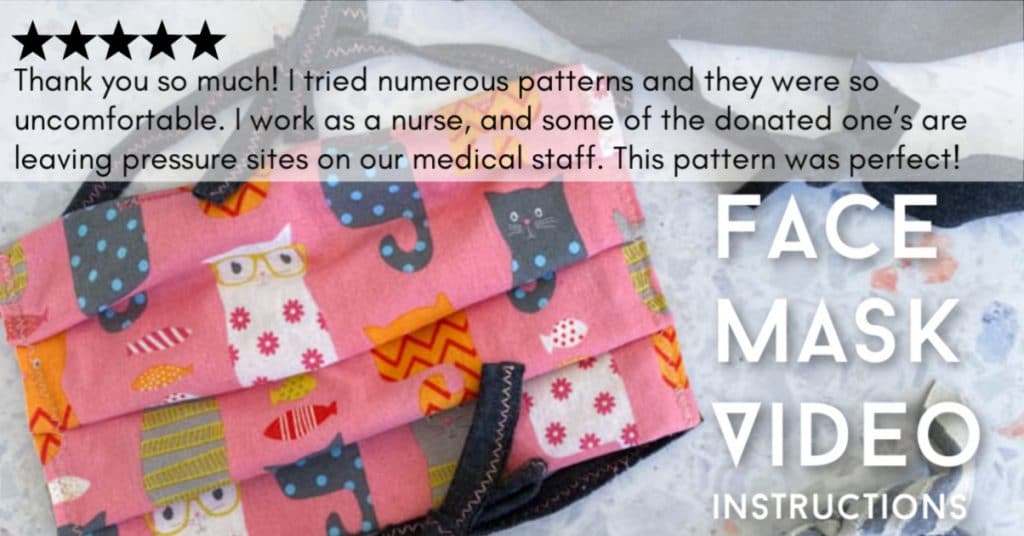 If you have a serger, you can make THIS Serger Face Mask in 5-minutes! There is a video tutorial included here as well. It also includes tips for making masks assembly line style for maximum speed and efficiency!
Please visit the CDC website for accurate and up to date information regarding the use and recommendations of face masks, filters, and safety measures.