You guys!!! I made the most beautiful napkins for my Thanksgiving table!! I can't get enough of that fringe technique I used on my flannel throw blankets a few weeks ago, so when I came across this crisp, white linen in Jo-Ann, I knew I had to make some linen fringe napkins to add to my napkin collection.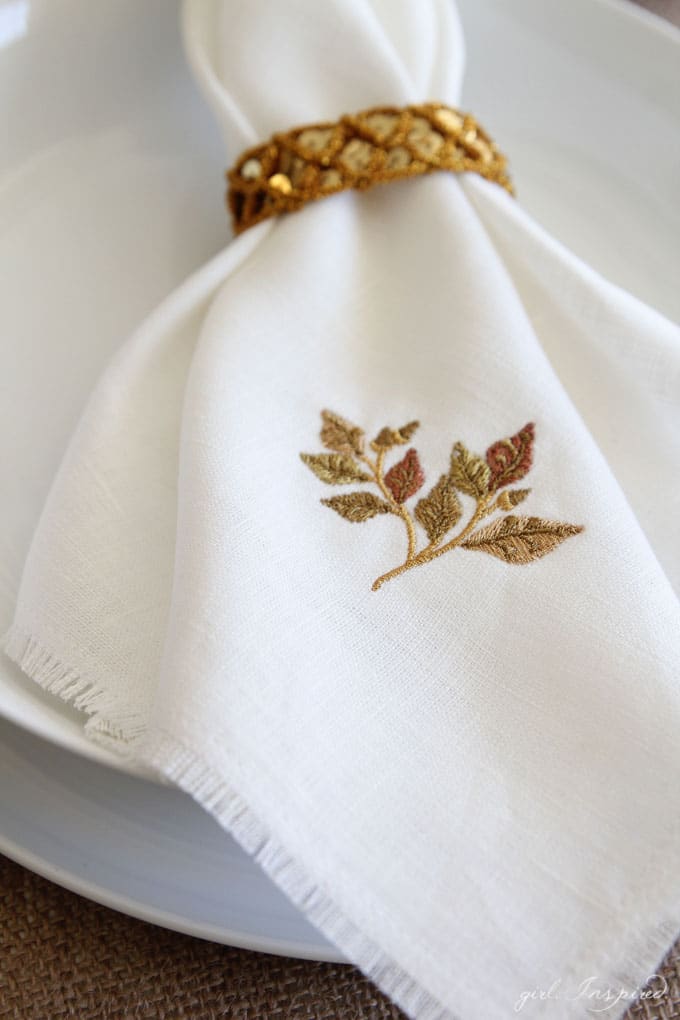 Once I had the napkins made, I needed to embroider something with metallic thread and I found the most perfect leaf pattern already loaded on my Babylock Aventura sewing and embroidery machine. I could not possibly love these more!!
Want to make a set???? I'll show you how:
For four napkins, you will need just over a yard of fabric – let's say 1 ¼ yards. Pre-wash and dry the linen. Begin by rough cutting the napkins into 19.5″ squares. We're shooting for a finished 18″ napkin, but in order to easily do the fringe technique, we need to really get our fabric cut precisely along the grain line. So, give yourself some working room and cut the squares out larger. Work on one side of the square at a time and begin pulling out the cross threads until you have one thread that goes all the way across the edge – now you have a straight edge to measure from. Repeat for each side until you can see a perfect square. Now, trim down the napkin into a perfect 18″ square.
On your cover stitch machine (I use a Babylock Evolution), sew a border around the entire napkin, about ¼″ away from the raw edge. You can alternately use a regular sewing machine and sew two rows of stitches around the napkin to mimic the same look (or use a twin needle!)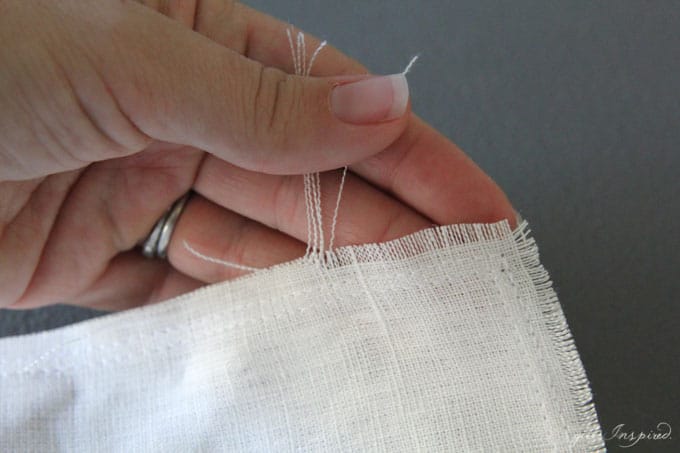 Next, pull the threads to form a fringe edge. Remove the cross threads to the stitching, but not beyond.
Using a cover stitch here really makes for a lovely, professional finish – see the backside there? Looks good and keeps the material secure!
Repeat to complete your set of napkins.
Machine embroider (or hand embroider) a festive pattern centered over a corner of each napkin. I used five different shades of Madeira metallic thread and just randomly rotated through them for each step of this leaf embroidery pattern. They're so beautiful!
I also grabbed some pretty trim to make some simple napkin rings. Cut the trim into 6″ lengths, overlap the ends and hot glue them together. Trim any hanging threads and apply Fray Check to keep the edges from fraying further. Easy!
More Thanksgiving Table Ideas