A soft, chewy crinkle cookie using just a few pantry ingredients - packed with flavor and the perfect amount of chew.
Cool whip cookies are a soft, chewy and ultra delicious cookie made with just 4 ingredients, no chill time, and less than 10 minutes in the oven. Easily adaptable for whatever cake mix flavor you choose!
It's all about the chewy cookies these days. Don't get me wrong, I love a good crispy, crunchy cookie as much as the next person, but there's something ultra decadent about a soft chewy cookie. These double chocolate chip cookies are along the same lines but with twice the chocolate, so you know they're amazing!
What Are Cool Whip Cake Mix Cookies
Cool whip is not just used as a topping anymore! Using it in your baking makes everything lighter and fluffier and adds a delicate sweetness. These cool whip version of a crinkle cookie recipe is just the beginning. Soft, chewy and almost brownie/cake like, these scrumptious cookies are only made better by that signature crinkle on top!
This cool whip cookies recipe requires only 4 simple ingredients and just under 10 minutes of baking time which will yield about 20 cookies. That's enough to serve some and freeze the rest for later! Although, they are pretty irresistible so having any leftover is debatable.
Using cake mix as an entire ingredient in itself cuts the ingredients list way down, and makes these super simple decadent crinkle cookies even better. Customizable depending on the flavor of the cake mix you use. In the spring and summer, I love to use lemon and strawberry which makes them pink and yellow. They look beautiful on a dessert tray for wedding showers, baby showers, Easter, and Mother's day! Then in the cooler months around Christmas, I break out the red velvet and chocolate cake mix. But in all honesty, these are too delicious and too simple not to make them any way you want on any day you want.
Cool Whip Crinkle Cookies vs. Traditional Crinkle Cookies
Both are very similar, cool whip cookies and crinkle cookies made the old fashioned way are basically the same thing. However, cool whip cookies take a clever short cut, which makes them great for quick and easy desserts on any occasion. They're also perfect for whipping up just because you feel like enjoying your favorite cookie.
They are both made from cookie dough that has been coated in powdered sugar. When baked, they rise to a thick brownie-like consistency, which creates crinkles in the exterior exposing that inner deliciousness through the cracks in the powder sugar.
Traditionally made crinkle cookies are made with a number of other ingredients, and cool whip cookies are generally made with a cake mix and cool whip!
Cool Whip Cookies vs Cake Mix Cookies
These two cookies have even less of a difference! It's a simple swap of butter for the cool whip. Butter and Cool Whip are both a fat which will give the cookies a nice rich texture, but the cool whip adds a light airy texture to the cookies.
Ingredients:
I'll wait while you go grab a pen…Just kidding!
Cake mix – Any flavor but I love lemon and strawberry.
Cool whip – A thawed 8oz tub will do.
An egg – Room temperature, if possible.
Powdered sugar – For rolling and coating just before baking.
How to Make Easy Cool Whip Cookies:
Combine the ingredients and scoop out the dough. Lightly roll each bit of dough around in powdered sugar just to get an even coating, and gently form into balls. Don't roll them too heavily or they'll lose the pretty crinkled effect.
Once they're done baking you'll notice that they are still quite soft. They will always be a softer cookie, but will set a bit more once cooled.
They are literally where cookie meets fudge meets brownie meets cake. This means if you're a lover of even just one of those things, these cool whip cookies are meant for you!
Variations and Substitutions:
Chocolate – There's never a wrong time to eat a chocolate cookie! Use a chocolate cake mix for everything from Christmas, Valentine's Day, a school bake sale, or as a Thanksgiving dessert.
Red velvet – A naughty little flavor isn't it?! Valentine's Day is the perfect occasion for this version.
Rainbow – A vanilla cake mix with rainbow bits already mixed in! These would be great for a birthday party for the kids.
Chocolate chips – Add a handful of chocolate chips to your cookies for added texture and taste.
Thumbprint – Once your cookies have come out of the oven and sat for a few minutes they will still be cool enough to add a thumbprint in the middle. Then you can add a Hershey's chocolate kiss or a drop of your favorite jam in the middle.
Sprinkles – Festive sprinkles to match any occasion adds a little texture and fun!
FAQs
Do I need to chill the dough?
You don't! There is no chill time involved in this recipe. You could, if you're not ready to bake them, but it won't necessarily change the outcome of your cookies. If you are wondering about a thicker puffier cookie, what worked for me was making the dough balls a little bigger.
What is cool whip?
Otherwise known as whipped topping, it's basically a manufactured version of whipped cream. Whipped cream is generally pure cream that gets whipped, while cool whip isn't actually cream at all, but made with imitation ingredients that help give it a longer shelf life and more stability than whipped cream.
Can I skip the cool whip?
In a cool whip cookie? Not exactly. You could, however, go back to using butter and make these a lovely cake mix cookie just the same!
How to store cool whip cookies
These cool whip cookies will stay nice and moist if covered in an airtight container on the counter for up to 5 days. Don't worry, they'll be eaten way before then.
Can I freeze them?
Yes, they are very freezer-friendly! Once completely cooled, keep them wrapped in an airtight container or freezer friendly bag for up to 3 months. These make a great make ahead cookie for any occasion. They thaw out in no time and are also pretty darn easy to eat straight out of the freezer (ask me how I know!)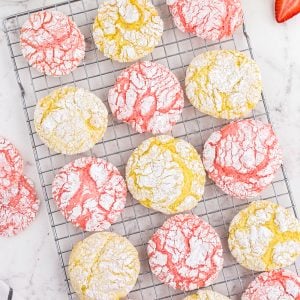 Cool Whip Cookies
A soft, chewy crinkle cookie using just a few pantry ingredients – packed with flavor and the perfect amount of chew.
cookies
Ingredients
1 box lemon cake mix or any flavor
8 oz. tub Cool Whip thawed
1 large egg
1 cup powdered sugar
Instructions
Preheat oven to 350°F. Spray a baking sheet with non-stick cooking spray and set aside.

Scoop even balls of dough (a heaping 1 tablespoon) using a cookie scoop or measuring spoon. Drop the balls into powdered sugar.

Roll in the powdered sugar -it is easier to roll into balls with your hands once they have a coating of powdered sugar.

Bake for 8-9 minutes or until the cookies are evenly spread. They may just be starting to brown on the bottom/edges, but you do not want too much color on the top.

Store cookies in an airtight container for up to 5 days or freeze up to 3 months.
Nutrition
Calories: 139kcal | Carbohydrates: 30g | Protein: 2g | Fat: 1g | Saturated Fat: 1g | Trans Fat: 1g | Cholesterol: 10mg | Sodium: 200mg | Potassium: 28mg | Fiber: 1g | Sugar: 19g | Vitamin A: 32IU | Calcium: 68mg | Iron: 1mg