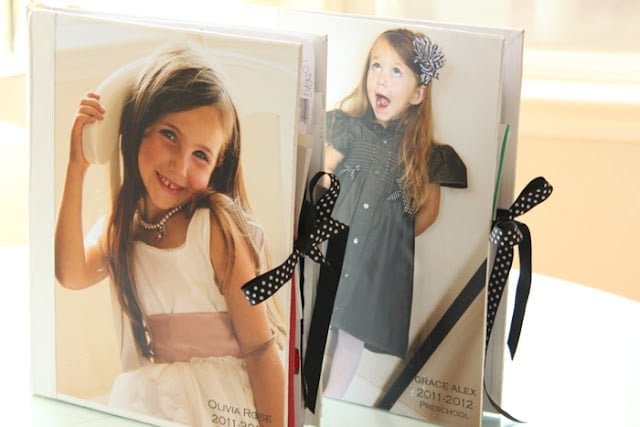 This is a post I have been meaning to put together for quite a while now. You may remember last year when I posted about putting
photographs onto canvas
using Mod Podge. I receive comments and emails with questions about this project on a weekly basis; it has been pinned over 100,000 times. 100,000 times!!!! So, it seems like it's of interest to people (wink!) I had a friend from Grace's gymnastics ask me to come into her husband's photography class a few weeks ago to demonstrate the project and I got really excited to gather and show the various projects that I have done. I thought it would be good to do an update here also to address some of the most common questions about this project and show a few more examples.
If you are new to this project, the basic idea is that you use Mod Podge to glue down and seal a photograph and decorative paper siding on a store bought canvas. A relatively inexpensive and quick project for displaying or gifting photographs! For the complete instructions, see the original
canvas photo post
.
Let me first try to answer some of the most frequently asked questions:

Q: What type of Mod Podge do you use? Can you use spray acrylic to seal the picture?
A: I use MATTE Mod Podge. I haven't tried it with glossy, but some readers have. I think it comes down to personal preference. Some suggest making your own mod podge formula by mixing white glue and water – I'm not gutsy enough to try it, plus I used a coupon and bought a lifetime supply of Mod Podge. As far as sealing the Mod Podge or sealing the picture for humid climates, I'm not sure. I'm really curious to hear if anyone has tried this and what the results were?
Q: My photo bubbles up/the ink on my photo smears/what kind of paper do you print your photos on?
A: DO NOT USE photographs printed from your home computer. For the best results, get your pictures printed up at a photo processing center. I like Costco. I always get my photos printed in a MATTE finish. Also, when you glue the photo on the canvas, be sure to lay it face down on a clean work surface and smooth out the photo from the back of the canvas in addition to smoothing it down well from the top side.
Q: The paper around the edges bubbles up while it's drying/doesn't lay flat.
A: First of all, use a heavy cardstock/scrapbook paper. My favorite brands are Basic Grey, American Crafts, and My Mind's Eye. A good quality paper will make all the difference in your mod podge projects. It smoothes out nicer, doesn't crumble or bleed or deteriorate while you're smoothing it down on the sides of the canvas. Also, cut your paper pieces just a hair smaller than the surface; it's much more difficult to get the paper to smooth out if you have to press it around a curve. Use a better quality canvas. I really like the canvases from Joann's. The brand that is sold at Michael's seems to be a lot bumpier where it's folded at the corners; I did not like the results of my canvas photos when I used the bumpy canvases. Finally, let the paper dry and most of the bubbles/bumps will likely smooth out. I walk past my drying projects every now and then and just press out any bubbles/bumps.
Q: Have you done a larger photo and how did it turn out?
A: I have only put up to an 11×14 photo on a canvas – it turned out awesome. I did a bit of a larger photo (12×18) on a slab of MDF and it was more difficult to work the bubbles out – though it did dry without any bubbling under the picture. I sort of rolled the picture out onto the base, smoothing out the bubbles little by little.
Q: I can see lines in my finished canvas. Is this right?
A: I use a wide foam brush to reduce the number of overlapping brush strokes as much as possible, BUT the finished product will have visible lines. I LOVE this effect – it gives the canvas some texture and character.
Q: Can you use this technique on wood or other bases?
A: Why not!! I used some scrap ½″ MDF, sealed it with Mod Podge, and did all the steps exactly the same, and it turned out perfect! Actually, the paper smoothed out around the edges even EASIER. I did NOT sand the edges at all before gluing everything down. Makes the project even cheaper if you have scrap wood/wood-like product in your garage!!
So let's look at some more examples.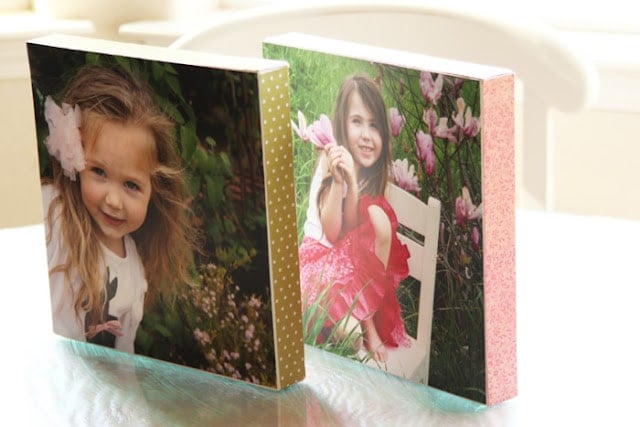 10×10 photos on canvas in the girls' room. These were thicker canvas and I LOVE how they look. I did not paint the edges of these. I wanted to maintain the bright, cheery pop of color in the photographs and on the decorative sides.
Next up – can you spot the Mod Podge projects in my family room?
The photo up on the mantle was an experiment with the MDF and I will replace it with a larger version when I find (or take) the right photo. I'm liking it right now as a placeholder. The larger photo wall was my big project last December. I can't get a good picture straight on of this wall because of major glare, but I've just mixed a bunch of random photos and frames and canvas. I kept everything in black and white to pull it all together. You can see I still haven't done anything with that couch…maybe this summer.
The picture that I put on canvas here is one that my internet bestie, Londen, at
Sixty-Fifth Avenue
, sent to me. The photograph was taken of a door in Barcelona – so incredible! I love having it up in my house – it's a fun reminder of the amazing friendships that have developed through this blog.
I love how easy it is to throw the pictures on wood scraps, too. It's kind of hard to tell from the pictures, but you might be able to see how smooth and crisp all the edges and corners finish off on the MDF below.
I grabbed a few of my wedding proofs to do this set of 3 – 4x4s. I used these to demonstrate the project in the photography class I was telling you about. I prepped the canvases at different steps so that I could show everything, but skip the drying time. Made me kind of giddy like I was on a TV show or something. You know, like when they put the casserole in the oven and set the timer for it to cook while simultaneously pulling a finished bubbling dish from the oven below? Anyway, I think these are going to become part of a photo collage in my master bedroom if I ever get around to decorating in there.
And finally, I got this next idea when I saw Ashley at Lil Blue Boo use flat canvas panels to
make art portfolios
. I have been needing a way to organize and store the girls' school and art work. In Photoshop, I added text to a photo of each of the girls with their name, the school year, and their grade. I had those printed up and mod podged them onto the flat canvas panels. Then I followed Ashley's instructions to turn the panels into portfolios. I hot glued a piece of ribbon inside each side and tied them to close.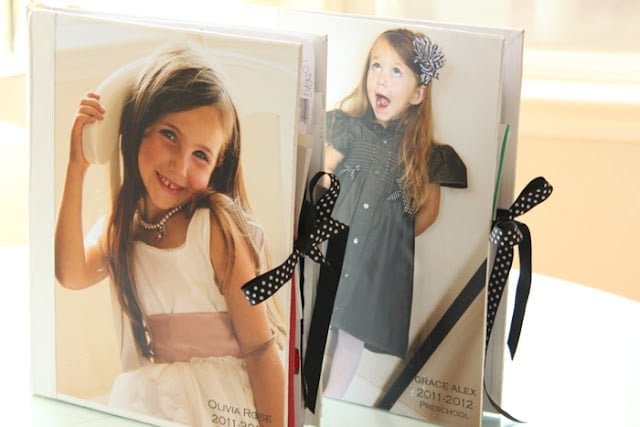 Okay! So that's what I've got. I hope this helps to clarify the process a bit and inspires you to get crafty with your pictures! Feel free to share links to your canvas photo projects in the comments.