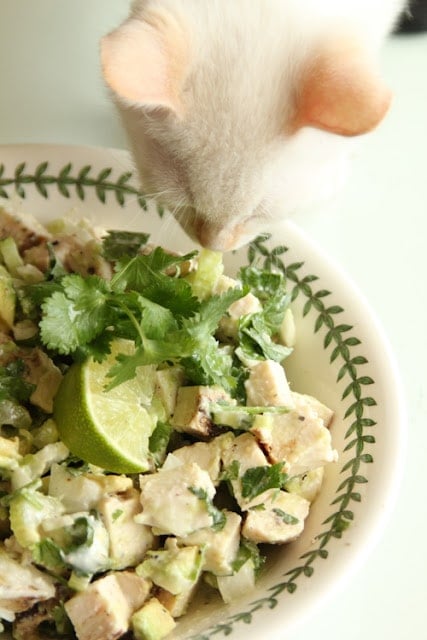 I've told you before about the extreme diet that I've been living for the past 10 months, yes? My girlfriend called it "gluten-free on steroids" which made me laugh (particularly since this diet keeps me off of steroids). The actual name is the Specific Carbohydrate Diet and it's sugar-free, lactose-free, and all grain-free. This means that I can't eat anything with processed sugar, including packaged vegetables or meats that have added sugar – and EVERYTHING has added sugar. I even had to hunt down a turkey at Thanksgiving that didn't have sugar injected into it. In addition, I can't eat wheat, rice, soy, corn, oats, potatoes, quinoa, thickening agents, anything with starch. And then for fun, we've thrown in no lactose also. It's a daunting diet, to say the least. But I've been doing it for a good while now and I've learned to make a variety of foods that taste good, in addition to keeping me healthy.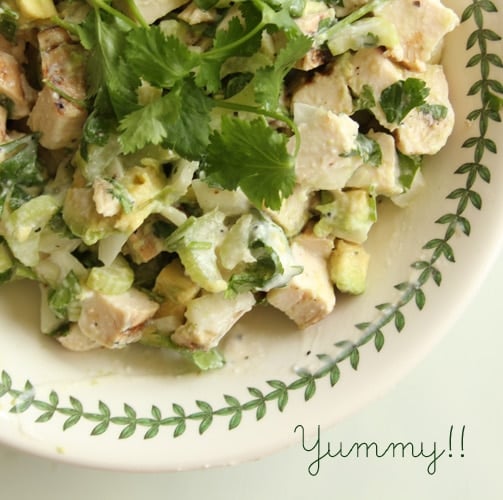 And there is quite a bit that I can eat. I make my own yogurt by fermenting it for 24 hours to eliminate the lactose. Hard cheeses, eggs, avocado, fruit, and almonds are my go-to foods nearly every day. I eat a lot of meat and fish. Food preparation just takes a lot more time. There isn't a whole lot of grab and go food available, but all in all, I'm eating healthier than I ever have in my life. Cheating isn't an option because the consequences for me, are catastrophic. I spent months last spring and summer living 15 feet from a bathroom 24 hours a day, and I'm not willing to go back to that. I have a chronic disease (ulcerative colitis), but I'm managing it with my diet and without medication. It works for me…for now. I'm sure there are others reading that have food restrictions and since I spend so much more time working on edible food creations nowadays, I thought it would be fun to share a few of my new favorites. For those of us with food limitations, the more ideas the better; and if you can eat anything, I think you'll still find this delicious! The salad I want to share today is perfect for summer and easy to prepare. The finished salad is creamy, but light and citrusy – the perfect blend of sweet and tangy. I typically make a single serving (so those are the amounts I'm going to give you), but it is so simple to modify the recipe to serve as many people as you want.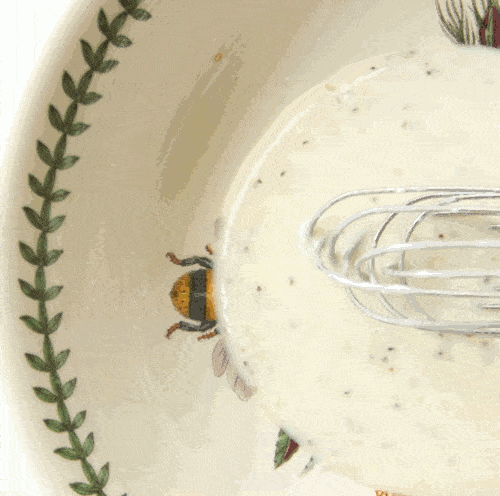 Dressing:
For the dressing, whisk together in the bottom of your serving bowl (and your measurements need not be exact):
½ cup plain yogurt
1T. honey
juice of ½-1 large lime
salt and pepper to taste
Salad:
Now, chop and add to the bowl:
1 grilled chicken breast
2-3 stalks celery
1 avocado
¼-1/2 C. fresh cilantro
⅛ red onion (I just like a little – add as much as you want)
any other veggies you like (some yellow or red bell pepper would be perfect, too)
Toss together, scooping the dressing from the bottom to coat and EAT!!
To minimize meal prep time, I like to marinate and grill a pile of chicken breasts all at once. Then I can eat them with a side of veggies or in a salad for lunch or nights when I don't cook and want to feed the kids pizza or pancakes! I like to use citrus in my marinade, so a typical chicken marinade would be olive oil/lemon/salt/pepper/garlic, for example. I've also substituted the chicken in the salad for shrimp and that is super yummy, too.
What else? The cilantro – it pretty much makes it for me. I love the stuff – put it in everything.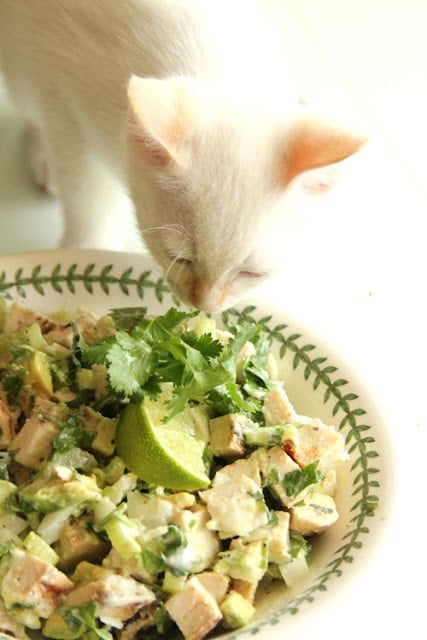 Also, this recipe seems to be a kitty magnet. I couldn't get a picture of the finished salad without Otie's nose in it. I'd put him down off the table, readjust my camera, and by the time I snapped the next picture, he was back on the table with his nose in the bowl.
I hope you like the recipe. And thanks for listening to my rambling about my diet.