In case you missed it over at
See Kate Sew
, here is the tutorial for the Ruffled Neckline Tank to coordinate with the
Layered Ruffles Skirt
.
I think ruffles are my favorite sewing "accessory." As far as I'm concerned, ruffles just make everything better. For today's project, I wanted to dress up a store bought tank for my daughter to coordinate with the skirt that I made her for Easter.
Adding a ruffle to the neckline of a shirt and finishing it off with matching bias tape is a quick solution with beautiful results. You can finish this project in less than 30 minutes and just a bit of fabric. So grab a tank and let's get started! Step 1: Cut a strip of fabric approximately 4″ wide and twice the length of the neckline (or the portion of the neckline you want to accent.)
Press each short end under and press the entire strip in half, lengthwise.
Now, ruffle the folded strip of fabric using your preferred method; I LOVE my ruffler foot on my sewing machine and use it for nearly all of my ruffling needs. I also like to press the strip once it is ruffled. This gets everything laying down nicely and gives the ruffle a nice crisp look.
Next, match the raw edges of the ruffled strip with the neckline edge of the tank and pin in place. I added my ruffle from the top of one shoulder, around the front, to the other shoulder. Using a ¼″ seam allowance, stitch the ruffle onto the neckline.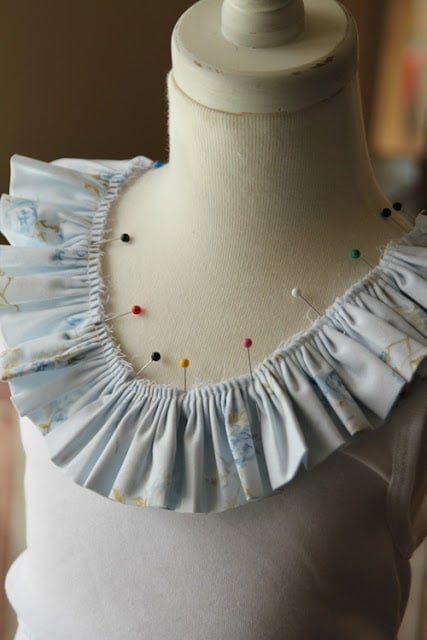 Next, cut a strip of your fabric on the bias to use for bias tape (or use pre-made bias tape). I cut my strip 1 ½″ wide by (the length of the ruffled neckline + ½″ for turning the edge under on each end.) Press each end under ¼″ and turn up one edge of the length by ¼″ and press. This will be the edge that is turned under on the back of the neckline.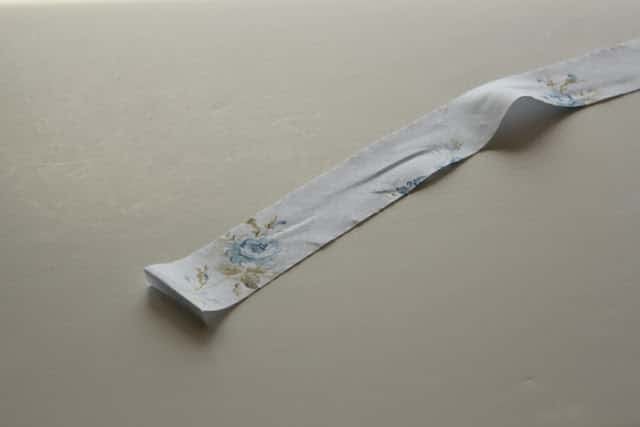 Pin the raw edge of the binding along the neckline.
Stitch in place, being careful that you are stitching below the your stitchline on the ruffled piece (you want to completely cover your stitching).
Finally, fold the binding over the lip of the neckline and hand stitch the binding into place on the back side of the tank.
And, you're done!