This cowboy candy recipe makes a great addition to hot dogs, cocktails, or a sweet and spicy candied jalapeno appetizer that everyone can enjoy.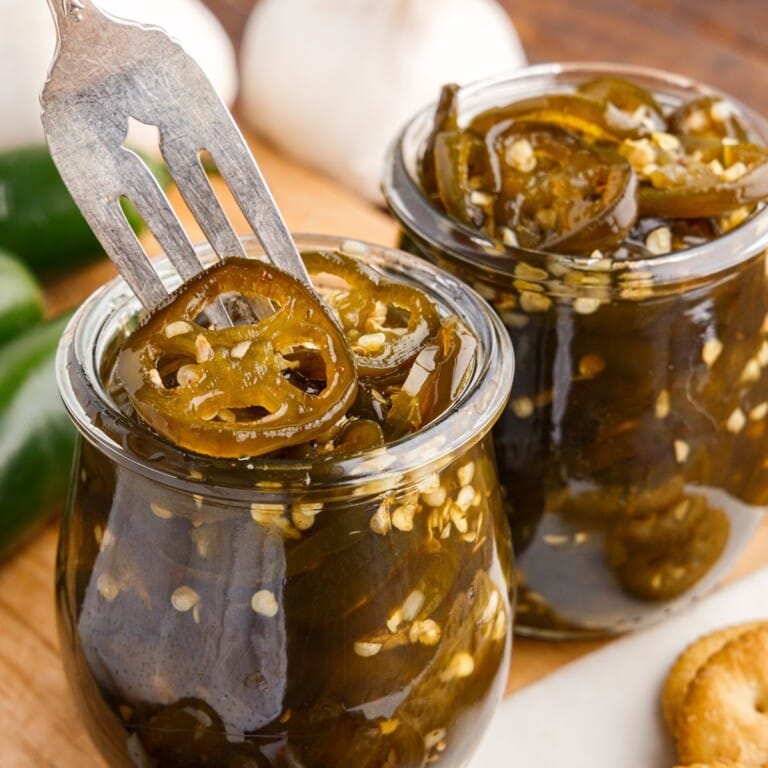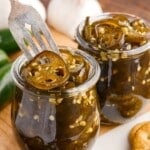 Candied jalapenos have the perfect balance of sweet and spicy at the same time, and are made with 6 simple ingredients. Your taste buds will be screaming for more as you can add cowboy candy to just about any meal.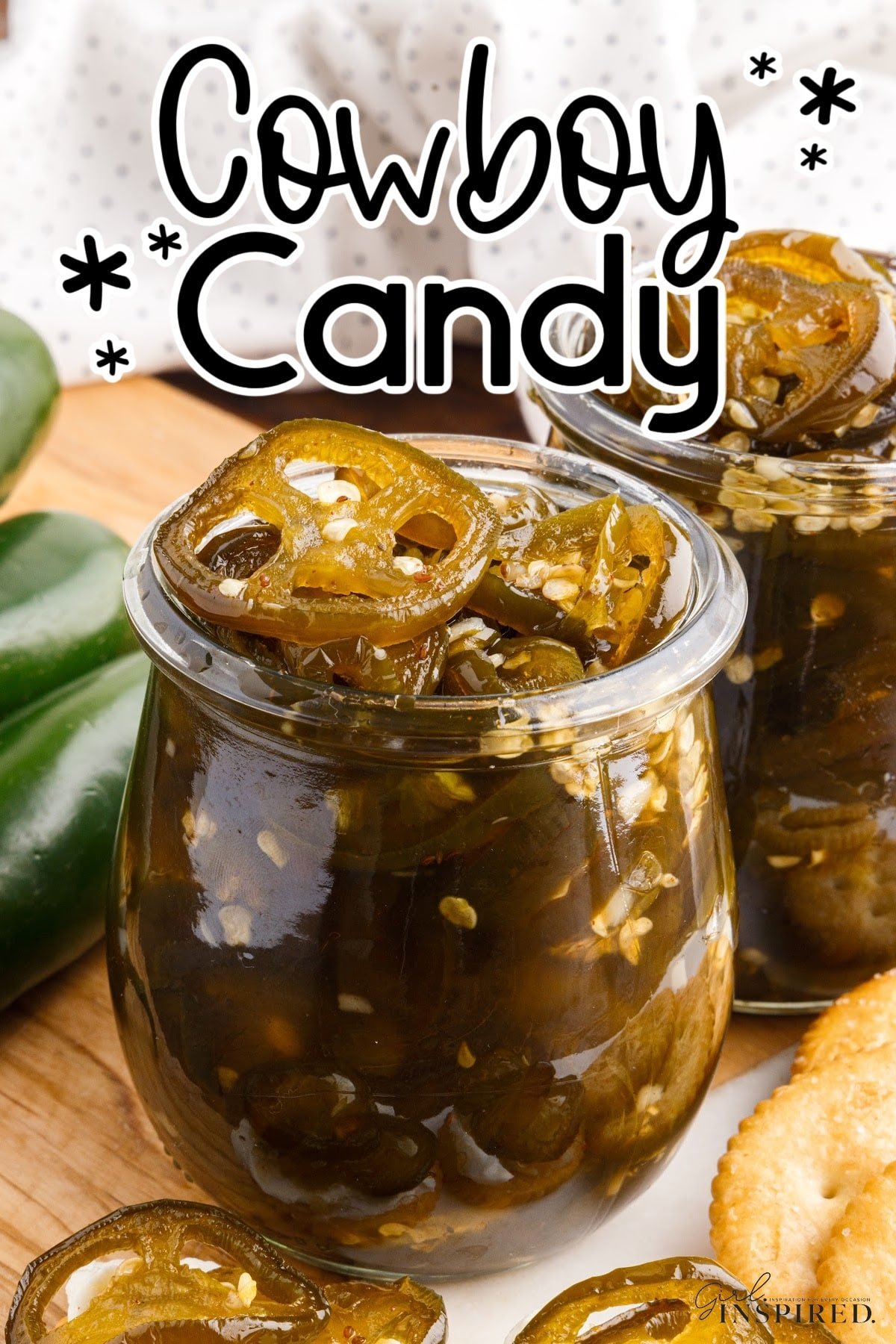 This jalapeño recipe takes simple flavors to the next level. The best part is how simple the ingredient list is and the fact you can make them without actually having to go through the entire canning process, unless you want to.
We love adding them to homemade cast iron pizza, spicing up chicken tortilla soup, and serving them alongside Huli Huli Chicken for extra spice with the tropical flavors.
Jump to:
🌶️ Ingredients:
fresh jalapeños – look for fresh peppers that don't have any blemishes and are firm to the touch.
apple cider vinegar – any brand will work.
white sugar – balances out the spiciness and helps to preserve the texture of the peppers.
minced garlic – use store bought or mince 2 cloves. If desired you can also swap for garlic powder.
For a full list of ingredients and their measurements, 📋 please view my printable recipe card at the bottom of the post.
Optional Garnish:
Our jalapeno recipe is perfect with cheese and crackers, on hot dogs, and even in bloody marys. You can also add a spicy treat to to Amish macaroni salads and Amish potato salad.
Substitutions and Variations
Leftover syrup – if you find yourself with leftover syrup, store it and use as marinade or add a spicy kick to cocktails.
Other pepper varieties – this is a candied recipe so you can change up the peppers and use habanero or serranos. To take the spicy flavor down a notch, try banana peppers instead.
Bigger batches – simply double or triple the recipe, keep the cooking instructions the same.
🔪 Instructions:
PREP: Remove the stems from the peppers.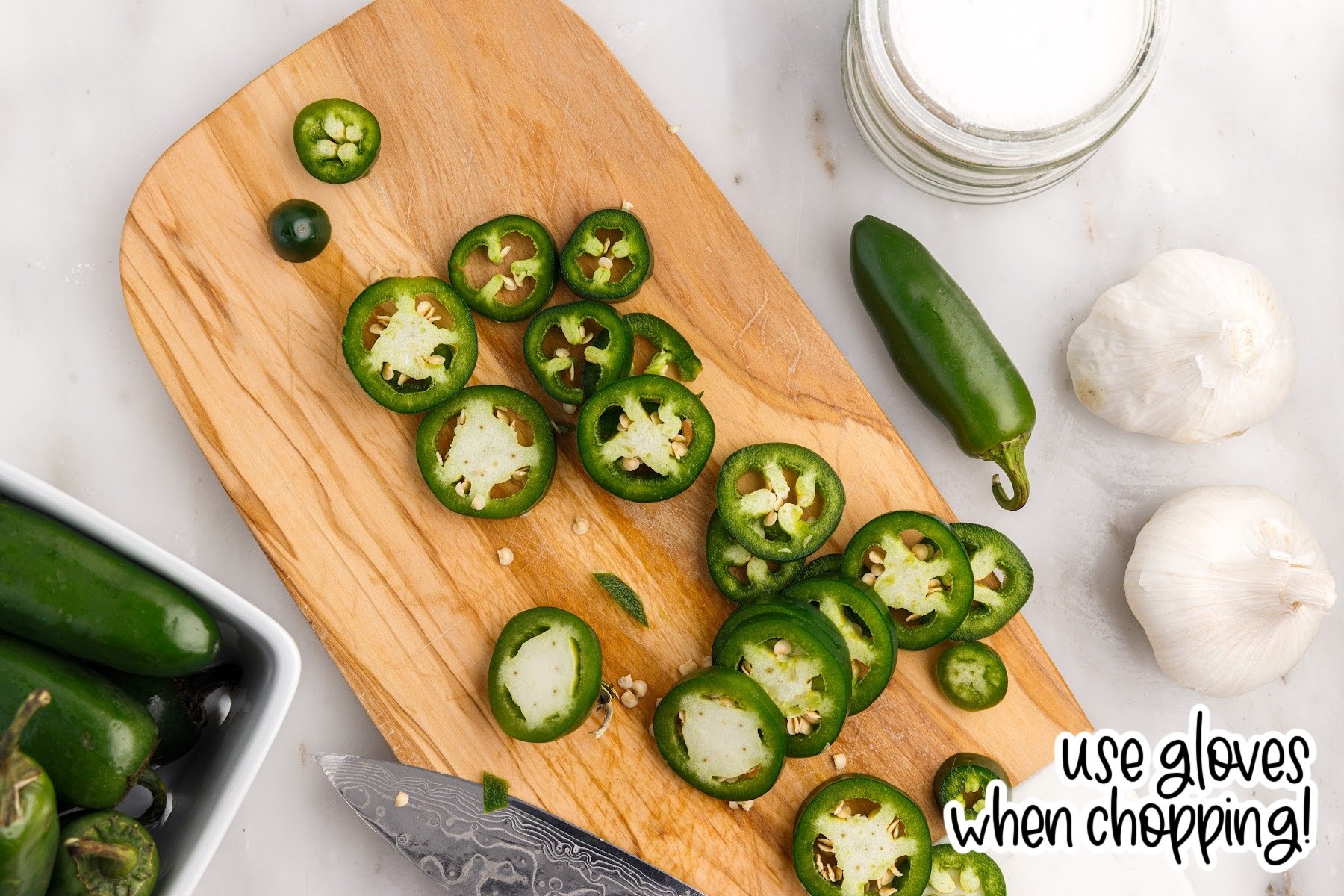 Step 1: Slice peppers into ¼ inches thick rounds. Use a sharp knife or a mandolin.
Step 2: In a large pot, combine vinegar, sugar, minced garlic, celery seed, and smoked paprika. Bring to a full rolling boil over medium-high heat and stir until the sugar dissolves.
Step 3: Add the pepper slices to the mixture and simmer for another 5 minutes so they shrink and turn a dull green.
Step 4: Remove the sliced jalapenos using a slotted spoon and transfer to sterile canning jars.
Pro Tip: Always use gloves when working with peppers and wash your hands frequently.
Step 5: Place the liquid back on the burner over a low simmer for another 5-7 minutes until it reduces and thickens into a syrup.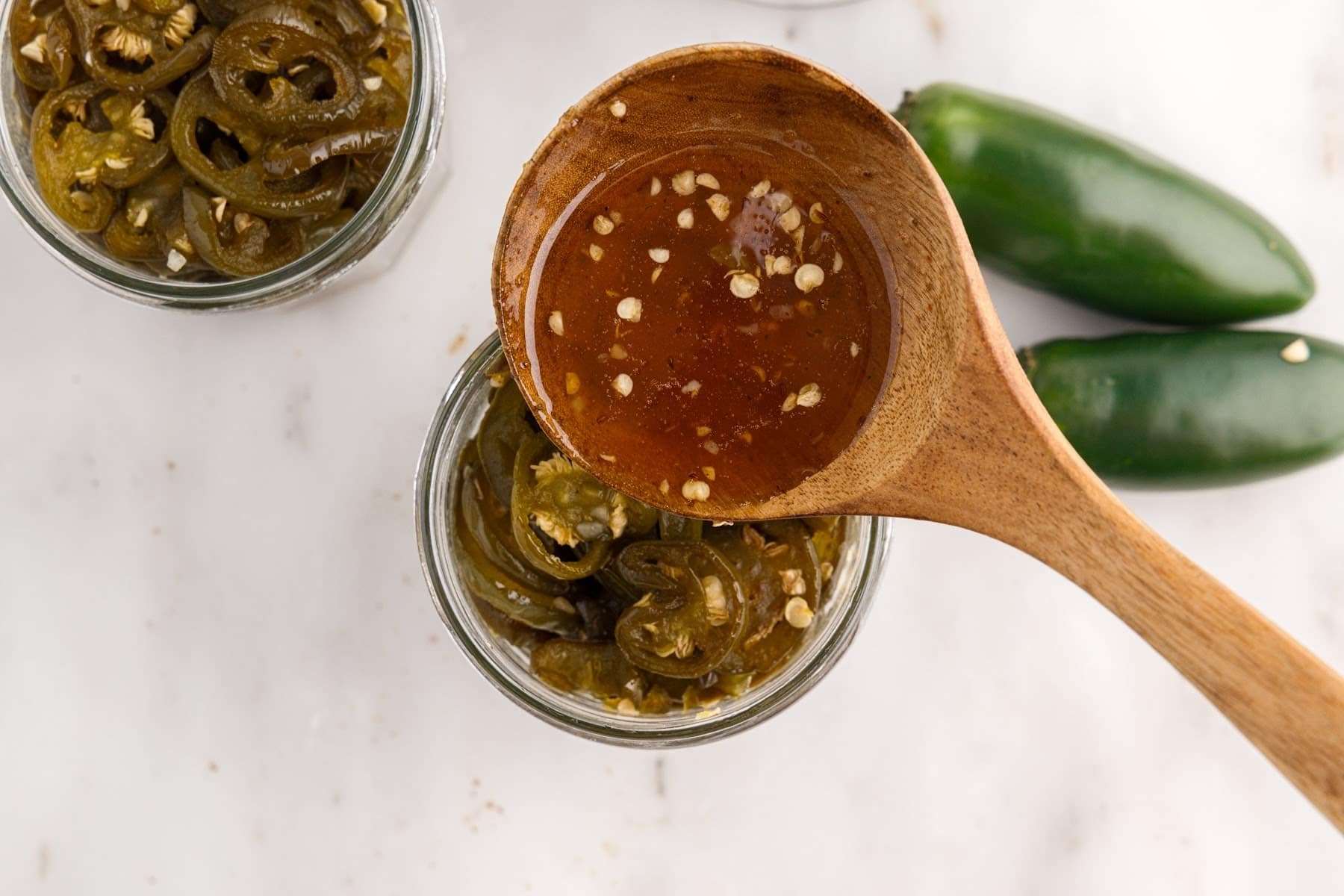 Step 6: Ladle the remaining syrup over the pepper slices in the jar. Press them down so they are fully submerged. Fill the jars with the simple syrup so it's ½ inch below the upper rim of the jar.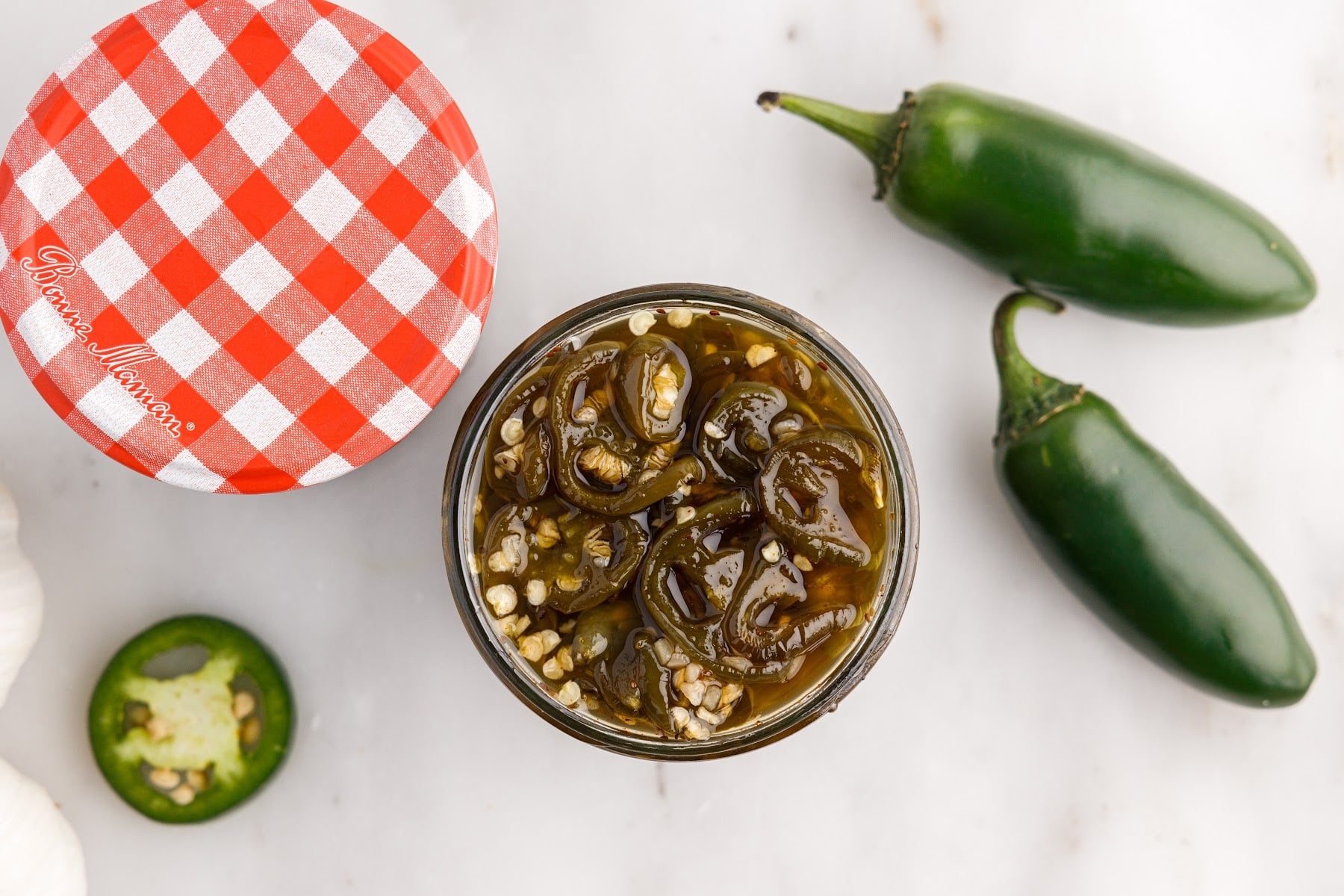 Step 8: ​Seal the jars with the lids. Store in the refrigerator or you can process the jars in a boiling water bath and store on the shelf.
STORE: You can serve them immediately, but the flavors are best once they sit for 2-3 weeks.
Candied Jalapenos Recipe Tips
Jalapeno peppers vary when it comes to spiciness, so no two batches of candied jalapeños will be the same.
The spiciest part of jalapeño peppers are the white membranes and seeds. If you only want a little kick, remove these before cooking the peppers.
Use gloves when handling hot peppers.
This recipe makes 2 jars of cowboy candy when using the pint sized (16 oz jar).
If you are truly canning the peppers, process the jars in a boiling hot water bath to seal. They can be stored at room temperature and have a shelf life of 1 year if they are not opened.
Don't worry if the jalapenos look shriveled while cooking, they will plump up after storing.
Fun Fact
Cowboy candy started on a ranch when a family found it was a great way to use up an abundance of peppers, and started pickling them the way you would cucumbers. Cowboys on the ranch loved the sweet heat and thus the name was born.
Recipe FAQs
How long do candied jalapeño rings last?
Once they are sealed, they can be stored in the fridge up to 3 months or in the freezer for 1 year. After they are opened, use sterilized utensils to take the spicy jalapenos out or consume the jar within 1-2 weeks.
What is cowboy candy?
Cowboy candy is a popular homemade sweet and spicy treat It's basically candied jalapeño peppers that have been sliced and simmered in a mixture of sugar, vinegar, and spices until they become tender and infused with flavor. The spicy sweetness makes it a versatile condiment to be used on nachos, chili dogs, or with cheese and crackers.
How do you sterilize canning jars?
The easiest way is to place them in oven on a baking sheet for 10 minutes at 200 degrees. If you have a canner you can boil them for 10 minutes or run them through a sterilization cycle in the dishwasher.
More Delicious Jams & Dips
If you tried this Candied Jalapeños Recipe or any other recipe on my website, please please leave a 🌟 star rating and let me know how you liked it in the 📝 comments below.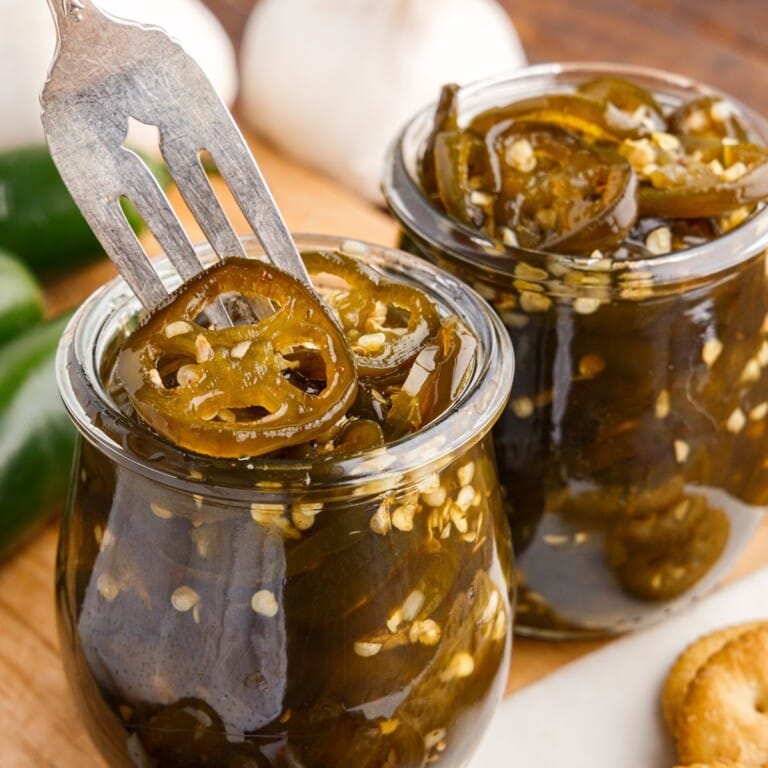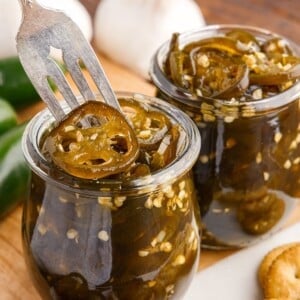 Candied Jalapenos
This cowboy candy recipe makes a great addition to hot dogs, cocktails, or a sweet and spicy candied jalapeno appetizer that everyone can enjoy.
Pint Jars
Ingredients
1 ½ pounds jalapeños
1 cup apple cider vinegar
2 cups granulated sugar
2 teaspoons 2 cloves minced garlic
½ teaspoon smoked paprika
¼ teaspoon celery seed
Instructions
Trim stems from jalapenos and discard. Slice each jalapeno into ¼" thick slices. Use gloved hands to avoid getting the oils on your fingers.

Place apple cider vinegar, sugar, minced garlic, smoked paprika, and celery seed into a stockpot or saucepan.

Bring to a boil over medium high heat, stirring and cooking until sugar is fully dissolved (about 3 minutes).

Add the jalapeno slices to the mixture and simmer for 4-5 minutes, until the jalapenos shrink a bit and have changed color from a vibrant green to a dull green.

Remove jalapenos from liquid with a slotted spoon and transfer to sterilized canning jars.

Return the liquid to the burner and simmer for 5-7 minutes more, until liquid has reduced and thickened slightly into a syrup.

Ladle the syrup over the jalapeno slices in the jar, pressing the jalapenos down so that they are fully submerged. Fill each jar with liquid to about ½" from the top.

Seal jars with lids.
Notes
Storage: Cowboy candy can be stored in the refrigerator for up to 3 months and in the freezer for 1 year. After opening, use only sterilized utencils and enjoy within 1-2 weeks. Notes: To extend the shelf life, used sterilized pint jars, bands, and lids. Then process in a water bath to seal where they will last on the shelf for 1 year. Candied jalapenos are sweet and spicy, which pairs well with smooth cheeses and crackers. The spice level varies based on the pepper. The seeds and white membrane are the hottest part. Remove these to reduce the spice. You may notice that the peppers shrivel while boiling. They will return to being plump after a week or two of storing. For the best flavor, wait 2-3 weeks before serving. Nutritional information is for a full pint-sized jar of cowboy candy.
Nutrition
Calories: 894kcal | Carbohydrates: 218g | Protein: 3g | Fat: 4g | Saturated Fat: 0.4g | Polyunsaturated Fat: 2g | Monounsaturated Fat: 0.2g | Sodium: 5694mg | Potassium: 775mg | Fiber: 9g | Sugar: 207g | Vitamin A: 6030IU | Vitamin C: 35mg | Calcium: 100mg | Iron: 7mg