For my cousin's
baby shower
, I wanted everyone to be able to add their own special touch to a coordinating layette for the baby. This meant that, with the exception of a few store-bought onesies, I sewed clothes and accessories for 35 guests to decorate. For the most part, I used one fabric line: It's a Girl Thing from
Michael Miller
. I also used a few other fabrics that color coordinated. I kept everything within a specific color palette so that the embellishments/buttons/appliques would be interchangeable. Today, I want to share the five dresses that I made for the collection. For the sake of organization, I'll list the materials, pattern used, and commentary beneath each picture.
Fabric: It's a Girl Thing Quaint Cupcakes Pink by Michael Miller
Notions: white piping, pink medium ric rac
Comments: quick to sew, pattern is available for newborn and up to 3 months, this dress came out SO cute, I love the piping detail!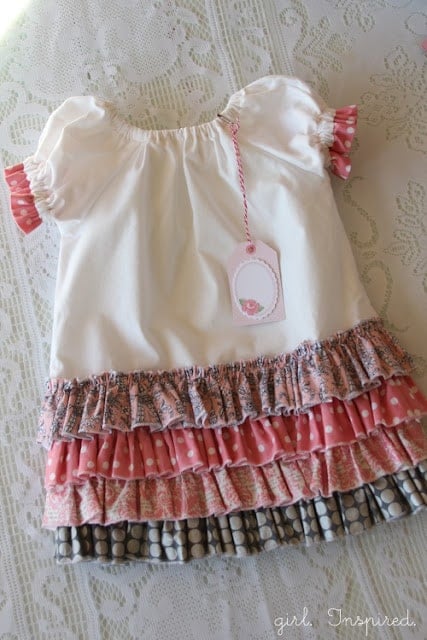 Ruffled Peasant Dress: pattern adapted from a simple peasant dress, I use a simple peasant dress pattern.
Fabric: main: Kona Cotton in Snow, It's A Girl Thing Eiffel Tower Blossom Pink, (pink dot – not sure, I think it's Robert Kaufmann), Lost and Found, pink cream damask sparkle by My Mind's Eye for Riley Blake, Mirror Ball Dot for Michael Miller
Comments: Kind of my standard dress up a peasant dress design. I add the rows of ruffles around the bottom and a pop of color on the gathered sleeves. I think the white, plain top really leaves a nice space for some fun embellishment.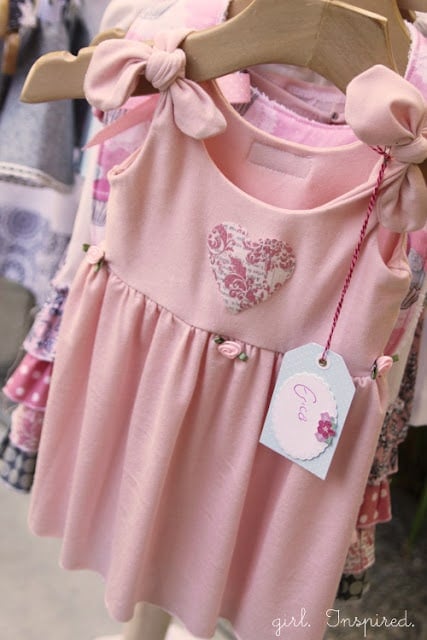 Fabric: more of that yummy soft jersey knit I picked up in the
L.A. Fashion District
during my 1-hour sprint last month.
Comments: Making this dress with a knit made it SUPER fast, I didn't even hem the bottom. It turned out really soft and comfy, perfect for a teeny tiny baby. Pictured is the dress after a guest embellished it – I LOVED what became of this one!!
Knot Dress: Tie Band Knot Dress Pattern by Whimsy Couture
Fabric: Kona Cotton, It's a Girl Thing Doily Dance Gray for Michael Miller, that pink dot again (sorry!!)
Comments: I snuck this picture in before, but this is what I made it for!! Cute, simple, good for embellishing, good for layering (though I did make it in a larger size for next spring/summer)
White Doily Dress: I started with the McCall's M5835 pattern, but I didn't really stay true to the pattern. I worked around the lace collar piece and I'm not sure how much I varied from the pattern (sorry, it's been awhile now).
Fabric: Kona Cotton
Comments: This is my favorite piece in the collection. It was also the very first thing I made. I was staring at the lace piece from my stash and just went from there. For me, this combination of gathering, creamy whiteness, and the vintage lace, just equal perfection. Love this one.
Alrighty! Hope that sparks some ideas/resources if you're sewing for a little one.