I love it that my kids have evenly spaced birthdays throughout the seasons – it makes it really fun to plan different kinds of parties that correspond with the weather and seasonal colors. My summer baby didn't have a set idea for a party theme this year, so we went with some bright summer colors and WATER! This summer splash birthday party turned out to be one of the most fun yet!
Party preparation was kept to a minimum – in fact, I did a one-stop shopping trip to Hobby Lobby two days before the party and reserved some water slides for the backyard. Party prep doesn't have to be extensive or elaborate to be super cheery and fun. The kids like it no matter what! So, today, I'm sharing some fun and simple ideas for pulling together an amazing party with just a couple days preparation.
Tip #1 – Look around your house or your birthday kiddo's bedroom for decor that matches your theme/color scheme. This is my favorite thing to do when planning for a party. Commit to a theme and two or three colors, then shop from your house! I grabbed this marquee letter from the party girl's bookshelf and cake toppers from the toy box! If you have a theme, you DON'T need to have every single piece of decor covered in theme logos! One or two focal points showing the theme is perfect – supplement the decor with neutral items in coordinating colors or vibe – these "neutral" decor items can be used over and over again no matter what the theme is – this will save you time, money, and the headache of looking at 8,000 superhero faces!
Tip #2 – One-stop shopping trip – if you don't have a lot of time to shop for all the perfect party decor and supplies, better just do it in one big trip. As I mentioned, I headed to Hobby Lobby for all my supplies because they always have a variety of everything (this isn't a sponsored post, I just like the store). I found a bunch of coordinating "lemonade" themed things on super clearance! What a score. I snagged this lemonade drink bucket, a couple small plaques, and some coordinating bowls and napkins for just a few bucks each. Bonus points for cute things that can be used for lemonade stands on another day!
Tip #3: Repurpose. I also found a cute mini watering can and tin box on clearance. I put the utensils in the watering can and popped a couple planted flowers into the tin and it just makes the whole setup look coordinated and festive. I cleared a side table that I keep plants on and set the cake and plates and stuff up outside.
Tip #4: Make a backdrop. Designate a "party area" and create a backdrop to focus the attention on this area. This doesn't have to be elaborate either. There are so many "ready to puff" banners and tissue poms in almost every store, assembly can be super quick! One of the few things we crafted for the party was the "summer fun" banner. My 10-year-old did most of the work on this and it kept her busy and involved, too. Look for a tutorial coming up! I LOVE using the Command strip removable wall hooks for hanging all kinds of temporary things – they stick to everything and come in all different sizes – they even stuck to my stucco outside!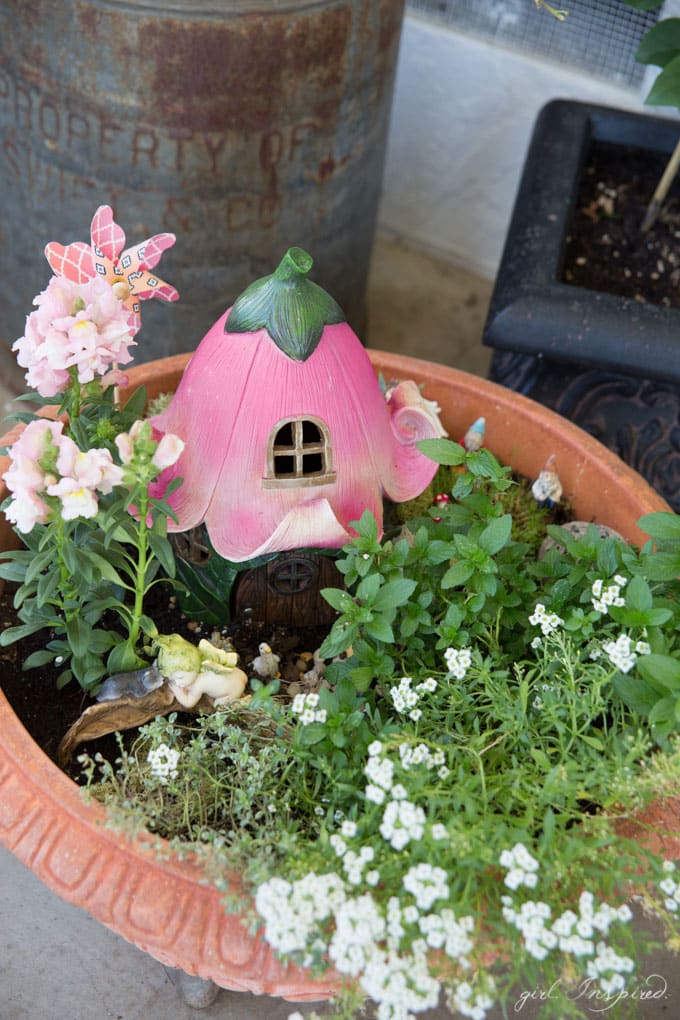 Tip #5: Tie the look of the party into the yard by adding just a few pops of party color into planters or flower beds. With just a six-pack of snapdragons and a couple small bougainvillea, the whole patio looked part of the party. Easy and pretty color to last the whole season!
Tip #6: Easy cake decorating. I've spent many hours decorating party-themed cakes for the girls, but sometimes there just isn't the time. Look for small toys or items that pull in the party colors or theme and stick them atop a baked or store-bought cake. For this cake, I used my favorite dark chocolate buttercream frosting on a 3-layer, 8-inch cake. I used a fairy garden/doll house cat and patio set and a doll-size plastic cake to top the cake. I cut a few triangles from scrapbook paper and stitched them together with my sewing machine, hot gluing each end to a colorful straw to make a mini banner. This takes about 5 minutes and you can save a lot of time decorating even a store-bought cake with these "custom" decorations.
Tip #7: Easy food, Easy fun. Some of the most time-consuming parts of party preparation are food prep and game creating. If you're short on time, ESPECIALLY for a kid party, invest in big fun and give yourself a break on the food. A large group of kids is going to be more pleased with basic food. I did exactly ZERO food prep before the party even started. We grilled hot dogs while the kids were playing and served nachos, veggies, and fruit. The fruit and veggies can be washed and cut while the party is happening (or in advance if you have time, of course). So easy and inexpensive, too. The water slide rentals were a bigger commitment because the rental was pretty pricey. We had a big water slide, a big inflatable slip and slide, and a snow cone machine that came in a package deal. Friends – this was so much fun, it was worth every penny. The rental company set it all up and took it all down, requiring no time or energy on my party. The kids played non-stop and we did nothing else but eat snow cones and watch them play. Once the party was over, the adults took turns on the slides – such a blast for everyone and it lasted well into the evening.
I hope I've provided you with some helpful tips for those birthday parties that you just don't want or have hours upon hours to invest in preparation!