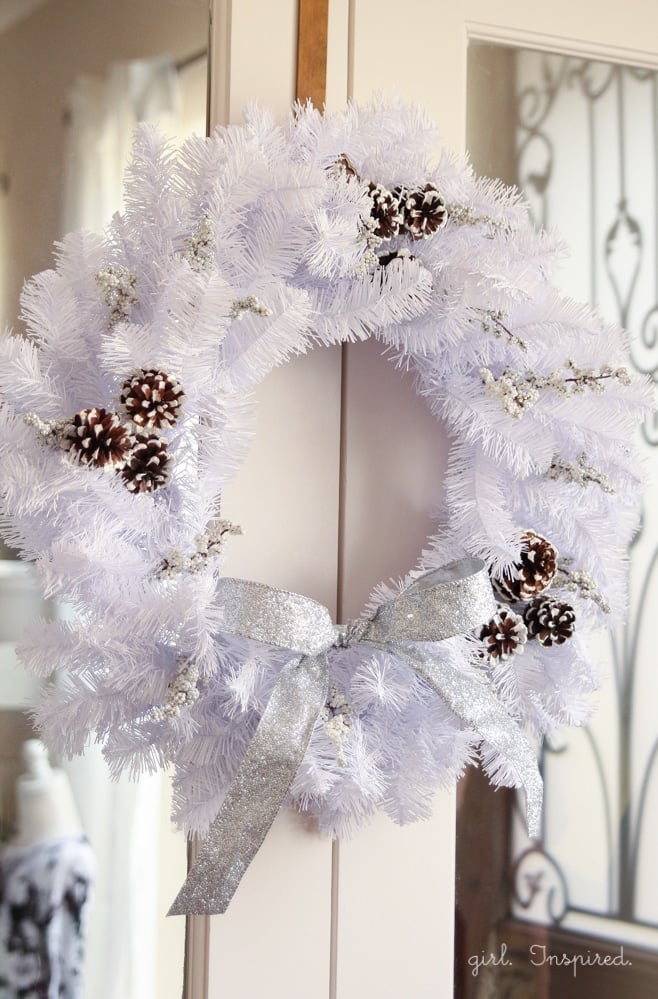 After rounding up all of those beautiful wreaths a couple weeks back, I got the urge to make an all-white one for our Christmas decor. This Sparkly and White Winter Wreath was inexpensive and easy to make using supplies all found at Jo-Ann Craft Stores (this post is part of the Jo-Ann holiday campaign). I love that the wreath adds some light and brightness to the room. I'm a quality product kind of girl and, usually, inexpensive white crafting materials have a blue tint to the paint that give them a "cheap" feel, but I've made just a few upgrades to this white artificial wreath and I think it turned out looking great!
How to Make a Sparkly and White Winter Wreath
Supplies:
basic artificial wreath in white (70% off at Jo-ann right now!)
spray snow
Clear Spray Paint in MATTE (optional)
white berry floral arrangement (1 large) (also 70% off)
9 small pinecones
white glue
acrylic paint in warm white
glitter (silver or iridescent)
hot glue gun and gluesticks
large silver (wired optional) ribbon for bow and/or hanging
To give the artificial wreath a little more oomph, coat it with several layers of spray snow according to the instructions on the can. You'll want to let each layer dry in between. You'll see how the spray snow gives the needles more texture and the wreath an overall fluffier and higher quality look. I sprayed the dried wreath with a couple coats of Matte Clear spray paint to seal the snow in – it still sheds a bit, but only when shaking it.
Pull or snip apart the white berry floral arrangement. Wedge the berry pieces into the wreath in a visually pleasing manner. They shouldn't look too uniformly placed, but should be spread around the wreath fairly evenly. You can hot glue the tips into place, but they stay fine without gluing (guess whether I glued or not).
Next, we're going to dress up the pinecones with a trick I learned from my friend over at Sixty-Fifth Avenue. Mix a little white glue with some white acrylic paint – maybe half and half. Use a styrofoam brush to dab the tips of the pinecones with the paint mixture, creating a snowy look. Before the glue/paint dries, sprinkle with glitter and shake off the excess.
Once the glue has dried, you can add the pinecones to the wreath in clusters of three. These will need to be hot glued on. Arrange them where you want them first, then add some glue to the base of the pinecone and wedge it down into place. Finish the wreath with a big silver bow if you like and you're done! Hang up that beautiful bright wreath and pat yourself on the back.
The Sparkly and White Winter Wreath was created for the Jo-Ann Fabulously Festive holiday campaign. I was provided with compensation to purchase the materials for this project. Here's an awesome coupon so you can get your supplies, too!