Most ladies would probably agree that a day at the spa is relaxing, refreshing, and rejuvenating. But did you know that creating a spa day at home with a young girl in your life can be an amazing tool to build her self-esteem? I was looking through the variety of activities that Dove outlines in their online Self-Esteem Toolkit and Resource page and came across this idea to spend a day teaching Olivia to pamper herself. She has been talking about having a "spa party" for her birthday celebration this year, and I know how much she enjoys having her hair done and her nails painted, so I thought this would be the perfect activity for us. Plus, I appreciated the push to carve out a block of time to spend alone with my oldest daughter, and it turned out to be one of the best afternoons of the summer.
I picked up some supplies for our special day, but decided not to prepare the food or spa treatments ahead of time. Olivia enjoys food preparation and getting crafty, and I thought that creating our spa day together would be a good tool to show her that she is capable of bringing the idea to life. I urged her to lead the way by turning on the music she liked, and by treating her as a partner in our preparations. We researched different ideas on the computer, such as hair treatments and foot bath soaks, and then Olivia chose which things she wanted to try. I showed her how to make Lemon Sugar Scrub and we decided on a warm oil and honey hair concoction.
We brought out fluffy white towels, and we sliced limes for sparkling water. She peeled carrots to eat with hummus, and I sliced cucumbers for our eyes. We mixed up plain yogurt with honey and layered it in fancy glasses with fruit and granola.
We put our hair up with its conditioning treatment, and rubbed mud masks on our faces. We took turns soaking our feet and chatting and giggling. We tried to keep cucumbers on our eyes while taking pictures, and laughed because they kept plopping off. We did a lot of talking about the things that make us feel good, and how we each react when we're feeling down. Our conversations are so different when it's just the two of us. She has so much insight and is open and talkative, and it's obvious that she thrives in this one-on-one environment.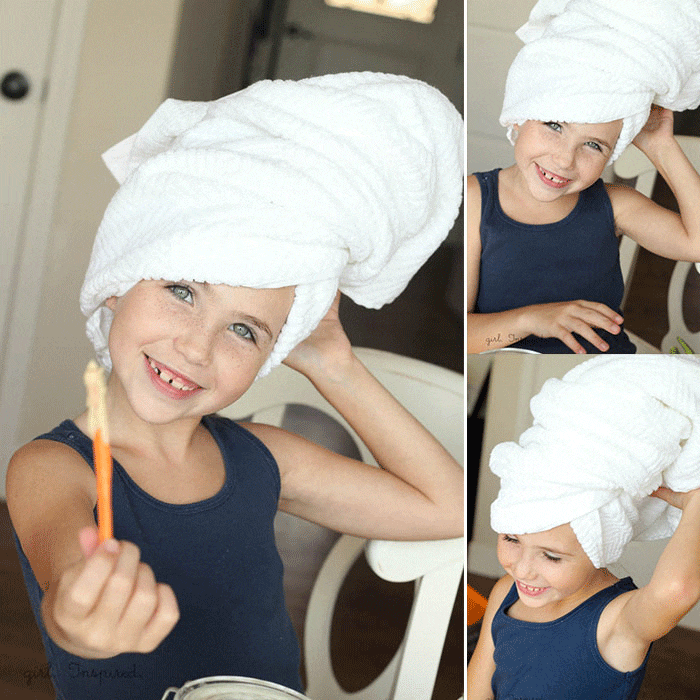 We ate our snacks and sipped our water and painted our toenails. And it was wonderful.
I could see her confidence growing even further just by having dedicated time together without all the daily chores and bickering with her sisters and rushing to squeeze in work and school and the rest of life. Our spa day was such an important reminder and lesson that, in taking time to pamper ourselves, we are also building the strength and self-esteem to walk proudly through the next day. As a mom of three girls, I am so thankful to realize that I don't always have to move mountains to help my girls grow–something so simple and fun as a day of pampering can make a world of difference.