This smoked turkey injection recipe all calls for pantry staples, can be prepared in 15 minutes, and you are guaranteed to have a tender, flavor, juicy turkey every time!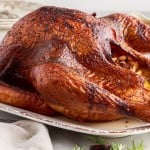 This is the best turkey injection recipe when you want to use your grill or smoker to make a whole turkey. By injecting a poultry marinade into your holiday turkey (or any meal!), you will end up with a tender and moist turkey that is full of flavor! This recipe has a hint of sweetness from the honey while the lemon and butter provide great flavor that compliments the wood flavors from the smoker.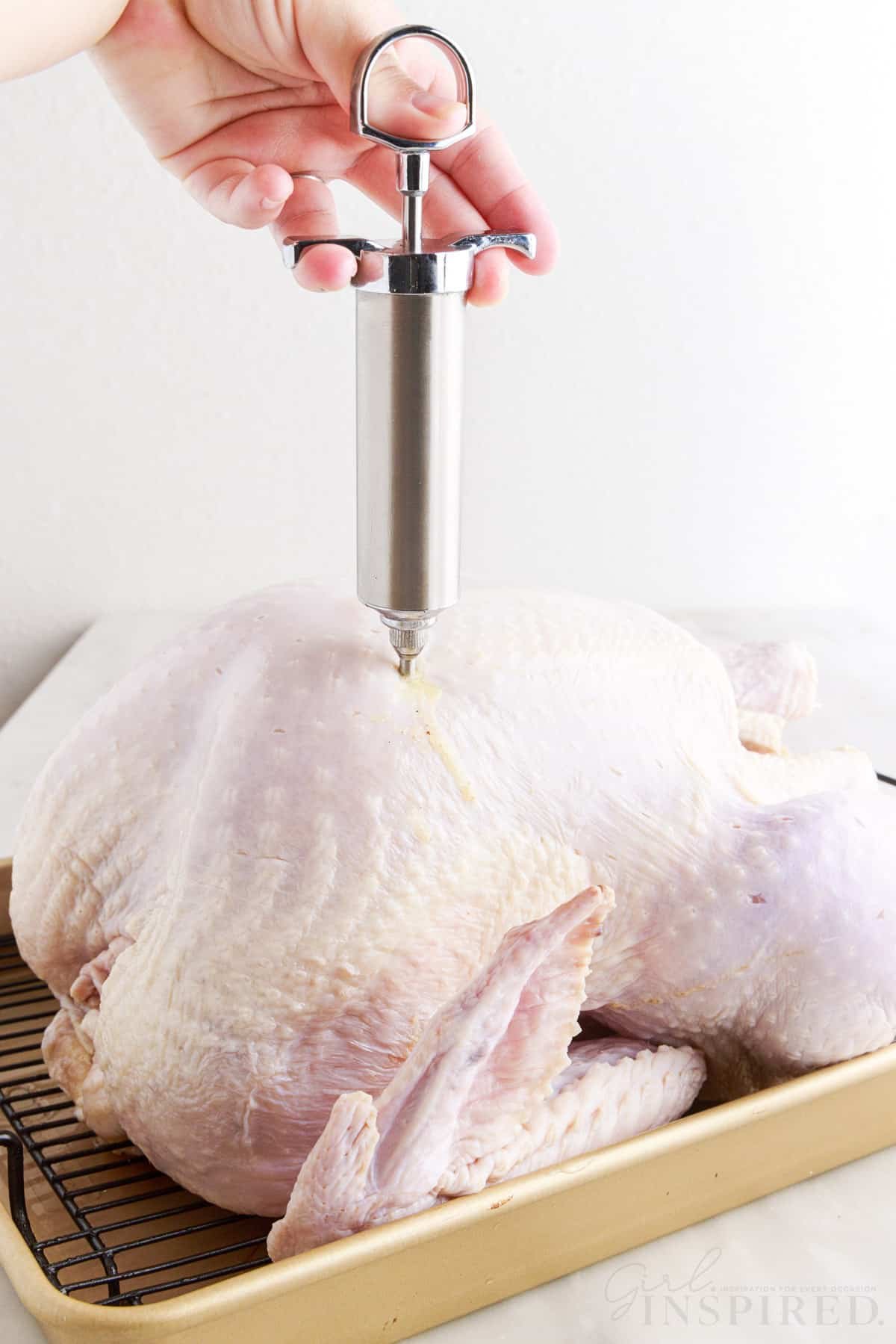 When you use injection marinades, you can say goodbye to dry turkeys! This process literally infuses flavor through the whole turkey breast and helps to tenderize. You can also use this technique with other turkey brines. When I make my smoked turkey recipe, I like to keep the seasoning mixture simple and this recipe is a breeze.
Have the main course all set? Try a few of my side dishes. Use the drippings from the turkey to make gluten-free gravy and pile on the sides like creamy mashed potatoes, stuffing, and a few fluffy dinner rolls! We like to finish the meal off with Pumpkin Bread Pudding with Caramel Sauce, Chess Pie, or a slice of Luscious Banana Cream Cheesecake that no one can turn down!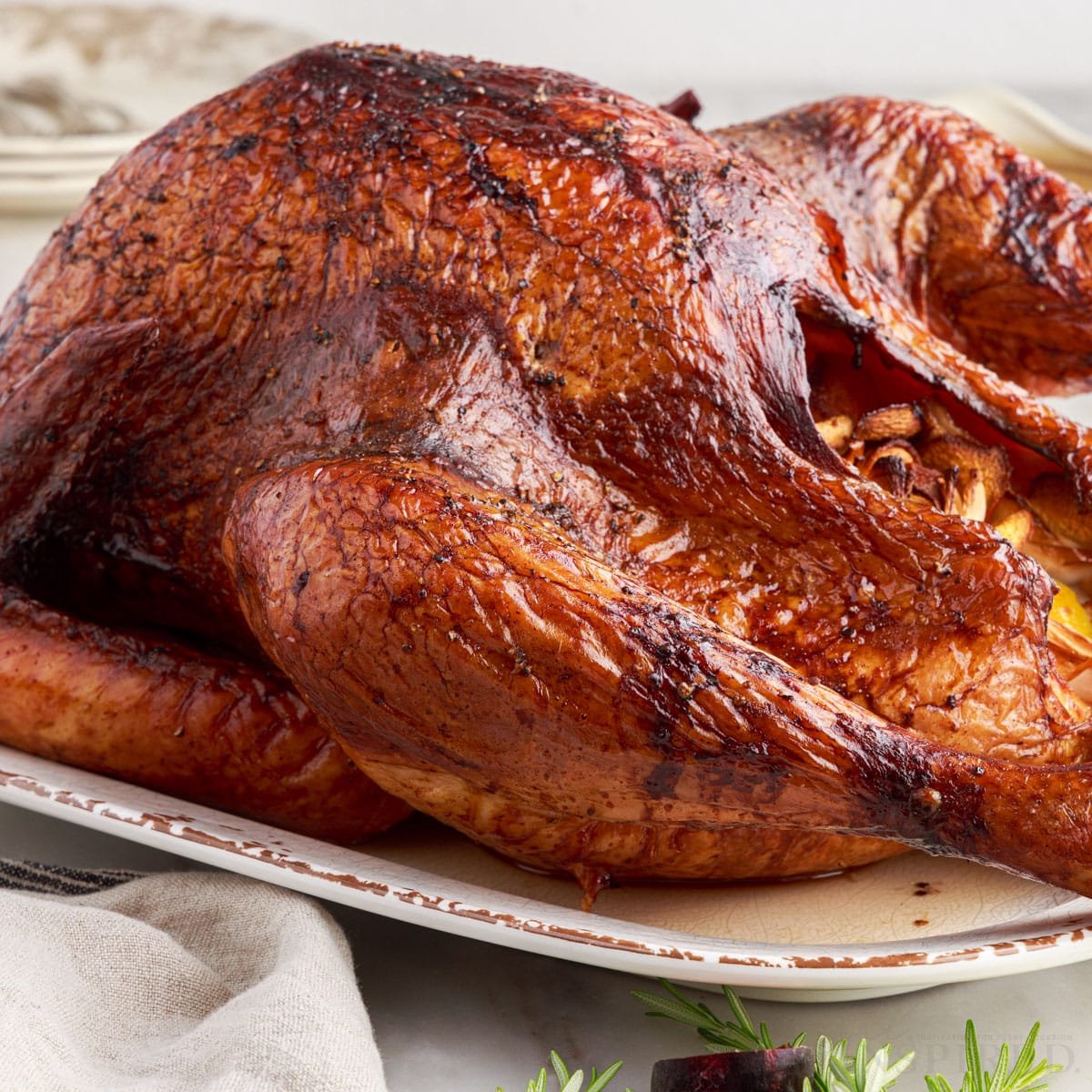 Why You'll Love This Turkey Injection Marinade Recipe
Makes the turkey tender, moist, juicy, and adds more flavor.
Very simple to whip up. Even beginner cooks can do this!
The ingredient list is short and sweet!
What Ingredients do I Need for The Smoked Turkey Injection Recipe?
unsalted butter
chicken broth
salt
finely ground black pepper
honey
lemon juice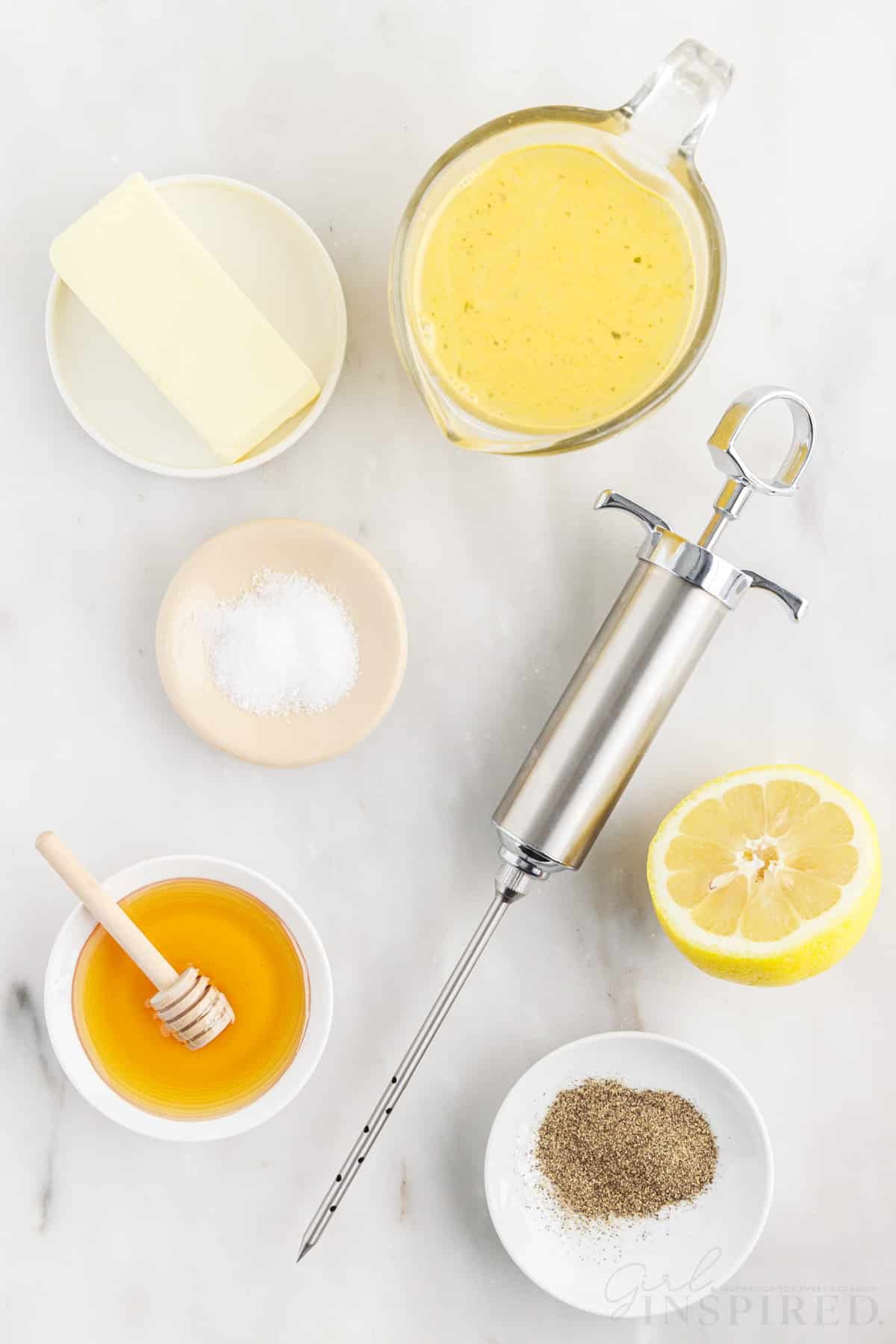 Before You Start: Make sure you are using at least a 2 cup capacity measuring cup.
How to Make The Turkey Injection Recipe for Smoking
PREP: Melt the butter directly in the measuring cup. Mix in the remaining ingredients. Remove the giblets from the turkey, then rinse and pat the bird dry with paper towels. Place turkey on a tray or on a roasting rack in a large pan.
INJECT: After mixing up the injectable marinade, fill the meat injector with the liquid mixture. Pierce the skin of the turkey and press it down into the breast. Slowly inject and repeat in several other places until all the marinade is gone. You can also insert the injection needle at various angles working through the same hole.
Injecting the turkey can be quite a bit of fun, actually. If your needle runs parallel to the breast, you might see the whole breast swell up with the liquid mixture. It's fun evening out the two sides. Do be aware that the liquid expands the muscle fibers of the turkey so the cooked meat looks a little different in texture than a slice of turkey that has not been injected.
COOK: Once you have finished injecting, you can continue to prepare your turkey any way you would like! Placing the turkey in the refrigerator and allowing it to set for at least several hours will allow the marinade to have the greatest effect. This particular smoked turkey injection recipe lends itself well to a smoked turkey because of the lemon and honey flavors.
Before injecting your turkey, make sure it has thawed completely. Do not attempt to inject a frozen turkey.
Patting it completely dry removes the moisture so that you can get an extra crispy skin.
You can experiment with other fresh herbs and spices. However, just make sure they do not clog the holes of the meat injector.
When injecting meat using this tool, make sure you inject deep enough so that it doesn't leak back out. I found that the angle of the injector needle makes a difference with the liquid seeping back out, too, so play around with it a bit for the best results.
Fun Fact
By adding wood chips or wood chunks and a pan of water directly on your grill, you can smoke just about anything without having to own an actual smoker!
Should I inject a turkey before smoking?
Absolutely! The turkey injection marinade just adds more flavor and you never have to worry about dry turkey again! Plus it tenderizes the meat too. You will still get all the yummy flavor of a smoke turkey.
Can you inject your turkey the night before you want to smoke it?
You can inject up to 36 hours before you are ready to smoke your bird. 12 hours is the minimum time, so the marinade has a chance to do its job. We say not to go past 36 hours simply because we do not want the turkey to spoil before cooking.
How long does turkey marinade last?
Store the marinade in an airtight container in the refrigerator for up to 5 days. Once it has made contact with the raw poultry though, please discard any unused marinade.
Can I use a turkey rub in addition to turkey injector recipes?
You sure can! Turkey rubs are going to flavor the outside of the turkey and the drippings that get turned into gravy will get some of that flavor, too. The injection marinade will flavor the actual meat. I would recommend using similar flavor profiles between your marinade and your rub.
Do you inject the marinade into the turkey legs?
You can inject the entire turkey if you wish, including the legs. I find it more difficult to fit the injection needle into the legs and they typically come out moister than the white meat, but there is no reason you shouldn't inject the legs, too, if you'd like.
Do you brine a turkey and inject it with marinade?
No, injecting your turkey and then allowing it to rest in the refrigerator for several hours will do the same thing as a brine will – but more effectively. With a brine, you are soaking the turkey in the marinade. The injection skips straight to getting that marinade deep into the turkey.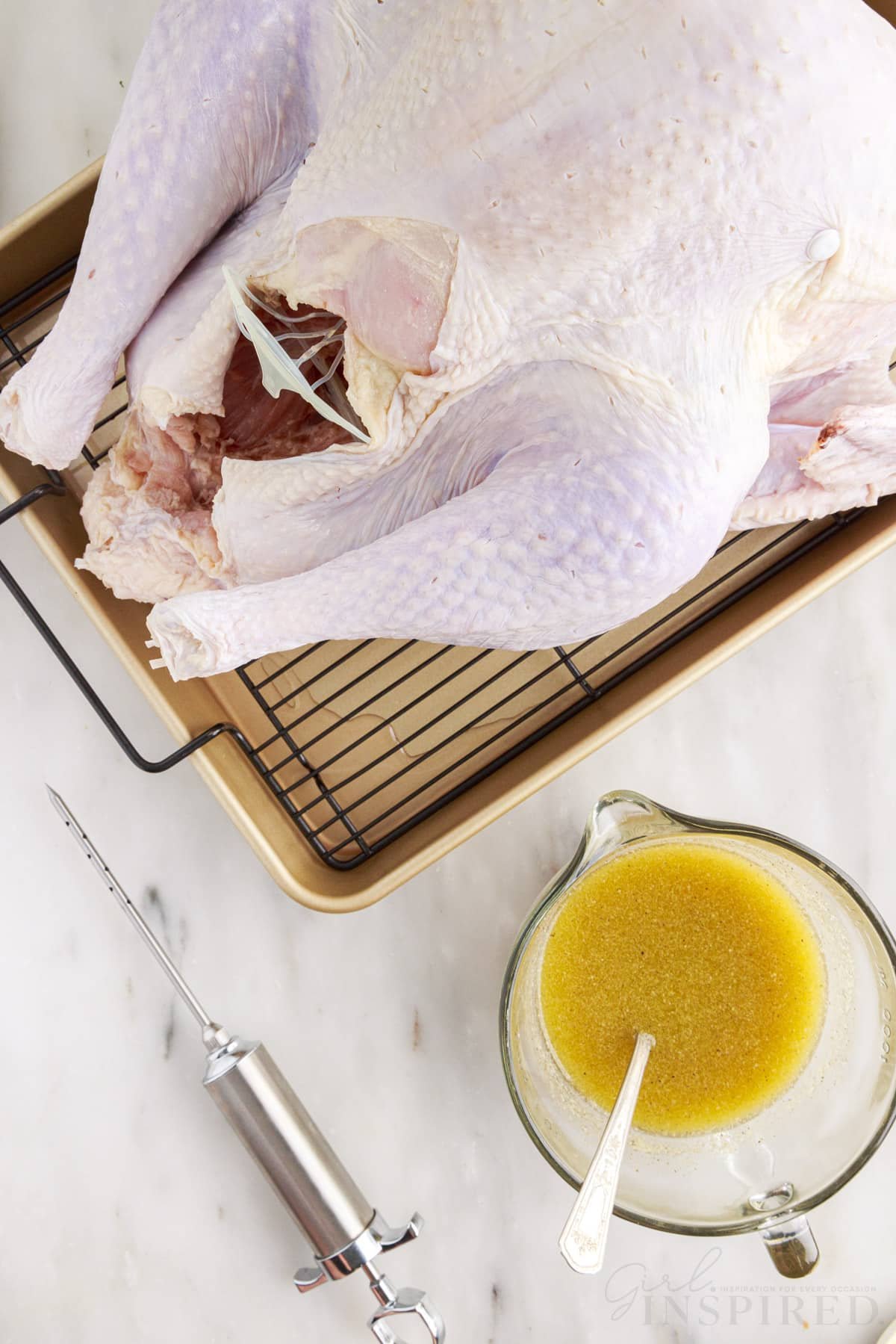 What is a Meat Injection Syringe?
A meat injector syringe can be purchased at most kitchen supply stores. I have seen them at Williams-Sonoma, Target, and even some grocery stores. I purchased mine, this stainless steel meat injector, through Amazon (affil). I am still learning to use it, but have had great success with several traditional turkey marinades and also some chicken injection recipes. I like that it has a variety of tips so that the injection mixture flows through easily if I'm trying to inject a recipe that has ground spices in it. It's also easy to clean.
Substitutions and Variations
You can use olive oil or avocado oil in place of the melted butter. An oil in your turkey marinade provides flavor and adds moisture.
Try a cajun turkey injection recipe by adding cayenne pepper, sweet paprika, smoked paprika, onion powder, and or creole seasoning to your marinade. I would omit the honey in this case.
Looking for a use for the neck and/or giblets? Make this turkey neck gravy recipe or doctor up your dressing with this Thanksgiving Stovetop stuffing recipe.
More Holiday Recipes That You Have To Try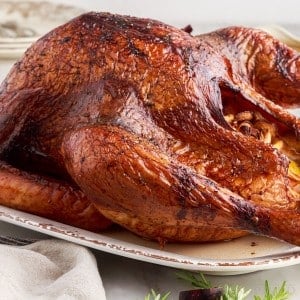 Smoked Turkey Injection Recipe
This smoked turkey injection recipe all calls for pantry staples, can be prepared in 15 minutes, and you are guaranteed to have a tender, flavor, juicy turkey every time!
cups of liquid
Ingredients
½ cup unsalted butter
1 cup chicken broth
1 teaspoon salt
1 teaspoon finely ground black pepper
2 tablespoons honey
2 tablespoons lemon juice
Instructions
Melt butter in a large measuring cup (at least 2 cup capacity).

Add chicken broth, lemon juice, salt, pepper, and honey and stir to combine with the melted butter.

Prepare your turkey by ensuring it is completely thawed. Remove giblets, rinse, and pat dry all over with paper towels.

Fit the marinade injector with a needle that has multiple, large holes. Fill the marinade injector with the marinade liquid.

Pierce the skin of the turkey and press the injector down into the breast. Slowly depress the injector tool to empty the marinade. Repeat in several other places until you have used all of the marinade. I like to use the same hole, but insert it at different angles of the injector.

Place uncovered turkey in the refrigerator for at least 3-4 hours and up to 36 hours.

Proceed to prepare and cook the bird as you wish.
Notes
Storage:
Store leftover, cooked turkey in airtight container in the refrigerator for 4-5 days. Discard any remaining marinade mixture.