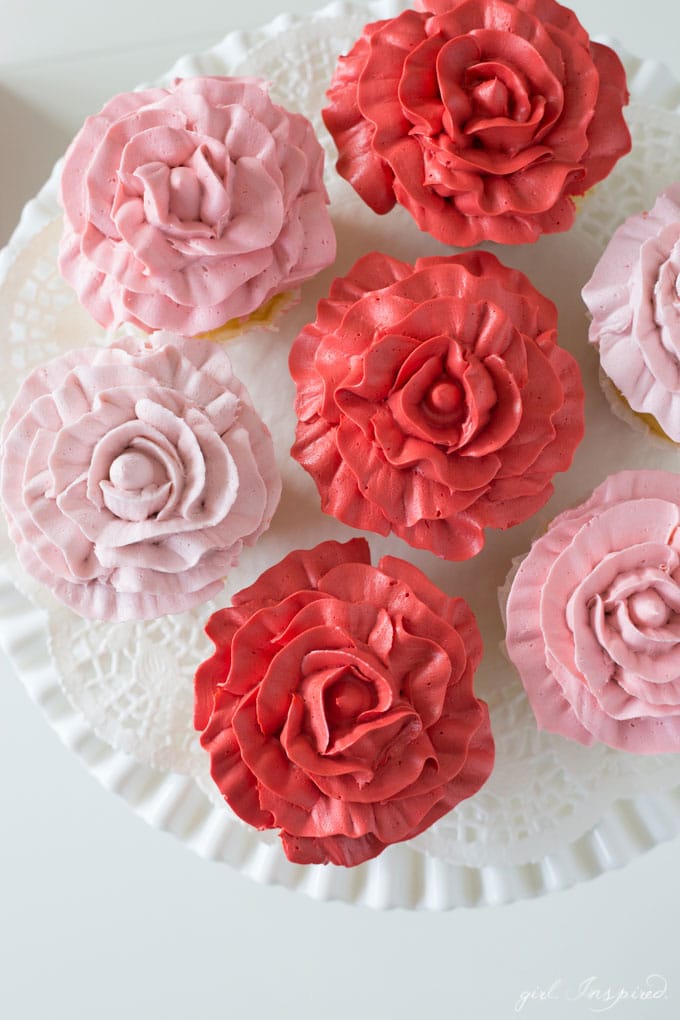 Ready for another fun frosting technique? These beautiful Rose Cupcakes are easier to make than you might think! They're perfect for Valentine's Day and ten times better than a spray of real roses!
To make these Rose Cupcakes, you will need the following supplies. You can find them at a cake supply store or through my affiliate in the links below:
First you will need to color your frosting. When I'm making frosting in monochromatic colors, I start with the lightest shade (just a drop of Mauve and a couple drops of Soft Pink) and color the whole batch of frosting. After frosting two or three cupcakes in the lightest pink, I place all the frosting back in the mixing bowl, add more color for my next shade, and continue on.
Piping the rose design onto the cupcakes is pretty easy. It's the same technique you would use if you were making buttercream or royal icing roses to decorate a cake – typically, you would pipe the roses onto a flower nail and then transfer the rose onto the cake. Here, we're just going to form a rose as the whole top of the cupcake. You'll start by piping a base dot in the center of the cupcake using Tip 1A. Not too tall, but this gives you a nice base to pipe your rose petals around. Switch to Tip 124 and hold the wider part of the tip along the base of the cupcake with the narrower portion at the top. Turn you cupcake with one hand while piping a petal around the center dot with the other hand. Continue turning and piping petals, building out from the center evenly until you've covered the entire cupcake top. The video below will show you these steps in action:

What do you think? Totally doable, right? Impress your favorite Valentine with these gorgeous roses this year!