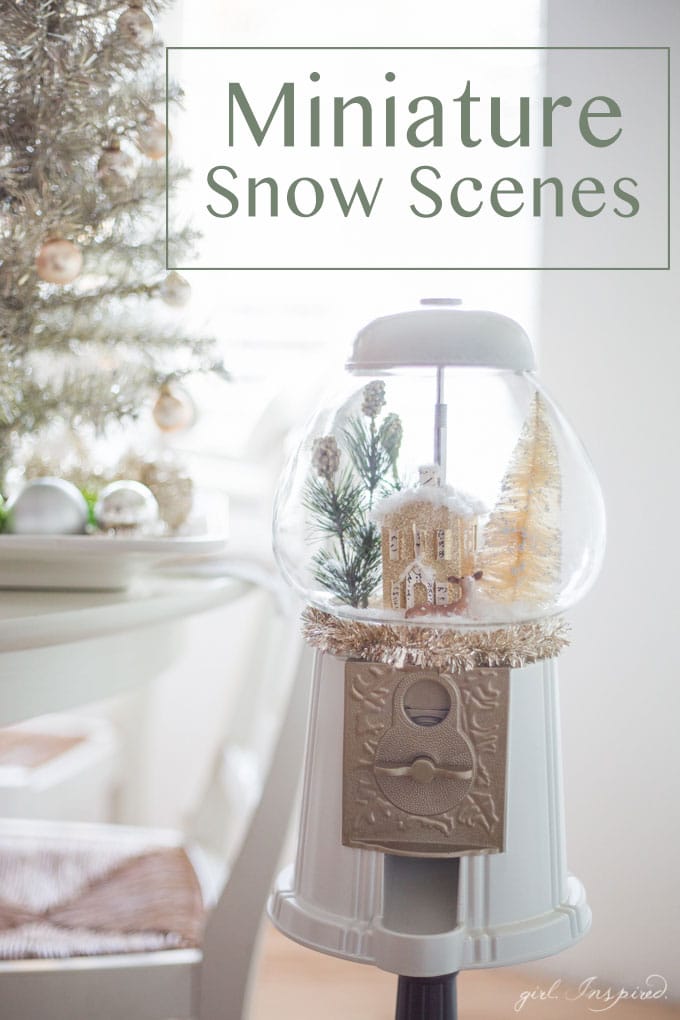 The Christmas spirit hit me earlier than usual this year. I resisted putting up decorations before Thanksgiving was over, but pulled out everything the very next day. We still need to get our fresh tree and put that up, but I do have my fake trees and all my other decorations up. One of the reasons I wanted to get all the decorating done quickly is because I have a number of craft projects that I've been thinking about and I always seem to run out of time to actually DO them once the season hits. Over the years, I've collected a number of miniature Christmas trees and animals and figurines. After loving these Snowglobe Ornaments from a couple years ago, I was determined to set aside a whole day to create and fill my house with miniature snow scenes.
In addition to the miniature figurines and trees, I walked around the house and collected apothecary jars, domes, cake platters, even a gumball machine to build the scenes in!
This one here is just a cake platter with a floral berry sprig, a flocked mini tree, a bunny figurine, and an ornament (from Target, this year!)
The gumball machine usually resides in my daughter's bedroom. She got it from Santa a few years ago and it continues to be popular among the sisters and friends. This was a traditional red and silver gumball machine, but most of it disassembles into separate parts, I've spray painted it white with a pearl overlay and gave the coin/crank part of the machine a coat of champagne. The black stand was sprayed oil-rubbed bronze. You guys – I LOVE this gumball machine makeover – goodbye bubble gum and hello cute little snow scene – even if it's just for the holiday season. I added a paper house I made using my Cricut, a couple sprigs off some faux greenery, a tree, and a little deer. Tinsel around the base makes a cute addition!
Jo-Anns is selling these little glass mini domes. I bought a set of traditional porcelain figurines off of eBay a few years ago that join my holiday pug (also Jo-Ann) in this scene.
It's been a lot of fun experimenting with different combinations and different types of containers.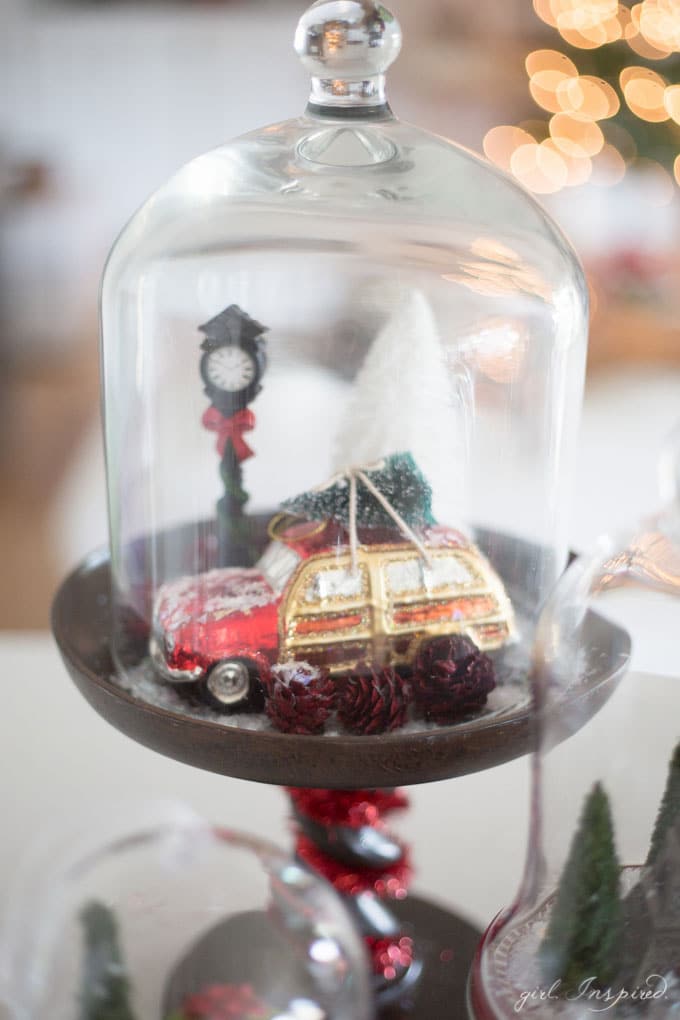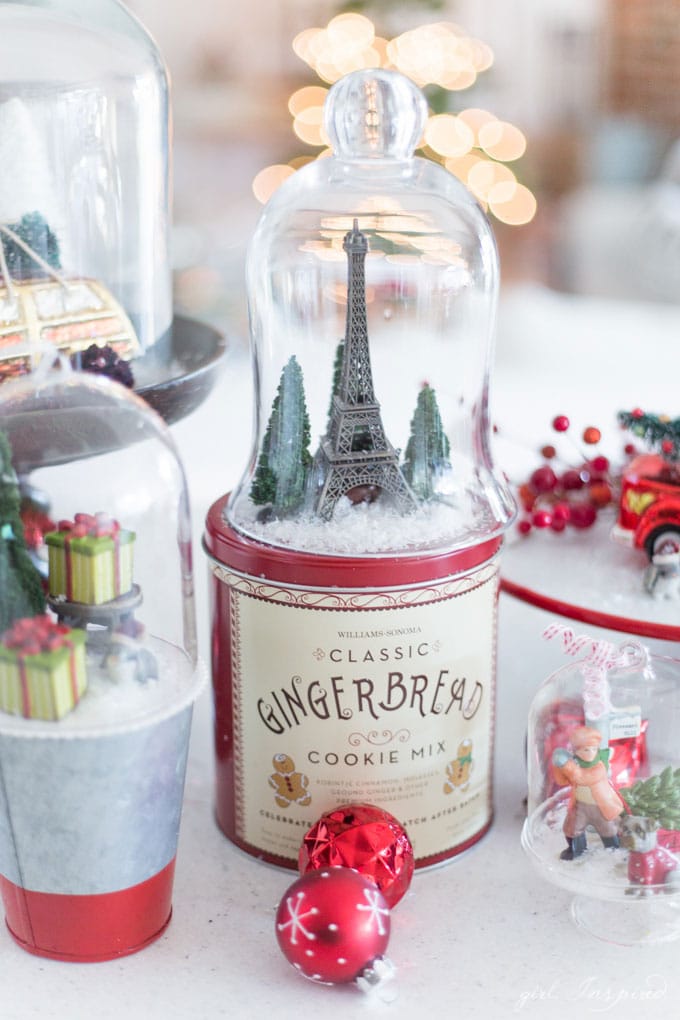 Alright! So last week I went LIVE on Facebook assembling these cute snow scenes – we ended up chatting and crafting for over an hour so the video is a big large to upload here.
CLICK HERE TO WATCH THE VIDEO and get all your questions answered. (Feel free to fast forward and rewind as you wish.)
Here are some affiliate links so you can easily find some of the supplies I'm using and talking about!
Miniature Trees for Crafting: https://amzn.to/2R0FH7z
Pink miniature bottle brush trees: https://amzn.to/2gMjXax
White miniature bottle brush trees: https://amzn.to/2fN3xh4
Jumbo Snow-Tex: https://amzn.to/2gHEArP
Buffalo Snow (plain white): https://amzn.to/2gmuw7g
Iridescent Buffalo Snow Flakes (sparkly): https://amzn.to/2fMZWj9
Gumball Machine and Stand: https://amzn.to/2fN5WZf
Ornament Domes: https://bit.ly/2gWUdvV
Red and White Enamelware Cake Stand: https://amzn.to/2gQ9VoP

Holiday Fairy Garden pieces: https://bit.ly/2gKcFFf
Station Wagon with Christmas Tree Ornaments: https://amzn.to/2g8AgP2
Paper Doilies – all sizes: https://amzn.to/370syRh
6" Cake Rounds: https://amzn.to/2gMomdy
Tinsel: https://amzn.to/3WuykVJ