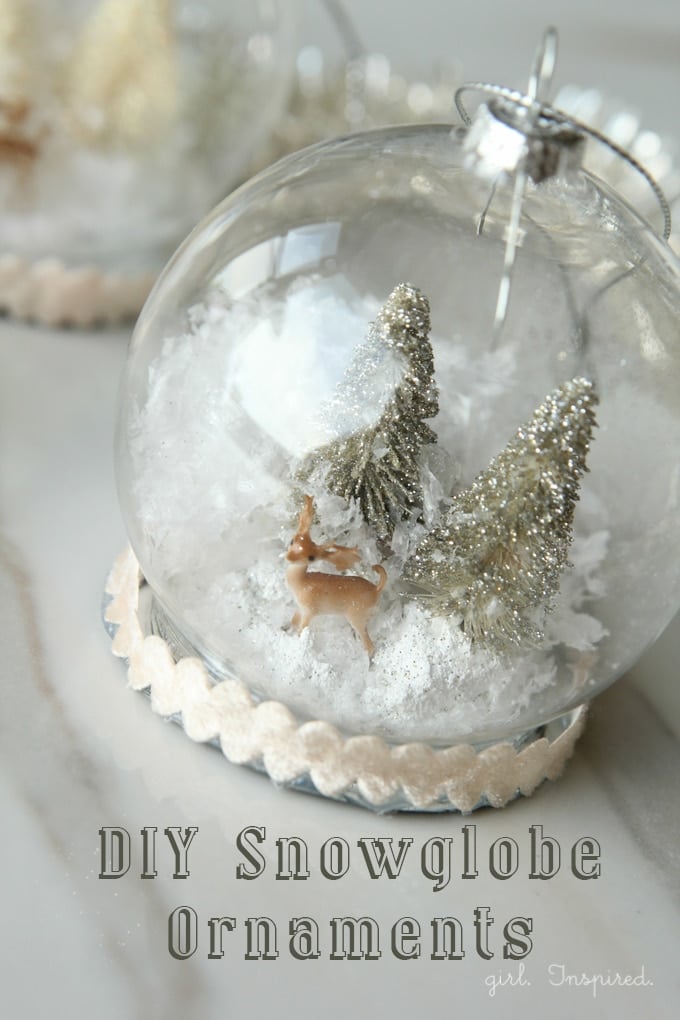 The break from school over the holidays allows for some extra crafting time. Last year, I made these beautiful snow globe ornaments and I was thinking about doing some more this year because they're just so pretty. There's just something so magical about a snow globe, don't you think?
You can find tiny trees, animals, and other figurines on ebay or etsy – there are so many choices out there. You will need:
clear glass ornaments with open bottom (I found mine at a local craft store)
Deco Art Snow-tex
iridescent buffalo snow flakes
figurines
miniature bottle brush trees
Bleach and a glass jar for bleaching the trees
white glue
glitter (silver, iridescent, gold)
small mirror rounds to fit bottom of ornament
ribbon/ric rac/ trim
hot glue and glue sticks
Step 1: Begin by placing the bottle brush trees into a container with 1 part Bleach : 5 parts water. Wait until all the color is removed from the trees.
Step 2: Rinse the trees with clean water and set aside to dry.
Step 3: Use a foam brush to apply white glue or mod podge to the bristles of the tree. Sprinkle with glitter and allow to dry.
Silver, iridescent, or gold glitter look great – you could really use any color glitter!
Step 4: Use a spatula or foam brush to mound a bit of the Snow-Tex in the center of the mirror round. Check to be sure the glass ball ornament will fit onto the mirror and outside of the snow mound. Otherwise the ornament won't be able to sit flat.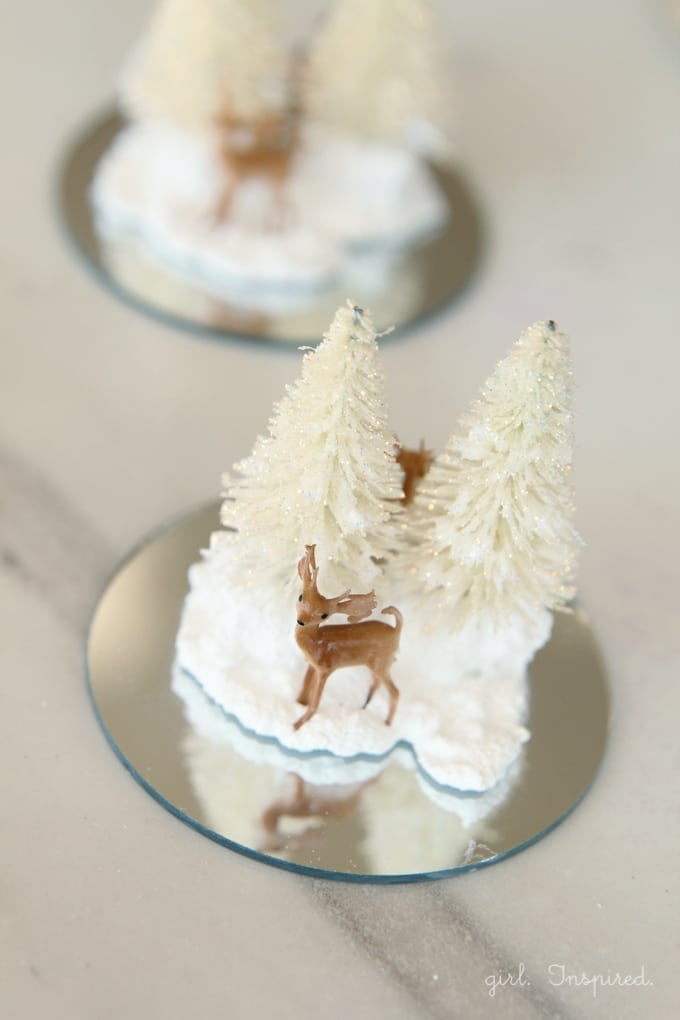 Step 5: Place trees and small figurines into the Snow-Text while it is still wet. Mound a bit more snow or push it around the bases of the trees. The Snow-Tex will dry hard and hold the objects in place. You could also secure with a little hot glue once the snow tex is dry. Allow to dry before continuing.
Step 6: Place 1-2 Tablespoons of buffalo snow into the glass ornament. Before adding glue, be sure to dry fit the ornament onto the decorated mirror base – too much buffalo snow will cover the scene – adjust as needed.
Step 7: Holding the ornament upside down, add hot glue to the rim of the opening and quickly place the mirror onto the ornament. The hot glue dries quickly. You can also use glass glue but it takes longer to dry. Add more hot glue around the rim to secure.
Step 8: Cover the uneven edge between mirror and ornament by hot gluing ric rac or ribbon around the perimeter.
Enjoy! These ornaments make the loveliest gifts for friends and add sparkle and charm to your own tree! Have fun!