This Lemon Meringue Pie offers that perfect contrast of sweet and sour with flaky pie crust pastry and a fluffy meringue, crisp on the outer edges of its stiff peaks. A classic dessert pie that everyone loves!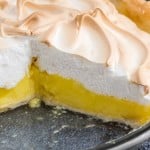 This Lemon Meringue Pie recipe offers that perfect contrast of sweet and sour with a smooth luscious lemon filling, flakey pie crust pastry and fluffy meringue, crisped on the outer edges of its stiff peaks.
This silky smooth and citrusy pie comes together in just 40 minutes. Just wait until you smell the lemon meringue aromas wafting through the house.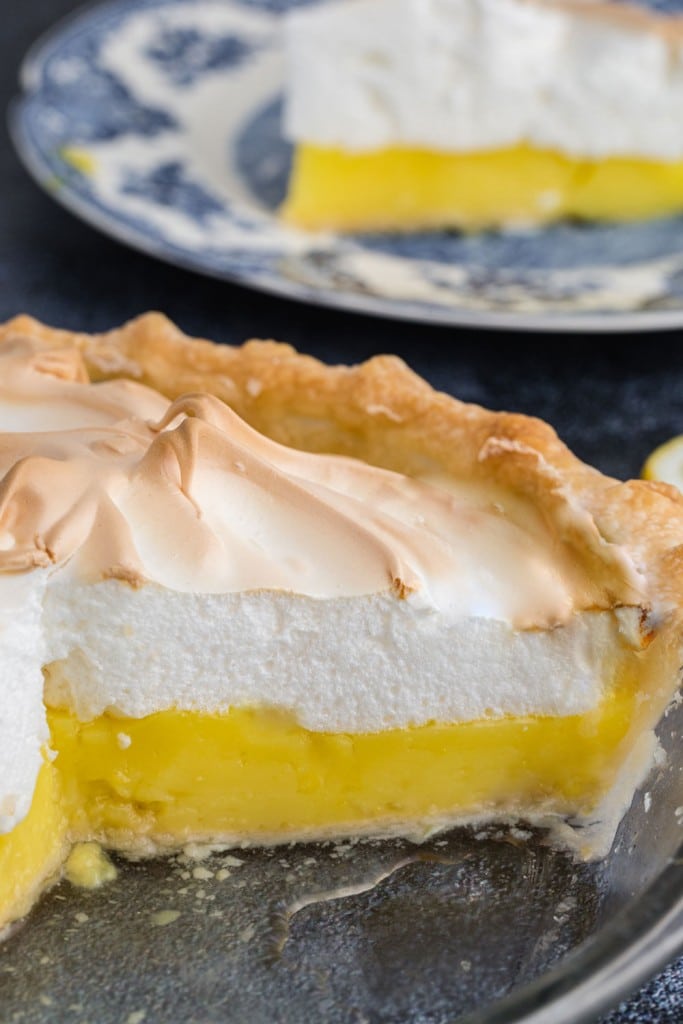 This homemade Lemon Meringue Pie recipe is my mom's. It is worlds apart from any store bought pie I've ever tasted and is absolutely divine. Enjoy this classic dessert tart after dinner, as a tea-time snack, or whenever the craving hits for a lemon-loaded treat.
Speaking of lemon-loaded treats, if you love lemon meringue then you will want to also try my Lemon Curd, Lemon Cream Cheese Cookie Bars, and Lemon Cheesecake!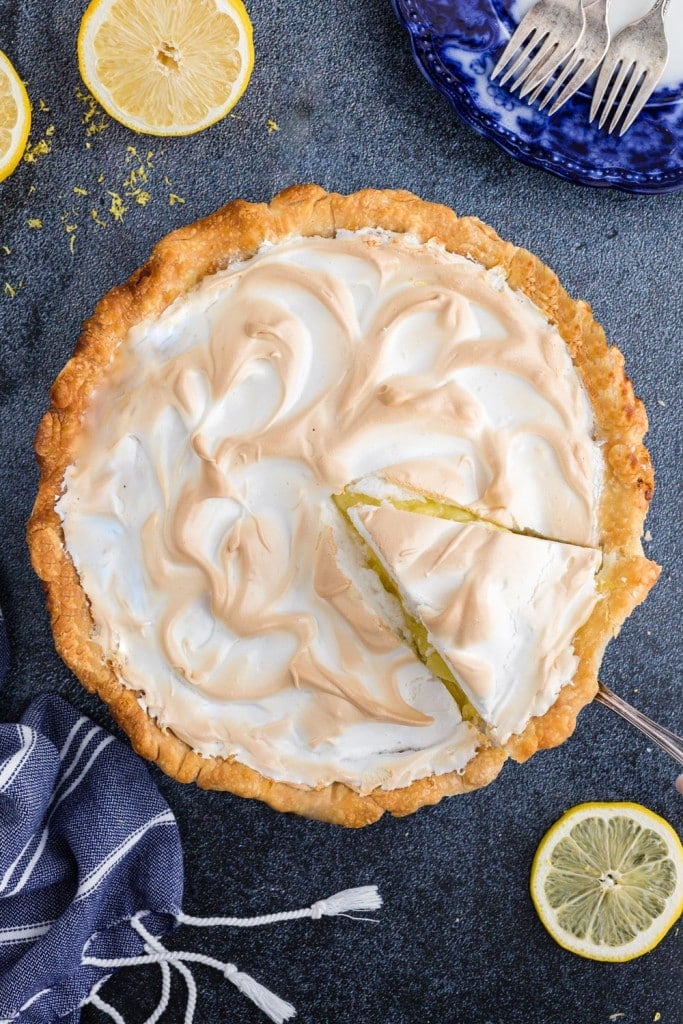 What is Lemon Meringue Pie?
Lemon meringue pie is a dessert pie made with a homemade pastry pie crust and thickened lemon filling (much like a lemon curd). Top the pie with soft peaks of meringue and bake until the meringue toasts into golden brown perfection.
Variations and Substitutions
You can halve the meringue quantities for less meringue if you like. Just make sure to use ⅓ cup of granulated sugar for every 3 large egg whites.
While I've used regular lemons for the lemon meringue pie filling, you could certainly use Meyer lemons instead, which have a slightly sweeter taste.
Be sure to blind bake your pie crust or pastry base for this pie or opt for a crushed crackers/cookies base. We cook the crust first to ensure it bakes through and then the only baking needed is to brown the meringue peaks.
FAQs
Why Do I Need To Use A Pre-baked Pie Crust For Lemon Meringue Pie?
You'll find that almost all recipes involving pies that have wet fillings require you to have pre-baked the pie crust before adding the wet filling. The reason for this is quite simple although often not explained: If you don't pre-bake your pie crust, you'll be left with a pie crust that is raw, especially since it won't have enough time in the oven to bake without you risking burning your meringue topping.

Added to this is the fact that wet pie filling will also prevent the pie crust from cooking through.

If time is an issue for you, make a few pre-baked pie crusts ahead of time or purchase a pre-baked pie crust for this recipe such as Pillsbury Frozen Pie Crusts.
How Should I Store Lemon Meringue Pie?
You can store leftover Lemon Meringue Pie in the refrigerator for up to 2 days or make an entire pie ahead of time to store before serving.

Prior to storing your pie, allow it to completely cool on a wire rack. This will give the meringue topping a chance for it to set properly and will enable it to hold up better during storage.

When storing in the refrigerator, make sure that the pie is loosely covered with aluminum foil (not tightly covered with plastic wrap) to help prevent the meringue topping from going soft and soggy. The sugar in the meringue will absorb moisture which is why it's important to keep it covered.

You can serve your Lemon Meringue Pie chilled from the refrigerator or allow it to reach room temperature prior to serving. If you enjoy a warm pie, pop it back into the oven for 10 minutes to crisp it back up a bit.
Why Did My Lemon Meringue Pie Go Watery?
If you experience moisture pooling between your lemon meringue filling and the meringue itself (otherwise known as "weeping"), that is likely to have happened as a result of you adding your meringue topping after the filling had cooled instead of doing so when the filling was still hot.

You must add your meringue topping while the filling is still hot as it will help to cook the meringue from the bottom side which will then prevent any moisture from getting in between the two layers and causing a watery pie.

If weeping does occur, don't worry. Your pie isn't a write-off. In fact, it will still taste just as delicious!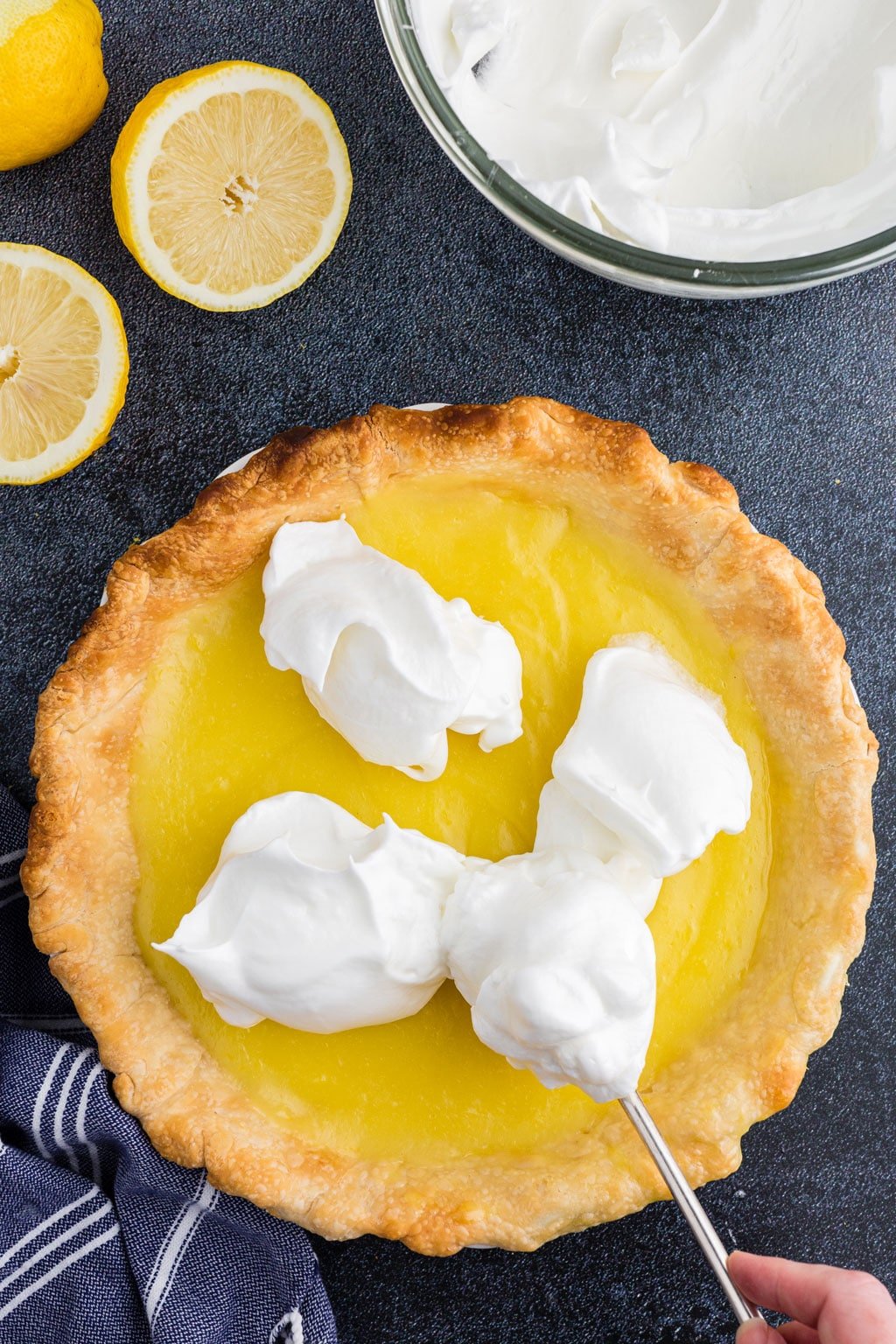 Why Did My Meringue pull away from the Crust?
The meringue will shrink as it toasts in the oven. It is important to seal the meringue against the crust, being sure there are no gaps between the crust perimeter and the meringue before baking. Drop the meringue in dollops all over the HOT lemon filling and then use a spoon to press the meringue down against the crust, going all the way around the pie.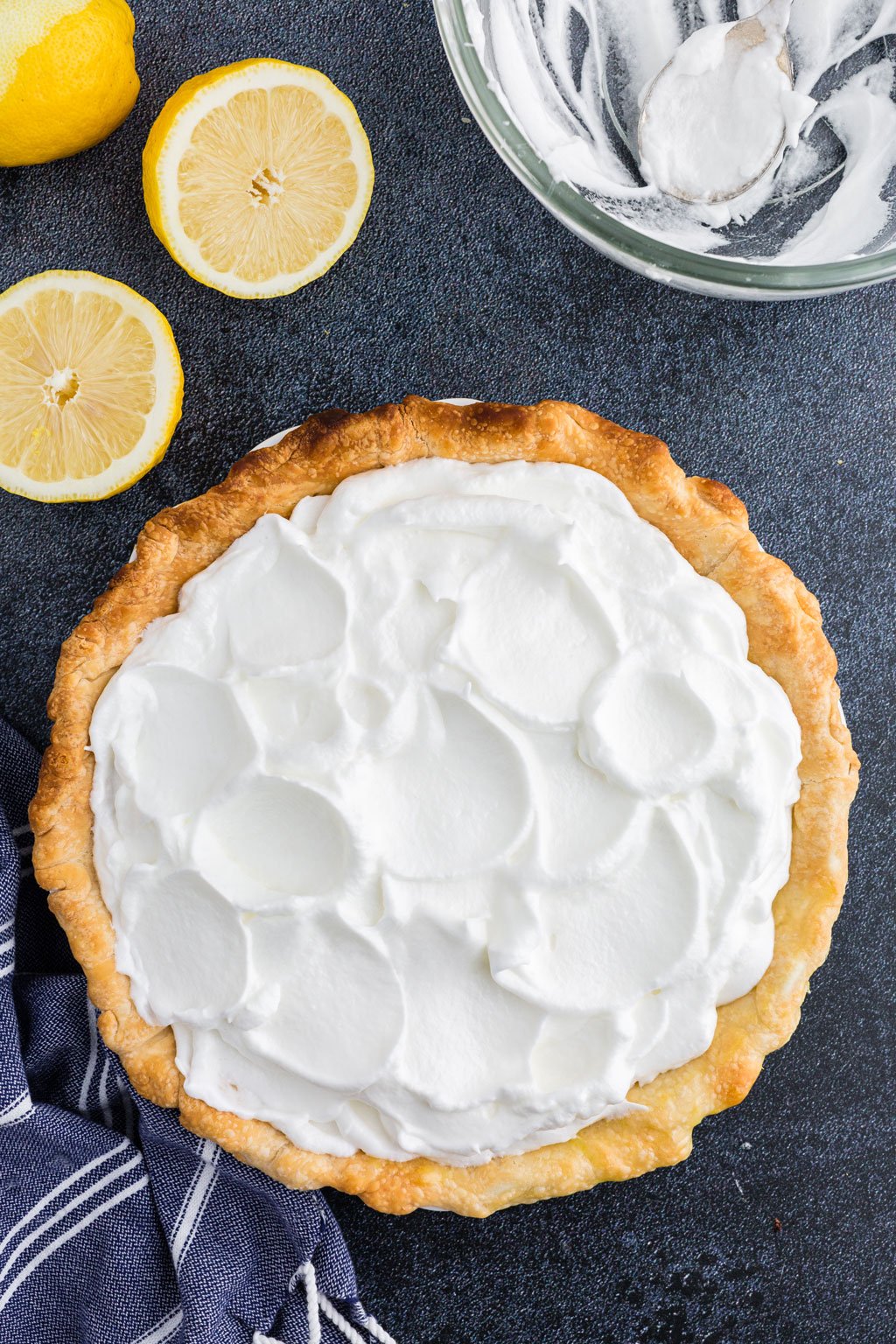 Tips For Making Lemon Meringue Pie
I love to use my Oil Pie Crust recipe for lemon meringue pie because it's so fast to prepare and I can get it in and out of the oven while making the pie filling.
If you bought an unbaked pie crust, check for any "blind baking" instructions. This just means that you need to prick the bottom and sides of the raw crust to allow steam to escape. You then go on to bake the pie crust at 450°F until just golden brown and allow it to cool before proceeding with the recipe instructions above.
Some prefer to bake their raw pie crusts by lining them with aluminum foil or parchment paper and pie weights, rice, or dried beans and cooking that way for the first 15 minutes, thereafter removing the lining and weights and allowing the crust to cook until golden brown. Cook at a lower temperature (375°F) with the purpose of helping the crust maintain its shape. You don't have to do this but it is an option that you may like to try sometime!
The egg whites must be at room temperature before whipping to get a light, airy meringue with good volume.
Preparation of the lemon filling and the meringue must be completed simultaneously. If you whip the meringue up too soon, it may fall before adding it to the pie and the pie filling doesn't take long to cook. For this reason, it's best to have all of your ingredients prepared ahead of time to avoid any challenges.
When it comes to the pie filling, keep in mind that you're combining only the sugar, water, cornstarch, and egg yolks before turning on the heat. Add the lemon ingredients and the butter after the filling has cooked on the stovetop (which should take a matter of minutes in total).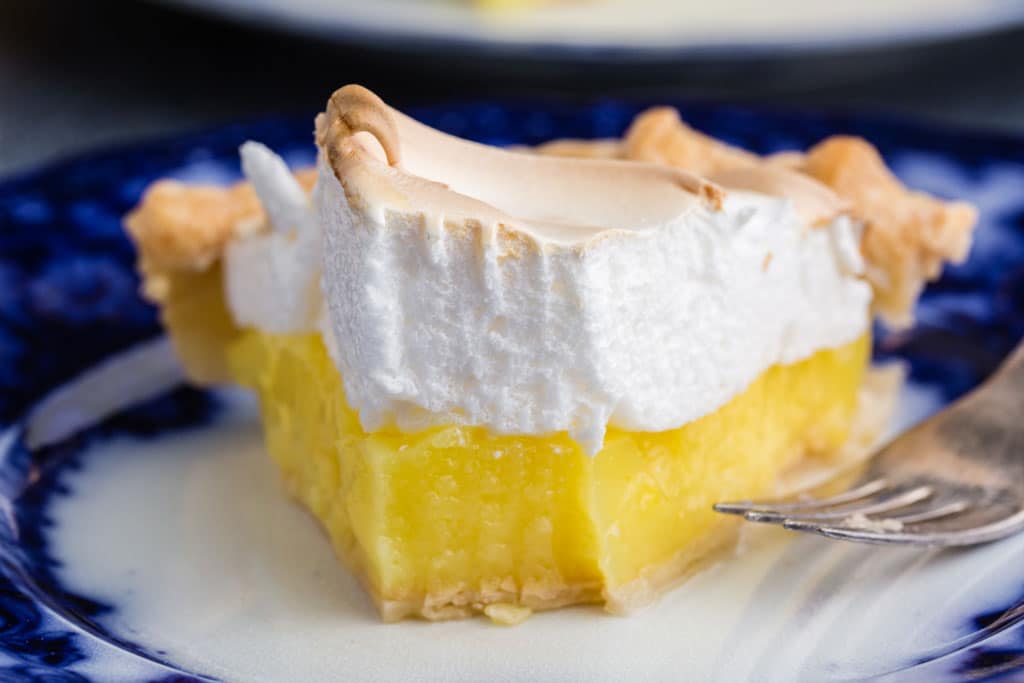 More Treat Ideas For The Lemon-Lovers!
Lemon Meringue Pie
This Lemon Meringue Pie offers that perfect contrast of sweet and sour with flaky pie crust pastry and a fluffy meringue, crisp on the outer edges of its stiff peaks. A classic dessert pie that everyone loves!
Ingredients
Pie Filling Ingredients
1 9-inch pie crust pre-baked
1 cup granulated sugar
¼ cup cornstarch
1½ cup cold water
3 egg yolks slightly beaten
2 teaspoon lemon zest
¼ cup lemon juice
1 tablespoon salted butter
Meringue Ingredients
3 egg whites at room temperature⅓
⅓ cup granulated sugar
Instructions
Preheat the oven to 350°F.

In a medium saucepan, whisk together 1 cup of sugar and the cornstarch. Continue whisking while adding 1 ½ cups of cold water to the pan, stirring until combined. (DO NOT TURN ON THE STOVE YET, THIS IS DONE WITH NO HEAT)

Separate egg yolks from the whites (reserving the whites for the meringue). Gently whisk or use a fork to break up the yolks and beat them just slightly.

In a small bowl, measure the lemon zest and lemon juice so they are ready to add to the pie filling mixture when it comes off the stove.

Begin preparing the meringue. Place the egg whites into a large bowl or the bowl of a standing mixer. Use a whisk attachment (regular beaters on a hand mixer work, too!) and beat the egg whites until they are foamy. Add ⅔ cup of sugar to the foamy egg whites and continue beating until mixture forms stiff peaks.

While the meringue is being prepared, turn the stovetop on to medium heat. Bring the filling mixture to a low boil, whisking constantly to prevent mixture from sticking to the bottom of the pan and to control the heating of the egg yolks in the mixture. Boil gently for 1 minute while stirring.

Remove filling from the heat and stir in lemon juice, lemon zest, and the butter. Whisk until smooth. The filling should be thickened and hot.

Spread pie filling into the prepared pre-baked pie crust. Immediately mound the meringue over the hot filling. Use a spatula or spoon to make dips in the meringue – giving it a swirled peaks and valleys appearance. BE SURE to press the meringue against the crust around the edges to seal it completely.

Bake the pie for about 15 minutes. Keep a close eye on it and remove once it is browned to your liking – you may wish to turn the pie halfway through baking to help with even browning.
Nutrition
Calories: 283kcal | Carbohydrates: 48g | Protein: 4g | Fat: 9g | Saturated Fat: 3g | Polyunsaturated Fat: 1g | Monounsaturated Fat: 4g | Trans Fat: 1g | Cholesterol: 77mg | Sodium: 123mg | Potassium: 56mg | Fiber: 1g | Sugar: 34g | Vitamin A: 142IU | Vitamin C: 4mg | Calcium: 17mg | Iron: 1mg