I've been curious about these crepe cakes for a while and finally made one for my mom's birthday a few weeks ago.  The results were hopeful, though wobbly, but after another attempt, I think I've found my new favorite dessert!!  Crepe upon crepe stacked with pastry cream and lemon filling, chilled into a solid tower, and garnished with lemon slices and powdered sugar – perfection.  What more could you want in a dessert?  This would be delicious for Easter brunch, a bridal shower, or Mother's Day.
This crepe cake requires approximately thirty 8-inch crepes (2-3 batches), 1 batch of lemon pie filling, and 1 recipe of pastry cream.  All of the ingredients need to be mostly cool before assembling so that things don't turn into a big runny, squishy mess.  The crepe cake will be really wobbly when it is assembled, but after chilling in the refrigerator for an hour or two, it is actually quite solid and easy to slice.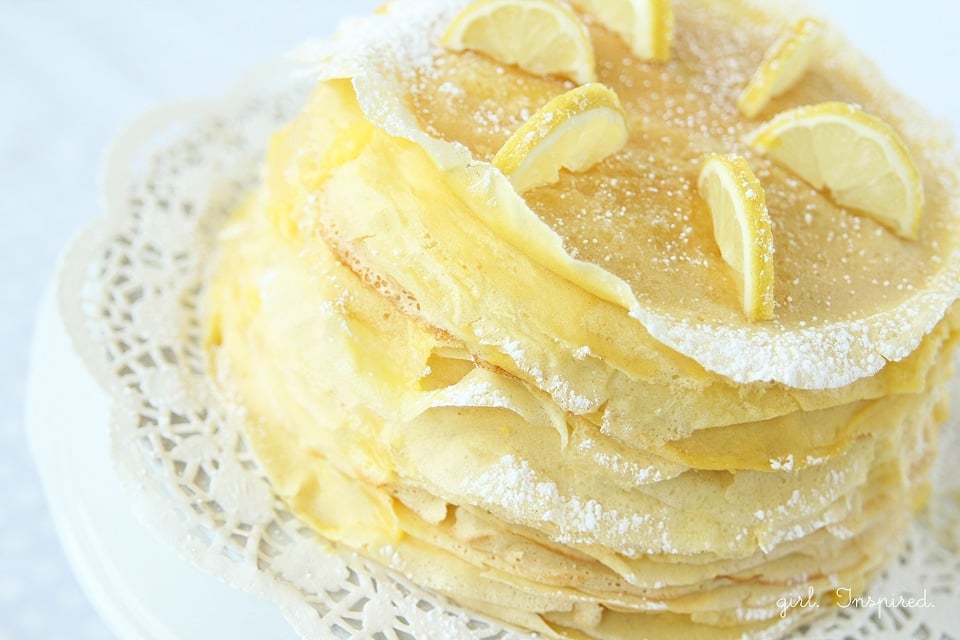 You can find my crepe recipe and instructions here.  I made three batches, but also fed my three hungry girls breakfast with a good portion of the batter.  You can probably squeak out 30 crepes from 2 batches if necessary.  You can find my pastry cream recipe here.  It needs to be made in advance so that it can cool.  The lemon filling also needs to cool, though it gets quite thick – I thinned mine by whisking in a bit of water, which worked great and didn't compromise the flavor.  When you have all the parts ready, place your first crepe flat on a cake stand.  Spoon some lemon filling in the center of the crepe and spread gently toward the edges.  Place a second crepe directly on top of the first.  Spoon pastry cream onto the second crepe and spread evenly in a thin layer.  Layer a third crepe, topped with lemon filling, and so on, rotating between the two fillings until the crepe cake is to your desired height.  Chill in the refrigerator for at least 1 hour or overnight.  Sprinkle with powdered sugar and top with lemon slices just before serving.

Lemon Crepe Cake - Lemon Filling
Author:
Stef at Girl. Inspired.
Prep time:
Cook time:
Total time:
Ingredients
1 cup sugar
¼ cup cornstarch
1½ cups water
3 egg yolks, slightly beaten
¼ cup lemon juice
grated peel of one lemon
1 Tablespoon butter
Instructions
In a medium saucepan, combine sugar, cornstarch and water until smooth.
Stir in egg yolks.
Bring to a boil over medium heat.
Continue boiling for 1 minute, stirring constantly.
Remove from heat.
Stir in lemon juice, grated peel, and butter.
I hope your family enjoys this Lemon Crepe Cake as much as my family did!!