Washington DC is a bustling hub of politics, history, monuments, memorials, and museums. It is also a thriving city full of eclectic neighborhoods, excellent food and bars, interesting architecture, and loaded with culture. Let's look at some of the best things to do in Washington DC for your next visit!
About Washington DC
Where is Washington DC exactly? This political center of the United States of America is located on the Potomac River, bordering both Maryland and Virginia. It is a federal district – the District of Columbia, hence the DC and is not defined as one of the 50 U.S. states. The nation's Capitol, the White House, and the Supreme Court are all located here, as well as innumerable federal buildings and operations.
If you're like me, and are trying to visit all 50 states, Washington DC is the perfect central location for day trips out to the surrounding states of West Virginia, Virginia, Maryland, Delaware, and even Pennsylvania! I was able to visit most of the main sites in DC, as well as all 5 surrounding states during my recent one-week trip. On the other hand, DC has so much to offer within its 68 square miles, you could certainly spend weeks just touring this area alone.
Getting around in DC is not too difficult. Ride share options like Uber and Lyft are readily available and not too expensive. I drove a rental car and even though the roads are kinda crazy and the traffic is packed, I didn't have trouble following the mounted GPS screen for directions most of the time. The only time I was uncomfortable driving in DC was in the Dupont Circle area and I think that was mostly due to trying to find somewhere to park. You can also hop on a jump bike or motorized scooter and zip around with ease. No need to worry about transportation in Washington DC!
The National Mall of Washington
The National Mall is NOT a shopping mall. Rather, it is a defined National Park, sometimes referred to as "America's front yard." It is two miles from end to end. You can think of it as a cross shape with the Capitol at the foot, the Lincoln Memorial at the top, the towering Washington Monument in the center of the cross arms. The White House is at the tip of one of the cross arms, while several memorials are situated around the Tidal Basin (a pool of water off the Potomac) for the other cross arm. The Smithsonian Museums are dotted all up and down both sides of the National Mall. You could spend days exploring all there is to see and do here.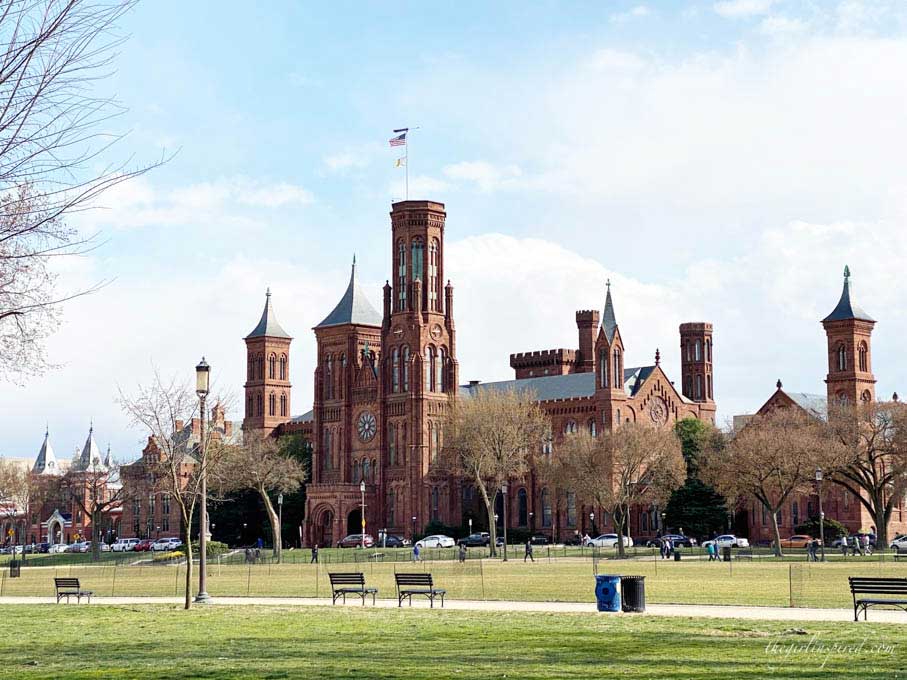 Definitely stop in at the Smithsonian Institution Center, also knows as "the Castle," to collect a map and devise a plan of attack. The Castle is the Smithsonian's Visitor Center and has "sneak peeks" of artifacts from each of the museums to aid in your planning. If you're traveling to DC in cold weather, bring your gloves, scarf, hat, and layers to keep warm while walking about – although you will stay warm inside the museums, there is much to see outside and take it from me, that icy wind can chill you to the bone!
Smithsonian Museums of Washington DC
Among some of the most popular and FREE things to do in Washington DC, there are 17 Smithsonian museums and galleries, as well as the National Zoo. Eleven of these are located along the National Mall, six elsewhere in DC, and there are three additional museums in New York City and Virginia (not included in the links below.) You will most likely need to pick and choose which museums/galleries to visit. You will probably also have to pick and choose sections to visit WITHIN each building. They are HUGE and wonderful and loaded with information. Go HERE to view a map of the Smithsonian Museums in Washington DC. Below I have listed the Smithsonian Museums in the DC area. Click on each to view their webpages for more information.
Smithsonian Museums in DC:
I spent quite a bit of time in the Natural History Museum – this is a fun stop for adults and kids alike. There is something for everyone. Dinosaurs and other fossils, human evolution, animals from all the regions, an entire wing with ocean life information. Upstairs, there is a section on insects and plant life, as well as a live butterfly garden, which is so memorable. There is a small cost and tickets associated with the butterfly garden, but it's totally worth it! Also, stop in and take a peek at the Hope Diamond. She's a beauty and you can learn all about her, too.
Again, all of the Smithsonian museums are FREE to enter, which I think is amazing and so valuable. It also makes it much easier to take a step inside any and all of the museums. Absorb a little or a lot of info and then go grab a bite to eat. Come back later in the day or another day or another year. There will always be more to learn about!
Monuments and Memorials to see in DC
A quick Google search tells me that there are more than 160 monuments and memorials in DC – wow! Some of the most popular stops are congregated from the Washington Monument to the Lincoln Memorial and around the Tidal Basin. You can take a leisurely stroll in a loop around to visit the memorials. It's a beautiful park walk with many opportunities for learning.
Here are the "top 8" at the National Mall. If you are able to visit during the very short Cherry Blossom season and when the fountains and water features are turned on for the season, you are golden. If it's ice cold and windy and the water is shut off and the trees are bare – hey, take it from me, STILL IMPRESSIVE! You could even grab a jump bike or scooter to zip a little quicker between each stop. The monuments and memorials are lit up at night, also, and I look forward to visiting again when I can brave the nighttime weather for a little evening scooter tour.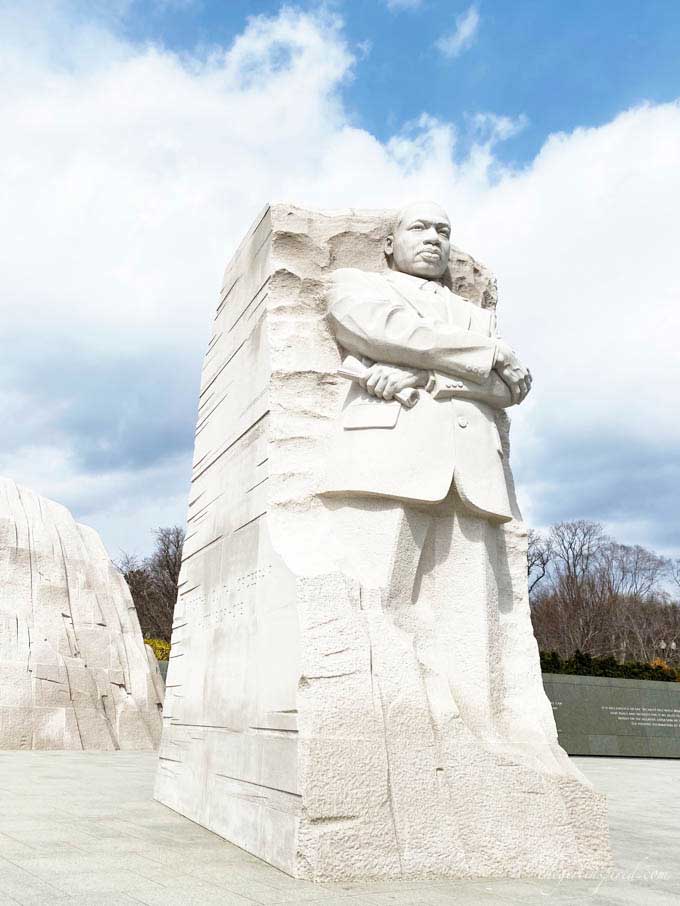 Washington Monument
Vietnam Veterans Memorial
Lincoln Memorial
Thomas Jefferson Memorial
Franklin Delano Roosevelt Memorial
Korean War Veterans Memorial
World War II Memorial
Martin Luther King, Jr. Memorial
United States Botanic Garden

Do not pass up the opportunity to slip into this botanical wonderland. The National Botanical Garden is a gorgeous reprieve from the hustle and bustle! The indoor arboretum gardens were stunning, with much to learn. See how coffee beans grow on trees. Take in more orchid varieties than you could ever imagine. There are examples and explanations for a diverse number of plants. I loved the live demonstration of the cacao plant and pods and learning how chocolate is made. Even though I visited in the winter months, the indoor arboretum had so very much to offer. This living plant museum is FREE also. I am definitely planning a visit back during the warmer months when there is much to see and learn in the outdoor gardens as well.
Arlington Cemetery
Not technically in Washington DC, but just minutes from the National Mall, Arlington National Cemetery is a must visit. The cemetery spans miles. There are shuttle buses within the grounds if you are unable to make the walk to the stops you wish to see. Visit John F. Kennedy's graveside and the eternal flame.
Then head over to the Tomb of the Unknown Soldier. At the top of the hour, every hour (in the winter months) and every half hour (in the summer months), there is a changing of the guards ceremony. Tomb Guard sentinels guard the tomb 24 hours a day, 365 days a year. Visiting the memorial and tomb is a really important experience and I am so glad I took the time to visit – you can read more about the Tomb of the Unknown Soldier, here.
Places to Eat in Washington DC
Of course, we must talk about places to eat in Washington DC. I've collected a list of the best restaurants and bars from locals and frequent visitors. I was able to check off quite a few of these stops on this visit, and I will definitely be hitting up the rest my next trip.
Fine Dining in DC

Rare – upscale steak house – the cheese curds are to die for, the rib cap could be the best steak I've ever eaten, and the bananas foster dessert flambeed table side was so dang good.
Filomena Ristorante – outstanding Italian cuisine located in Georgetown area, huge portions with the perk of Easter decorations hanging from the ceiling year-round.
Old Ebbitt Grill – DC institution founded in 1856, restaurant and bar known for their oysters and crab cakes.

Best Bars in Washington

Round Robin – bar in the Willard hotel, famous for its signature drink – the Mint Julep, meeting place for DC's political and social elite
Off the Record – underground bar in the Hay Adams Hotel, known as one of the best hotel bars with outstanding frothy drinks, particularly their Whiskey Sour and their Sazerac. Fun fact – a Pulitzer Prize-winning political cartoonist, Matt Wuerker, creates political-themed drink coasters for the bar.
Madam's Organ in Adams Morgan – multi-level live blues music and bar, soul food
Columbia Room – restaurant and bar, local favorite, purportedly the "best bar in America"
Left Door – speakeasy away from the loud crowds, quiet cocktail bar, excellent drinks, without the pretense.
Chicken and Whiskey – delicious Peruvian style chicken, yuca fries, and Latin sides. Super casual fast food vibe up front, but head through the "refrigerator door" in the back and you'll find yourself in a fun speakeasy Whiskey Bar.

Casual and Delicious Dining

National Harbor
Make a stop in the National Harbor for a fun afternoon or evening. National Harbor is just outside of DC, a quick Uber ride away. There is waterfront dining, a carousel, fun cultural/historical sculptures, and shopping, as well as a pier with all kinds of water activities for the warmer months. At the forefront of this fun area, the Capital Wheel towers over the harbor and provides awesome views of the Potomac River, the Washington Monument, and more. Tickets are $15 and the fully-enclosed, climate-controlled gondola ride lasts about 15 minutes. We absolutely loved this quiet moment together.

After our Ferris wheel ride, we had dinner at The Walrus Oyster & Ale House. The food and vibe were great, the location superb and be sure to order an oyster shooter for a fun gulp of Bloody Mary meets local oyster!
Ford's Theatre

Be sure to visit the location where President Abraham Lincoln was assassinated. I was very impressed with the thoroughness and attention to detail during my visit to Ford's Theatre and the Petersen House. Unfortunately, the actual theatre was closed the day I visited as they were setting up for an event. Initially I thought it would be THE thing to see and I was feeling disappointed, BUT the exhibits in the museum beneath the theatre and across the street in the Peterson House (where Lincoln passed away) were well worth my time.
You will learn quite a bit of Lincoln's family history, Civil War history, and information about Lincoln himself. There are a number of artifacts on display such as the actual gun that John Wilkes Booth used to kill the President, the pillow with blood stains that propped Lincoln up as he was dying, items he used in the White House, etc. Day of entrance to the theatre and exhibits is free of charge.
United States Holocaust Memorial Museum
Absolutely do not miss the Holocaust Museum while you're visiting DC. It is incredibly well done – hugely informative, emotionally taxing, IMPORTANT. I spent a good chunk of time here and you will definitely need to allow yourself time to process and recover from the weight of the information.
If you are visiting with young kiddos, I highly recommend limiting your visit to the exhibition "Remember the Children: Daniel's Story". This walk-through exhibit is written through the voice of a child and is geared toward a young audience. I think it gives an accessible and appropriate portrayal of the Holocaust for children ages 8 and older. Entrance to the museum and all exhibits is free.
More Things to Do in Washington DC
The National Archives Museum can be a quick stop (or as long as you'd like, I suppose). This museum houses the Declaration of Independence, the Constitution, and the Bill of Rights. There is no photography permitted inside and entry is free. It is worth a visit to see these most important, preserved papers in our United States history.
Spy Museum – I wasn't able to make it to the Spy Museum this trip, but I've heard wonderful things about it. It is an especially fun place to visit if you have kids in tow. Who doesn't want to see all the spy things??? You can purchase tickets online for the date and time you wish to visit.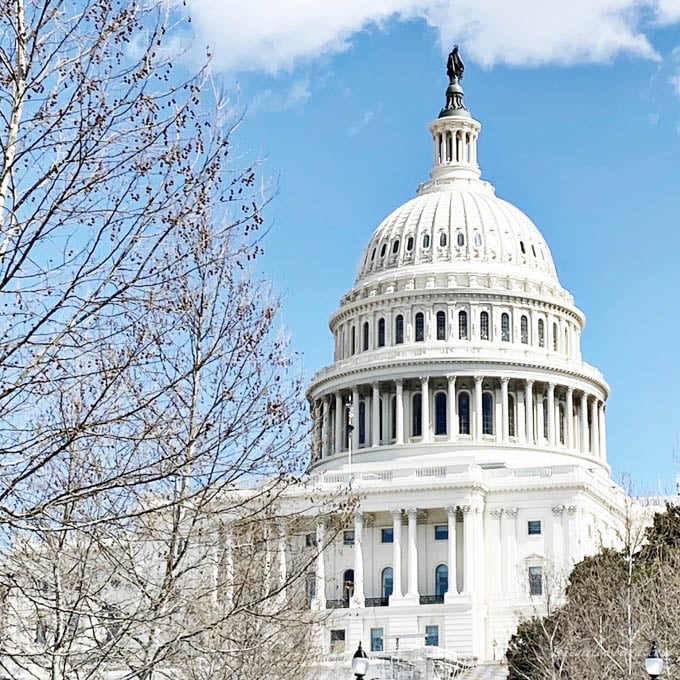 The Capital Building – Definitely stroll around the U.S. Capital Building and snap your hero photos. There is a visitors center on the lower level of the front entry.
The White House – If you wish to tour the White House, you will need to submit a request weeks in advance and tours are given on a first come, first served basis. Find more information about White House tours here.
Take a stroll down Embassy Row for a gander at the historical mansions that became diplomatic representations (embassies) and lodges/clubs during the Great Depression.
AND THE LIST GOES ON! There are so many things to do in DC that you could surely spend weeks touring every stop. Have you been to this nation's capital? What are your favorite places to visit and things to see in Washington?