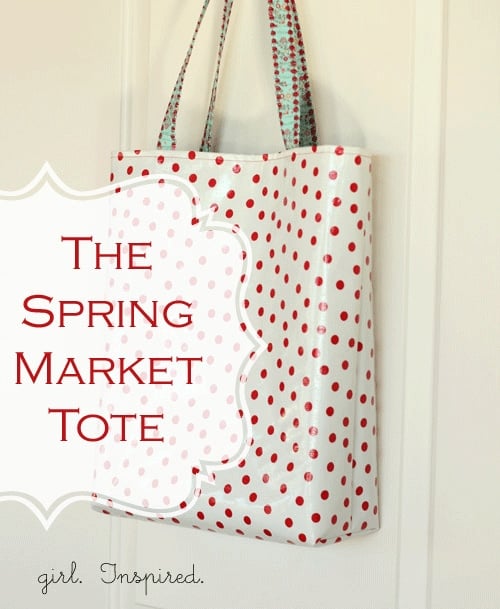 The last week of February already, can you believe it? My daffodils are blooming, we spent the weekend outside mowing and pruning; the sunshine just has a way of lulling me outside – is it the same for you? I have been in need of some totes to lug snacks and sweatshirts and a magazine to and from all of the places I run every day with the girls. Today, I'm going to share a tutorial for a very basic oilcloth tote that you can sew up in a snap. I used oilcloth for this one, primarily because I wanted something that would be easy to wipe down and would also hold up to rain while I dash in and out during the inevitable spring showers.
Supplies
1 piece of oilcloth 36″ x 18″ (or alternately, two pieces 18″x18″)
1 piece of lining material 36″ x 18″ (or two, as above)
2 straps – 30″ each (you can use braided trim, leather straps, or make straps with fabric)
The basic construction of the tote is a cinch! You'll simply attach your straps to each end of the oilcloth piece (the short sides). Then fold the oilcloth in half and sew up each side to form the side seams. Repeat with the lining. Square off the bottom corners of the bag to make a flat bottom. Attach the lining and main bag together, then turn and topstitch. Here's a picture tutorial with a few more details.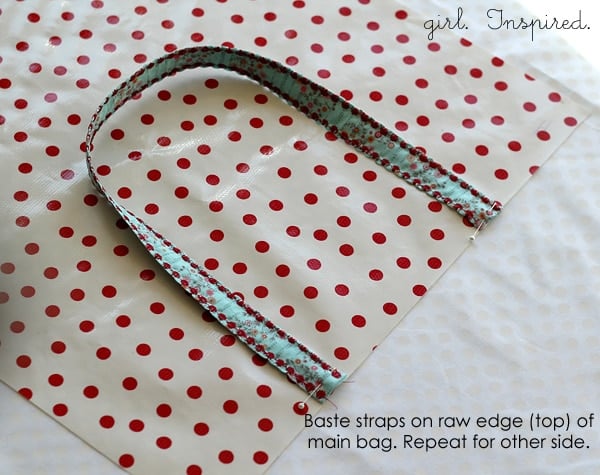 And that's it! You'll notice that I referenced "bottom seam" in the instructions, which would apply if you are using two pieces of fabric for the main bag and two pieces for the lining. For a quicker bag, you would simply omit all references to that bottom seam and just use the one larger piece of fabric. Does that make sense (so you'll have a bottom fold not a bottom seam)?
Okay! Now get sewing – you can have one of these puppies done in about 30 minutes. Have fun!