My friend Adrianna of Hey June and Crafterhours sent me her digital pattern for The Narita Dress a few months back. I finally had the chance to stitch it together last week and I am absolutely in love with the result!!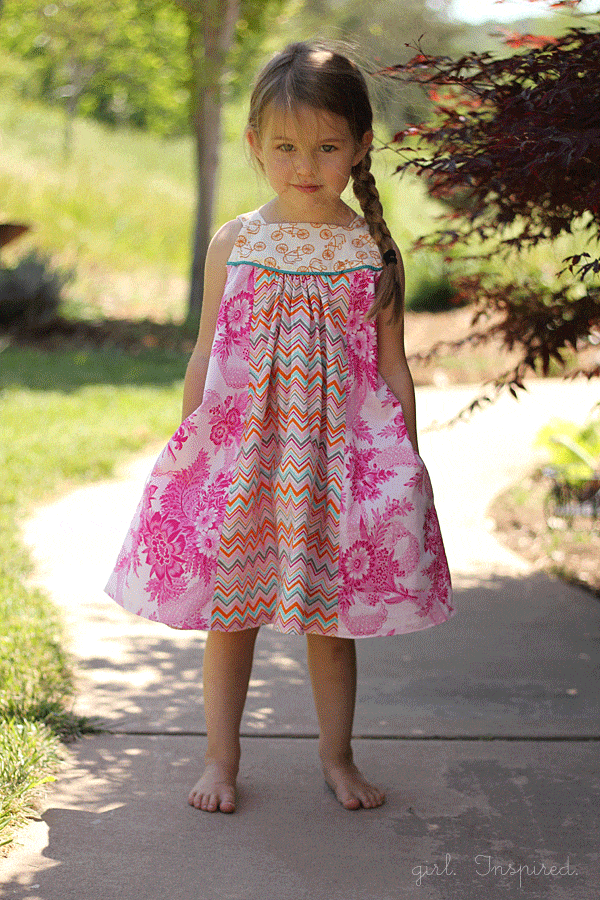 Addison is the only child wearing dresses these days – she lives in them. And this particular dress? She even wears it to bed.
Let me tell you about this pattern. It's professional, absolutely top-notch. It is so well written, every time I found myself wondering if I should read ahead to see if I needed to serge the seams, for example, the very next sentence in the pattern would give me just that answer. Does that make sense? When you're following a pattern, do you often wonder if you should insert specific steps at certain points to avoid frustration down the line? I really think Adrianna worked miracles here with her instructions – I just felt so confident in each step because she explains everything so thoroughly and when I got to the end of the pattern, everything had come together beautifully. The illustrations and pattern pieces are so clear and straightforward – just a really great pattern.
I love the lengthy design and the side pockets – always handy on clothing. I love the way the top gathers and giver you the opportunity to use three great fabrics. I also added piping between the upper bodice and the skirt and I really love that pop of color.
I sized up for Addie and the straps were a little long, but I just stitched them under in the back and I'll be able to take those stitches out as she grows so the dress should fit for at least a year or two. Thrilled!
So, what do you think? Are you running over to Hey June to grab a digital copy of The Narita Dress pattern? The size ranges from 18 months – 8 years and there are lots of options for embellishment with the design. Do you have some fabric laying around calling your name? This is the perfect day to use it!