Baked tortillas transform into crispy, fun taco salad shells, filled with tasty fillings!
These easy taco salad shells are made into delicious taco bowls with TexMex in mind! They're a baked (not fried!) taco shell filled with crispy lettuce, seasoned beef, and loaded with all of your favorite yummy taco fillings!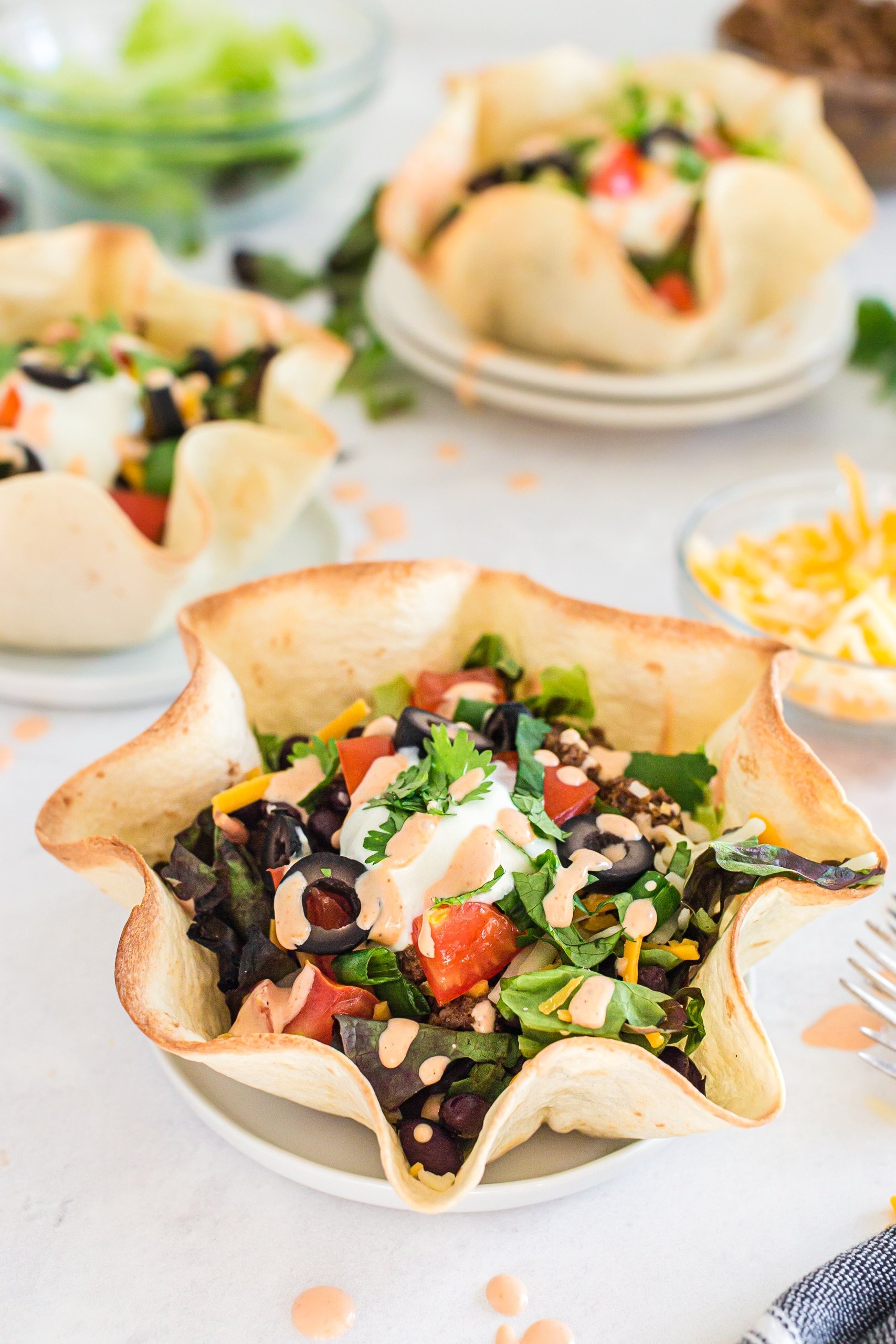 If you're a lover of any and everything Mexican food-related, you'll appreciate not only the quick and easy meal ideas, but even the ones that may take a little longer but are totally worth it! On lazy weekends, I LOVE making this crockpot Carnitas recipe. Super juicy pork, fall-apart tender, and crispy tips! Whether you're making a lengthier Carnita recipe or your favorite taco salad, a classic rum mojito is a must on either occasion!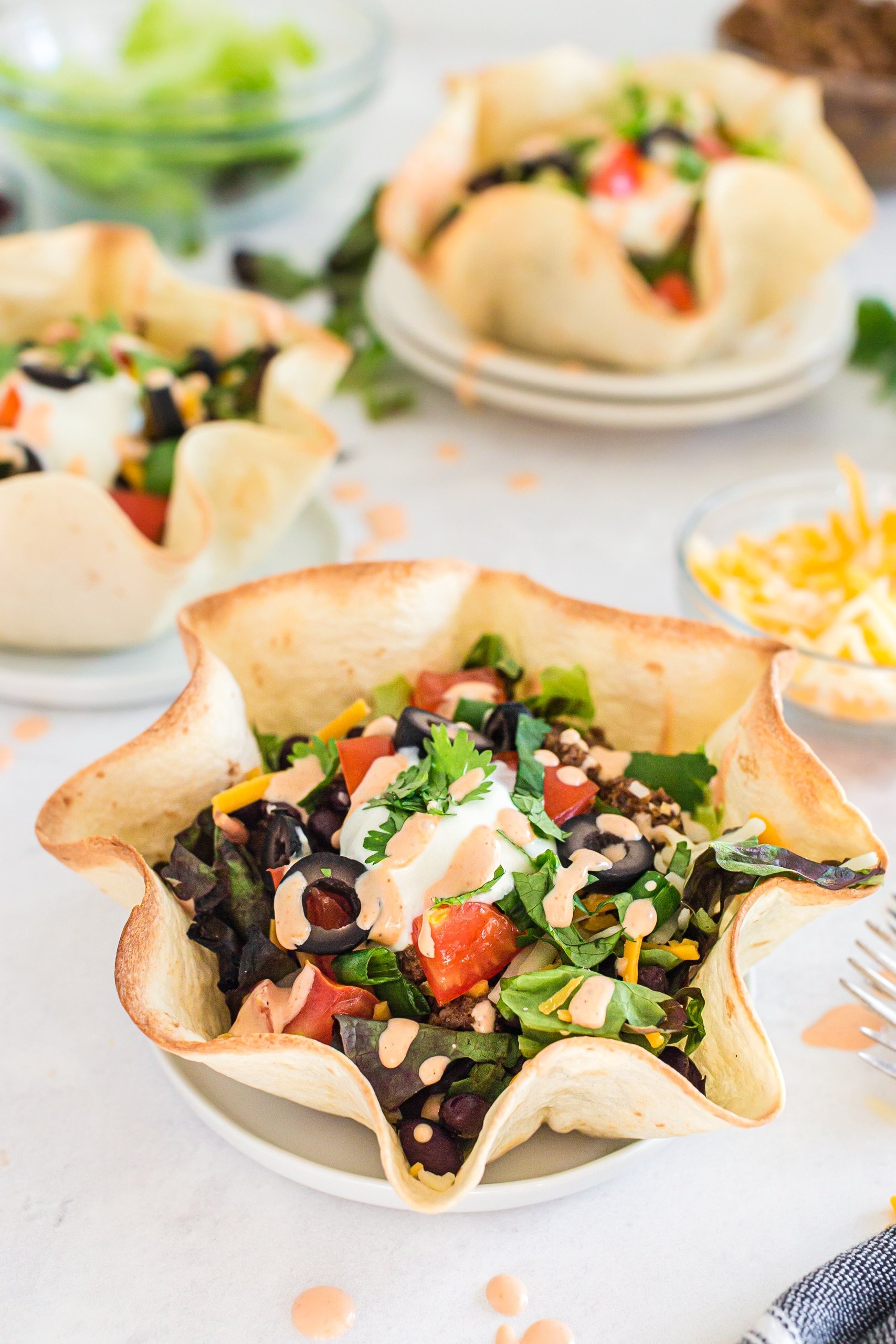 What are taco salad bowls?
These easy taco salad shells are a fun and creative way to enjoy all any of your favorite taco salad recipes! This is your chance to skip the takeout and make your favorite Mexican-inspired dishes right at home! A budget-friendly way to eat incredibly delicious food is always a good idea.
The shells are made from large flour tortillas, baked until super crunchy, which ends up looking like a big giant tortilla scoop. Baking them is neat because you can make as many or as few as you need! Skip all the extra calories from a deep fried taco salad shell, but keep the flavor and crunch of a satisfying flour tortilla. Make your own shells that are world above pre-fried shells.
Then you can customize the fillings to whatever suits your needs. These taco salad shells are loaded with crispy lettuce, zesty seasoned beef, and fresh toppings. They can be as healthy as you want to make them too. It's a great opportunity to pack on the fresh veggies, but on days where you are lacking any self-control, pile on the cheese, guacamole, and sour cream! Because balance 🙂
Homemade taco bowls are the perfect flexible quick and easy weeknight dinner that everyone can agree on. Setting up a taco salad bar and having portions of garnishes out for everyone to choose from is always a hit! Whether you're craving Mexican food or preparing for a game day party, these colorful, crowd-pleasing bowls are always a hit!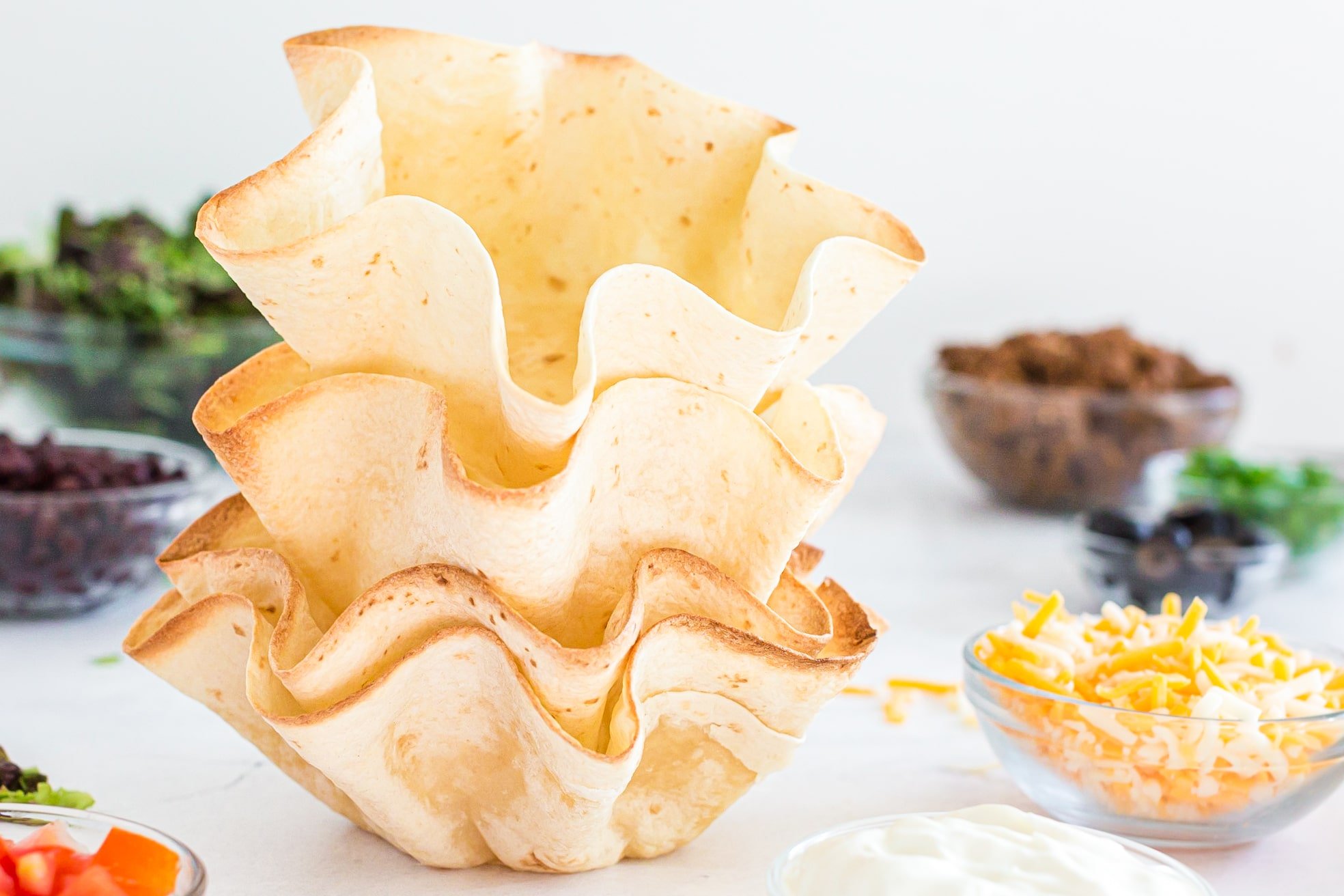 Fun Fact
Are Taco Salad Bowls Mexican?
Nope! Authentic Mexican tacos actually don't involve a hard shell whatsoever. The hard shell was invented by Taco Bell, believe it or not, and since then it has won over the hearts of Americans everywhere! It's now a staple Tex Mex dish, which does use lots of Mexican flavors and seasoning. While they are not exactly Mexican, it definitely celebrates the Mexican-inspired flavors!
Why this recipe works
Quick and easy which means you can enjoy any night of the week.
Customizable to suit tastes and dietary needs. Can use different proteins, toppings, or make it completely vegetarian.
Versatile in nature due to the fact that you can easily double or triple the recipe to serve a crowd.
Family-friendly because what kid doesn't love taco bowls even if it does have lettuce in it?!
Easy clean-up is as easy as it gets when you can eat the edible serving shells!
What appliances you'll need to make Taco Salad Shells
The only special tool you'll need to consider outside of your everyday appliances is something that will help you create the taco salad shell. Some people have actual taco shell forms (aff), but if you don't want/have the forms, a simple mason jar trick will do. There are a number of formers available online or in stores like Home Goods and Ross. You can purchase mason jars form the grocery store. Grab as many large mason jars as you'll need for as many as you want to make. This recipe yields 4 bowls.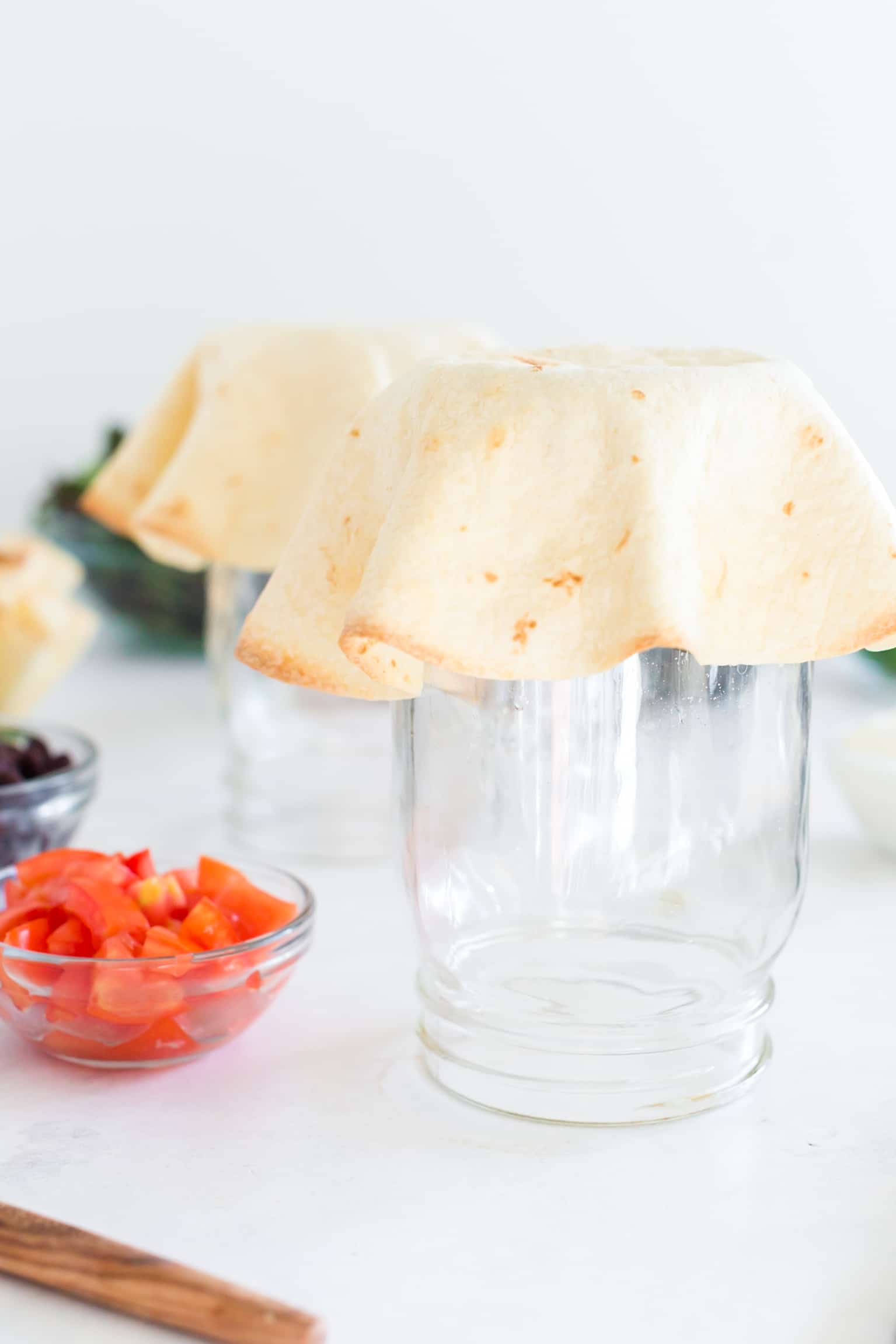 Ingredients:
Flour tortillas – You'll need 4 burrito-sized tortillas. More if you're making more than 4. If you prefer to use corn tortillas, I would recommend a form that is a bit smaller so that you will still get a decent side on the taco shell bowl. Gluten-free tortillas or low carb tortillas should work just as well.
Cooking oil – Using some type of oil is really helpful to achieve a flaky taco salad shell. We used non-stick cooking spray for ease, but you can also brush on vegetable oil, corn oil, canola oil, or even a healthier alternative like avocado oil or sunflower oil.
Ground beef – Lean, medium, or regular ground beef all work.
Taco seasoning – A store bought package of seasoning is enough for this recipe, but by all means use your homemade mixture if you have one.
Green and red leaf lettuce – Washed and chopped.
Veggie topping options – Diced tomatoes, shredded jack, and cheddar cheese, sliced black olives, diced green onions or chives, and black beans, rinsed and drained.
Optional dressings and sauces – Sour cream, ranch dressing, Cholula, or hot sauce.
Tortilla chips – Also optional!
Take the plain tortillas out of the refrigerator and bring them to room temperature prior to preparing the taco bowl shells – they will be more pliable and easier to shape. A few second in the microwave (wrapped in a paper towel) will also do the trick.
How to Make These Easy Taco Salad Shells
Having these ready in under 30 minutes is really just an added bonus!
First things first, you'll need to cook your beef sprinkled with a tasty taco seasoning giving it all kinds of yummy flavor. Once it cooks, allow it to cool.
Using the mason jars, you'll flip them over to use the bottom of the jars as the mold for the shells. Place the mason jars on a baking sheet for stability and ease transferring them in and out of the oven. Spray both sides of the tortillas with nonstick cooking spray and then drape them over the mason jars (or simply mold them into the tortilla bowl molds). Gently shape the flour tortillas to form ripples and ensure you get that deep bowl effect. Pop them in the oven at 350°F and bake for 8-10 minutes until the tortillas are crispy and golden brown around the edges. Once they are baked and nice and sturdy, cool before taking them off the jars.
Then, it's just a matter of filling them up with lettuce, meat and any additional toppings, fillings, sauces and garnishes. Some of my favorites are shredded cheese, diced avocado, tomatoes, sour cream, and salsa!
So, the question remains, will you eat everything with a fork first and then break apart the tortilla bowl and make chips for salsa dipping? OR will you break it apart as you go and use the pieces to scoop out what's inside?
Variations and Substitutions:
If you don't have any mason jars, try a cereal or soup bowl. Be sure you are using oven-safe dishes.
Baking tortilla shells won't give you that bubbly crispy restaurant style feel, but if that's what you're aiming for, you can actually give those tortillas a quick fry in a bit of oil in a pan, just before baking them. Frying gives them a chance to puff up and get those little bubbles even with a baked shell.
This recipe works for ground or shredded chicken and turkey.
Use the shells to serve chili or a hearty chicken tortilla soup! The shells would also make a great bowl for dips on your appetizer platter.
Completely omit the meat for a vegetarian version.
Sprinkle a little salt on the tortillas for a little extra flavor.
Try a sweet twist and sprinkle the tortillas with cinnamon and sugar just before baking. Then scoop up some ice cream sundaes for a Mexican-inspired dessert!
Use the
Skip the tortilla altogether and fill a real bowl with lettuce meat and toppings for a low-carb alternative.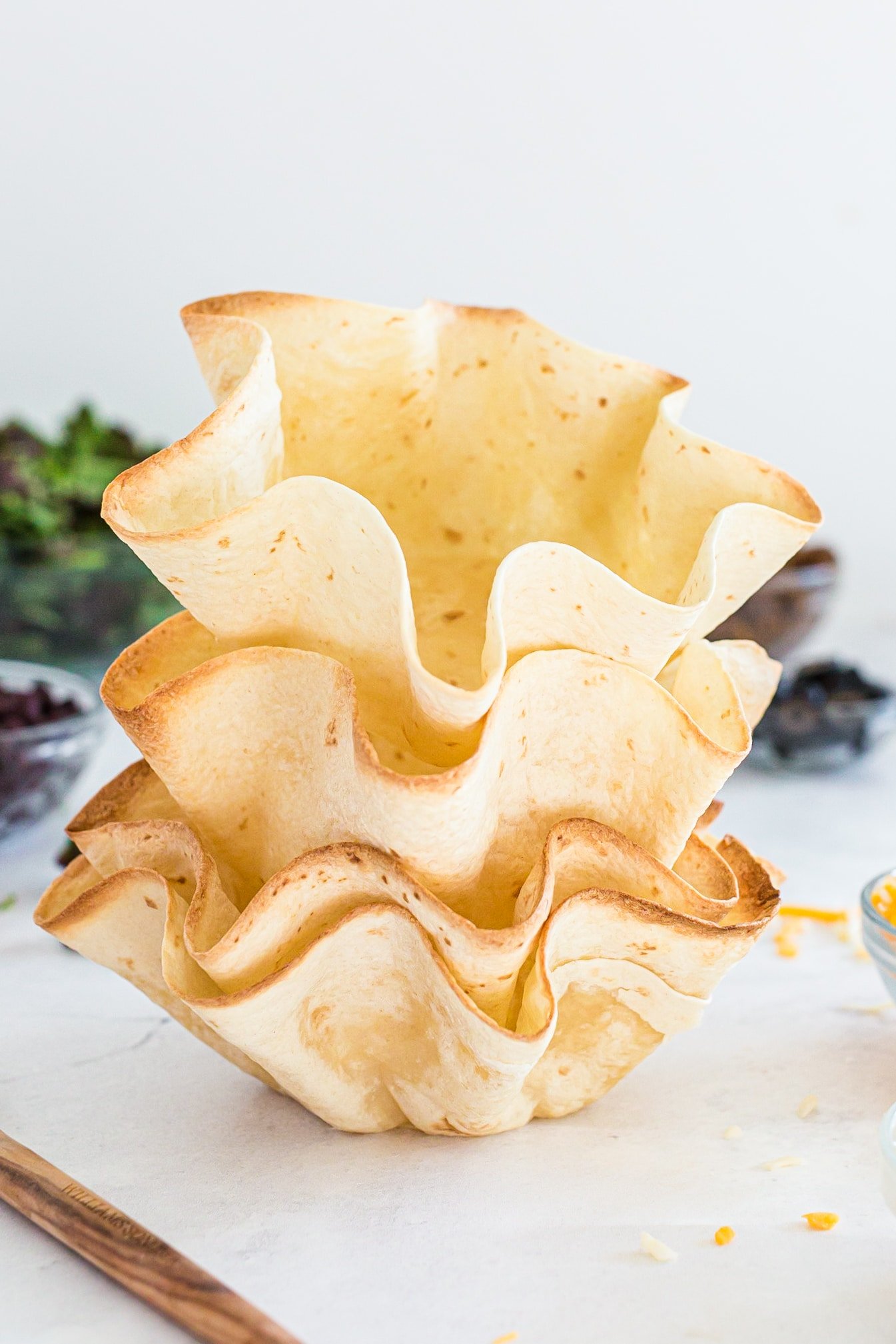 FAQs
What other toppings can I use?

Classic taco toppings like shredded cheese, sour cream, and salsa never go out of style but there are definitely other topping ideas out there. Refried beans, salsa verde, pico de Gallo, guacamole, to name a few. Corn kernels, sliced jalapenos, diced red onions or bell peppers are some other delicious options.
What to serve with taco salad?

Taco salad bowls are definitely a meal on their own. It has everything you need to leave you completely satisfied. When serving a crowd, however, sometimes it's nice to have other dishes available just in case! A side of rice and beans or Mexican corn on the cob should be great!
How to store leftover taco meat?

If you have any leftover meat, it can be stored in an airtight container in the fridge for up to 4 days. It's great for meal prep throughout the week, set yourself up for burrito lunches, or more taco salad bowls throughout the week!
Taco Salad Shells
Baked tortillas transform into crispy, fun taco salad shells, filled with tasty fillings!
Ingredients
4 flour tortillas burrito size
non-stick cooking spray
1 pound ground beef
1 packet taco seasoning
8 cups green and red leaf lettuce chopped
1 cup diced tomatoes
1 cup shredded jack and cheddar cheese
1 cup sliced black olives
½ cup diced green onions or chives
¼ cup sour cream
1 cup black beans rinsed and drained
1 cup tortilla chips optional
½ cup Ranch dressing
1 teaspoon Cholula or hot sauce
Instructions
Saute ground beef over medium heat until no longer pink. Add taco seasoning and water as indicated on taco seasoning package and simmer until liquid is absorbed. Set meat aside to cool.

Spray flour tortillas with non-stick cooking spray and nestle into taco salad bowl baking pans (or drape over large mason jars).

Allow tortilla bowls to cool completely before gently removing from their cooking apparatus.

Assemble each taco salad by filling prepared tortilla bowl with lettuce and toppings of your choice.

Whisk together Cholula and Ranch dressing and drizzle over the salads.

Serve immediately.