This chicken alfredo stuffed shells recipe makes a great easy dinner that is ready in less than 1 hour and full of fresh Italian flavors.
Stuffed chicken alfredo shells have a creamy sauce packed with tender chicken and broccoli in jumbo pasta shells that are the perfect comfort food even on a busy night because they are ready in just 40 minutes.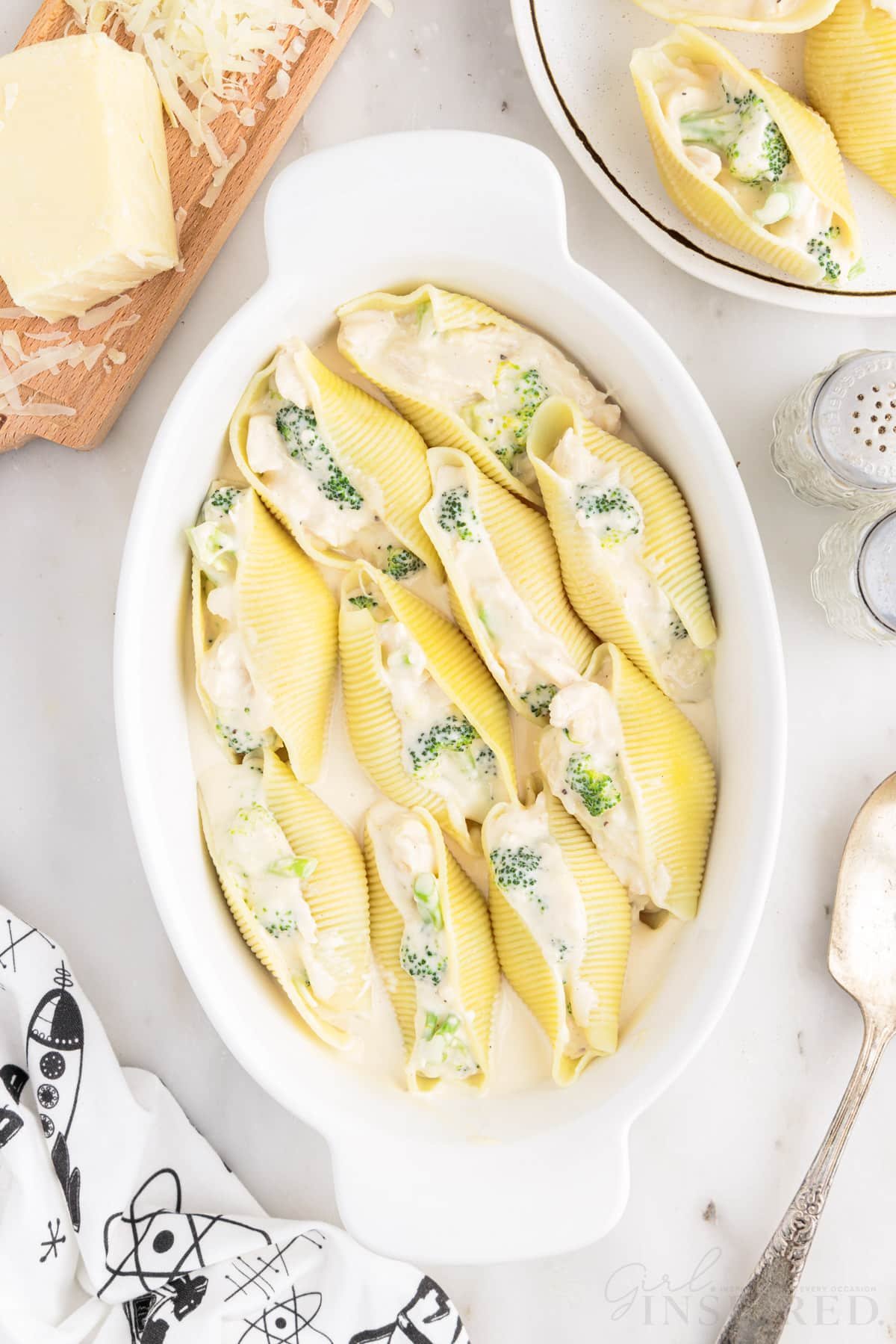 While this is an easy go-to recipe that the whole family will love, be sure to try making your pasta when you want to have a fun Italian night! We have also made our own tortellini which can be made in advance and frozen until you are ready to use.
Serve this delicious dinner with garlic bread and a side salad on those busy weeknights. Another quick dinner we love making is this delicious chicken alfredo recipe. If you don't want the grilled chicken, try the better than Olive Garden alfredo instead. As an appetizer, fried raviolis or stuffed ziti fritta complements this meal perfectly.
What do I Need for this Recipe?
🍝 Ingredients:
jumbo shell pasta – be sure to cook a few extras. Sometimes the shells break while stuffing.
salt – adjust based on taste.
Alfredo sauce – you can use jarred or homemade.
black pepper – we like using coarse.
chicken – before starting, be sure the chicken has already been cooked and chopped.
broccoli – steam before adding it to the cheese mixture.
parmesan cheese – we are using grated.
mozzarella cheese – freshly shredded mozzarella has more flavor and melts easier than the kind you find in the dairy section of the grocery store.
Optional Garnish:
Garnish with green onions, fresh parsley, or more freshly grated cheese.
Equipment Needed:
Casserole dish – 9×13 or larger works best.
Variations and Substitutions:
Homemade alfredo sauce – if you prefer, made a from scratch alfredo sauce instead of store-bought. My version is ready in just 15 minutes and combines heavy cream, milk, garlic, cheese, and seasoning. Plus, it's thick and creamy!
Spicier – add a dash or two of red pepper flakes to add some heat to the recipe.
Cajun chicken alfredo stuffed shells – sprinkle the cajun filling into the chicken mixture while heating. Use up to a tablespoon of seasoning.
Veggies – you can omit the broccoli or add mushrooms with it. Some like to use spinach instead.
🔪 Instructions:
PREP: Preheat the oven to 350 degrees F. Cook the jumbo shells in a large pot of salted water according to the package directions until they are al dente.
Step 1: Heat the creamy alfredo sauce in a large skillet or saucepan until it simmers over medium heat, then season with pepper.
Step 2: Stir in ½ cup parmesan cheese and the shredded mozzarella cheese. Heat until the cheeses melt. Add the chicken and broccoli.
Step 3: Heat the cheesy mixture until it's warmed through.
Step 4: Spoon the filling into the unbaked shells. Smear a little of the pasta sauce at the bottom of the dish.
Pro Tip: Running cold water over the drained pasta will stop the cooking process.
Step 5: Place the stuffed shells in the pan. These can be served immediately or baked (covered with aluminum foil) for 15-20 minutes.
SERVE: Garnish if desired, and serve with a simple salad, soup, or garlic bread.
Be sure to use large pasta shells when stuffing. The others are too small to fit the filling in.
After the shells have been stuffed they are ready to serve. If desired you can top it with additional cheese and bake covered until it's melted.
You'll need about 2 cups total of Alfredo sauce.
Leftover chicken rotisserie works well for this recipe.
Chop the broccoli small enough so it fits nicely in the shells. You can steam fresh or frozen broccoli.
Fun Fact
Did you know that store-bought Alfredo sauce is thickened with starch instead of cheese?
How to store stuffed chicken alfredo shells?
Store leftovers in an airtight container in the refrigerator for 2-3 days. Warm over low heat before serving again.
Can you make this recipe ahead of time?
Follow the instructions for making the filling. Transfer it to a large mixing bowl and cover it tightly with plastic wrap. Refrigerate up to 24 hours in advance. Cook the shells, and stuff.
Stuffed Chicken Alfredo Shells
This chicken alfredo stuffed shells recipe makes a great easy dinner that is ready in less than 1 hour and full of fresh Italian flavors.
Shells
Ingredients
18-20 jumbo shell pasta
1 teaspoon salt plus more to taste
1-2 15 oz. jars Alfredo sauce
½ teaspoon coarse black pepper
2 cups cooked chopped chicken
2 cups steamed broccoli chopped
½ cup grated parmesan cheese
1 cup grated mozzarella cheese
Instructions
Preheat oven to 350°F.

Cook pasta in a large pot of boiling water with 1 teaspoon of salt added to it. Cook more shells than needed as some of them may break while cooking.

In a large saucepan or pot, heat 1 jar of Alfredo sauce until it is simmering. Season with pepper.

Stir in parmesan and mozzarella cheese and heat until melted and combined.

Stir in chicken and broccoli and heat over low until warmed through.

Spoon filling into the cooked pasta shells.

If desired, add additional warmed Alfredo sauce to the bottom of a baking dish or serving dish. Arrange stuffed shells over the Alfredo sauce in the dish.

Serve immediately, if desired. Alternately, cover the baking dish with aluminum foil and bake 15-20 minutes until shells are heated through.
Notes
Storage: Store in the refrigerator for 2-3 days in an airtight container. Notes: Everything is cooked in the dish, so the shells can be served immediately once filled with the hot filling. You could also place the filled shells in a baking dish so that they can be heated through at a later point in time. Another option is to sprinkle additional mozzarella cheese over the top of the shells and bake. You need about two cups of Alfredo sauce in the filling mixture – use homemade sauce if desired. Leftover chicken breast meat or a rotisserie chicken works well in this recipe. Steam the broccoli just until fork tender. Chop the broccoli small so that the pieces fit easily into shells.
Nutrition
Calories: 128kcal | Carbohydrates: 8g | Protein: 7g | Fat: 7g | Saturated Fat: 4g | Polyunsaturated Fat: 1g | Monounsaturated Fat: 2g | Cholesterol: 33mg | Sodium: 535mg | Potassium: 96mg | Fiber: 1g | Sugar: 1g | Vitamin A: 129IU | Vitamin C: 12mg | Calcium: 63mg | Iron: 0.3mg