So here we are!! The All Stars season of Project Run and Play!!! I have to tell you, this time around has been even more fun, particularly because the other All Stars are my friends and we get to chit chat and share sneak peeks on Instagram (find me at girlinspired1)! It just feels awesome, more of a group effort than a competition! This first week the theme was Art Inspired and I was stumped. I had a few big fails before I landed on an artist whose work actually inspired me. I chose this beautiful painting by Michelle Armas and set to work!
I love the rich colors of this picture; to me, it looks elegant and happy and beautiful. And if the picture were to become clothing, I just pictured a big fluffy ball gown with beautiful drapes of color all over it.
Addison was all over the dress design from the start. Usually, it's a total pain to get the kids to try stuff on mid-design, but this time it was actually a pain to get any work done on the dress because Addie just wanted to wear it all the time; she was SO excited for her fancy dress to be finished.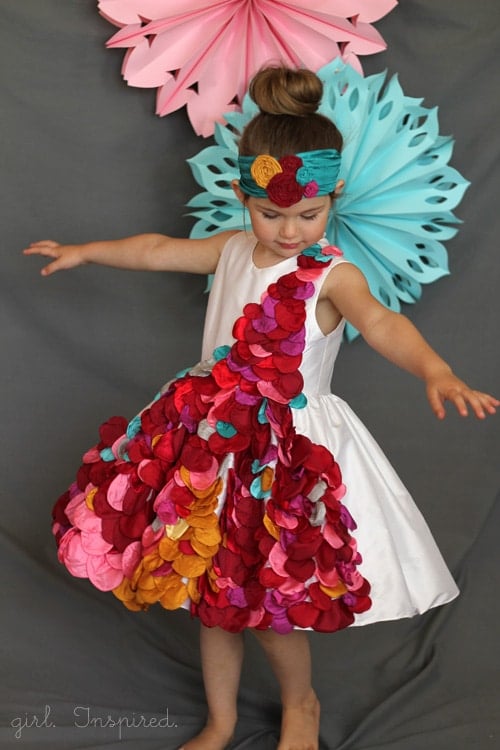 I started with a full-skirted sleeveless gown made from silk dupioni and fully lined with a cotton sateen. Silk is such a beautiful fabric to work with and I thought it was a bit serendipitous as the first time I worked with silk was for the first week of Project Run and Play during my initial run last year. Once I had the dress constructed, I began cutting small circles from synthetics that I had on hand. I made a run to the fabric store once I realized that it was going to take A LOT more "petals" than I had fabric.
I singed the edges of each circle with a flame and pinned them on to the dress in a color pattern similar to the artwork inspiration piece. After I had the entire ensemble pinned how I liked, I started sewing the petals on one by one. I discovered that it was a lot quicker to sew them on with a quick zigzag stitch on the machine than by hand (plus you know I despise hand-sewing). I counted. There were 417 petals in total. And they look amazing all smashed together, right?
The best part is that Addison is in love with the dress. She was so excited for her photo shoot which is a total 180 from the usual. And she wears the dress for hours and hours. I made cupcakes for a little post-photo party; look at that cute cupcake face!
What do you think about the theme this week? Did you sew along? I've seen so many amazing sew along projects floating around!

If you haven't already, head on over to Project Run and Play to check out all six All Stars projects and VOTE for your favorite one! Thank you so much!