If you're looking for a recipe that will satisfy all your sweet cravings, but meet the criteria for SUPER HEALTHY, this Peanut Butter Banana Smoothie is your answer! The creamy sweetness is instantly filling, the peanut butter satisfies that comfort food craving, and the banana and yogurt base promotes great digestive health and supplies energy to get you through the day! I've shared a number of really good smoothie recipes on Girl. Inspired. over the years, but this one is my go-to, feel like I'm indulging but I'm not, drink it as often as I can, smoothie.
Let's talk for a minute about these ingredients! I use a couple things in almost every smoothie that I make.
The first is Greek yogurt. Choose one that is plain, no sugar, no flavor for your healthiest start. I often make my own homemade yogurt so that I can ferment it longer and get rid of the extra sugar/lactose that can upset some people's stomachs.
I also always use a banana in my smoothie. It sweetens it and makes it creamy, plus bananas are just so good for digestion and getting in potassium. This smoothie is great for post-workouts or a good, wholesome breakfast!
I use almond milk or coconut milk (unsweetened) to thin out the smoothies enough to blend. You can also use cow's milk if you like.
A scoop of ice – about a ½ C. – goes in every smoothie.
Now, you'll also see some spoonfuls of ingredients in the picture above. Here we have coconut oil, all natural peanut butter, creamed honey, and chia seeds.

Of course, if you want your banana smoothie to be a peanut butter banana smoothie, you'll need to add peanut butter! Use an all-natural peanut butter for optimal health. Almond butter tastes great in this smoothie as well!
Honey is a good sweetener – I alternately like to use 1-2 packets of Stevia – the riper the banana, the less sweetener you may need, too.
Chia seeds are a fun addition to this smoothie – they supply loads of nutrients like fiber, protein, and Omega-3 fatty acids and also contain high levels of antioxidants. Chia seeds soak into the smoothie and develop kind of a tapioca-like texture, which I absolutely love. So, throw a sprinkle of those into your smoothie!
People rave about the health benefits of coconut oil. It seems to improve all the good functions in our bodies and decrease all the bad stuff, plus it's great for your skin and hair! I'm not going to go into all of the specifics, but if you're interested, do some research on coconut oil. This smoothie is the PERFECT recipe to add some coconut oil into your diet.
SO…throw all the yummy things into the blender and give it a whirl! Pour it into a big cup and drink up!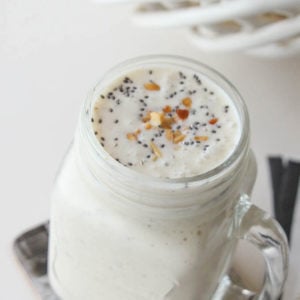 Peanut Butter Banana Smoothie
Ingredients
1 ripe banana
1 cup plain Greek yogurt
1 Tablespoon all-natural peanut butter or almond butter smooth or chunky is fine
2 teaspoons coconut oil
2 teaspoons chia seeds
1 teaspoon honey or 1-2 packets of Stevia sweetener
½ cup ice
¼ cup unsweetened almond or coconut milk
Instructions
Place all ingredients into a blender and blend until smooth!
Nutrition
Calories: 455kcal | Carbohydrates: 47g | Protein: 27g | Fat: 20g | Saturated Fat: 9g | Cholesterol: 10mg | Sodium: 235mg | Potassium: 808mg | Fiber: 7g | Sugar: 28g | Vitamin A: 76IU | Vitamin C: 10mg | Calcium: 345mg | Iron: 1mg