This is it! My first design for the Project Run and Play design competition! It has been a whirlwind of sewing and picture-taking and birthday party planning around here and I am SO excited and SO nervous to put this first design up. The theme this week was to remix the Junebug dress pattern (from
Jess at Craftiness is Not Optional
). The Junebug Dress is darling; I was thrilled that this was the pattern of choice for the remix!
I created the Mommy and Me dress using a beautiful dupioni silk. I made curtains out of this silk a few years ago and had plenty leftover. I've been wanting to try sewing garments with silk (and really, just expanding the types of fabric I use); I saw this as the perfect opportunity. You know I had to squeeze the ruffles in somewhere and I love them added to the sides of the front panel. Silk-covered buttons complete the bodice. I added some length and pintucks to the sleeves and pulled them in, rather than gathering them, for a tailored look. I also added pintucks to the hemline, which was another new technique that I've been wanting to try. I made the skirt quite a bit fuller and I love how the gathered silk flares out softly, but also holds its shape. Don't you just love the silhouette of the dress? It's perfect, no? I don't think I could have fluffed the skirt so well myself; that silk is just so pretty!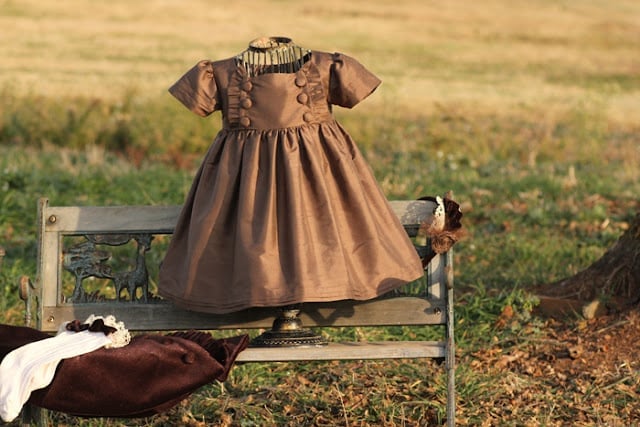 A little about the photo shoot here…Addie woke up from her nap still sleepy on picture day and wasn't too keen on heading out for pictures. She sat on her little bench and gave me a few forced smiles. But her daddy came to the rescue. He started reading her and her baby doll a book and then I put out the dolly high chair and she completely forgot I was taking pictures. I think her daddy put an M&M on her dolly's spoon and Addie ate it, which, of course, got her laughing at herself for being so clever. It turned into one crazy silly meal for her dolly, followed by a huge game of chase between me, Addie, and Graham. And it definitely made for some super cute pictures!
On to the other pieces of the outfit. I love, love, love the accessories for this outfit: a vintage-inspired headband, lacy knee-highs, brown Mary Janes, and a Junebug capelet.
I covered a headband with brown velvet and then added a velvet ruffle, a silk flower, and a bit of lace and tulle to finish it off. I kind of love this headband – wish I could pull off wearing it myself!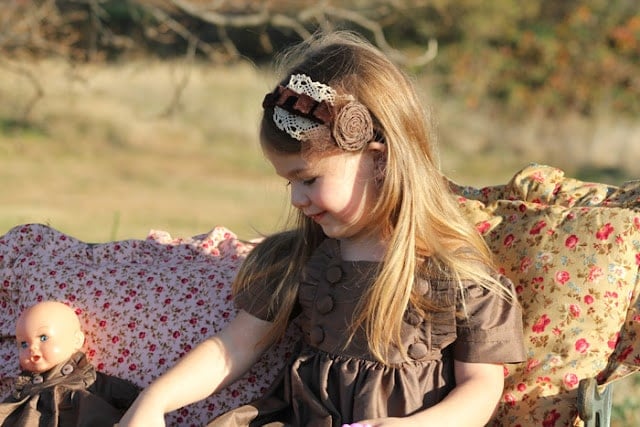 I didn't have the right shoes for the dress, but I dug through the bin of the older girls' shoes and found a pair of really well-worn white patent leathers from Easter that fit Addie. I grabbed some spray paint (the kind for plastic) and gave them a few good coats. It worked great! The socks got a little tea-stain treatment, some crocheted lace, and a little velvet bow. So cute!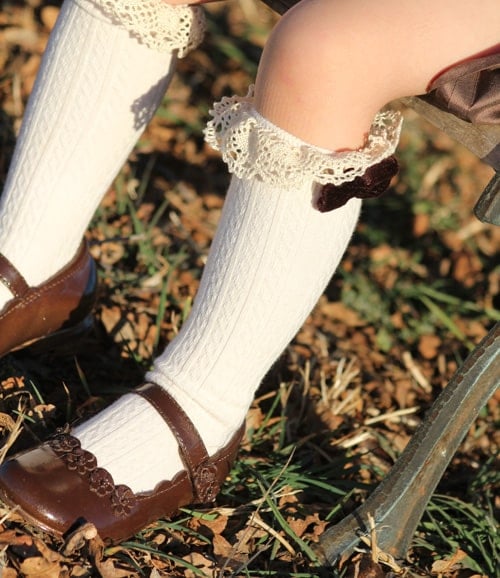 We happen to have the most gorgeous weather right now, so photographing Addie outside in this dress was no problem. But when I started designing and sewing, I was concerned about taking her out into winter weather so I made a little capelet out of a sparkly, brown velvet. I used a cape pattern and shortened it quite a bit. I also adjusted it so I could cut the ends on an angle; I sewed in a ruffle to mimic the dress style. The buttons are accent-only; the capelet snaps together for easy on and off.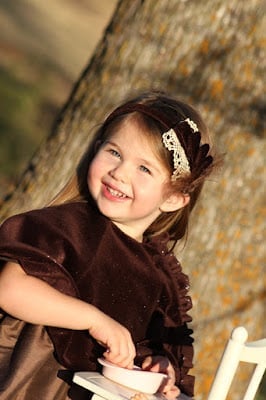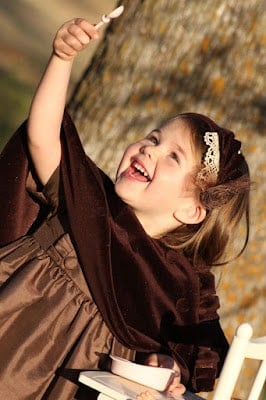 Finally, Addie's dolly got a new, matching dress, too. It was definitely not the easiest thing to sew a teeny tiny dress out of very shreddy silk, but it turned out pretty cute, I think. I put little velcro tabs on the inside of the flap so that Addie doesn't have to manipulate tiny buttons to actually get the dress on her baby!
Creating The Mommy and Me outfit was a lot of fun. Trying out pintucks, working with silk, embellishing socks, and spray painting shoes were all new for me and it was really satisfying to have the opportunity to try these things that I've been thinking about for a while.
Please, please,
please
head over to
Project Run and Play
and check out all the outfits for the Junebug Dress Remix. Then you can
VOTE
for your favorite (I hope it's me!! but the competition is certainly fierce)! Voting is only open through Sunday, so please check it out soon! Thank you so much!
p.s. I hope I get to show you what I'm working on for next week – did you see the theme? It's BOY week – and yes, this inspired girl is doing BOY!!