We're still swimming in the aftermath of Christmas and starting some preparations for Grace's birthday. The mornings are slow with the kids out of school, just the way I like them. But by evening, I'm pulling out the birthday party projects and working on my outfits for Project Run and Play. It starts next week!! I'm very excited and also very nervous – will you come vote for me? I'd hate to go out the first week and have zero votes. Especially because I'm so excited to make all the outfits I have dancing around in my head – the themes are so fun!
I promised to share a couple of the handmade projects I did for the girls and this first one turned out so awesome! I had seen some "Princess and the Pea" sets in the catalogs this year, selling for a bazillion dollars, so I decided to make a little themed gift set for Olivia. I ended up purchasing a pricey doll bed because I ran out of shopping time and wasn't able to find one in a thrift store (I didn't even consider building one). I went through my small pieces of fabric – fat quarters were the exact perfect size for this bed mattress) and stacked them on top of one another until I had identified the colors I wanted to use. Then I just cut the pieces to size, folded in half, and stitched around the perimeter leaving a small opening in the short end. I trimmed the corners, turned them right side out and tucked in a piece of foam batting that I had cut to size. I used several different thicknesses of batting, primarily because I didn't purchase nearly enough and had to scrounge around in my attic-like storage closets to find other random batting scraps. I like how the mismatched sizes turned out. I hand-stitched the openings closed and stacked the mattresses on the bed. A little quilted blanket topped off the bedding set.
I made a black apple doll using the pattern and instructions posted on Martha Stewart,
here.
I've been wanting to make one of these dolls since last Christmas and I have to tell you, it was so simple, you should definitely whip up a couple in your free time (wink!). Isn't she so cute? I wasn't sure if her simple figure would pass child scrutiny, but Olivia took to her right away.
I made a little pea out of some clay, though I'd much prefer a cute crocheted pea like I saw in a catalog. Unfortunately, I don't know how to crochet – perhaps this should be a goal for 2012…Sorry, sidetracked. Anyway, I typed up the story of the Princess and the Pea and printed it out on a little sheet of pearly pink cardstock to finish off the set.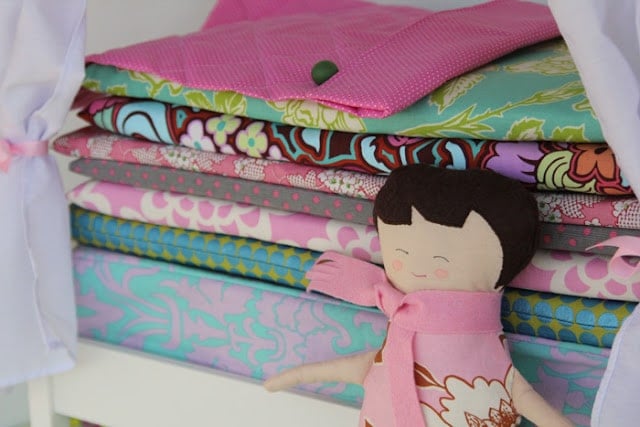 I think this project would be perfect for beginning seamstresses and those who like to sew up openings by hand.