These bite sized pecan cheesecakes have a buttery graham cracker crust, creamy cheesecake filling, and are topped with a caramel pecan drizzle.
These mini pecan cheesecake bites are a great individual dessert. The buttery graham cracker crust compliments the creamy cheesecake layer so well. But I must say the topping is my favorite part! It's a sweet caramel topping made with chopped pecans that really brings this whole dessert recipe together! It's thick enough to stay on the top, but not so sticky, so you can bite right through with no problem.
Most of the time single-serving desserts may seem like a pain to make because instead of making just one you are making a lot. However, with these mini pecan cheesecakes, you use a muffin tin and it's actually almost easier than making a full-blown cheesecake. When it comes to presentations, these are going to blow your guests away.
I've also made Bailey's Chocolate Cheesecake Trifle in stemless glasses that were single-serve, and everyone loved it!
One thing I love about these cheesecakes is that you don't have to use a springform pan and because they are smaller the chill time is shorter. This means you can make these heavenly treats in just a couple of hours.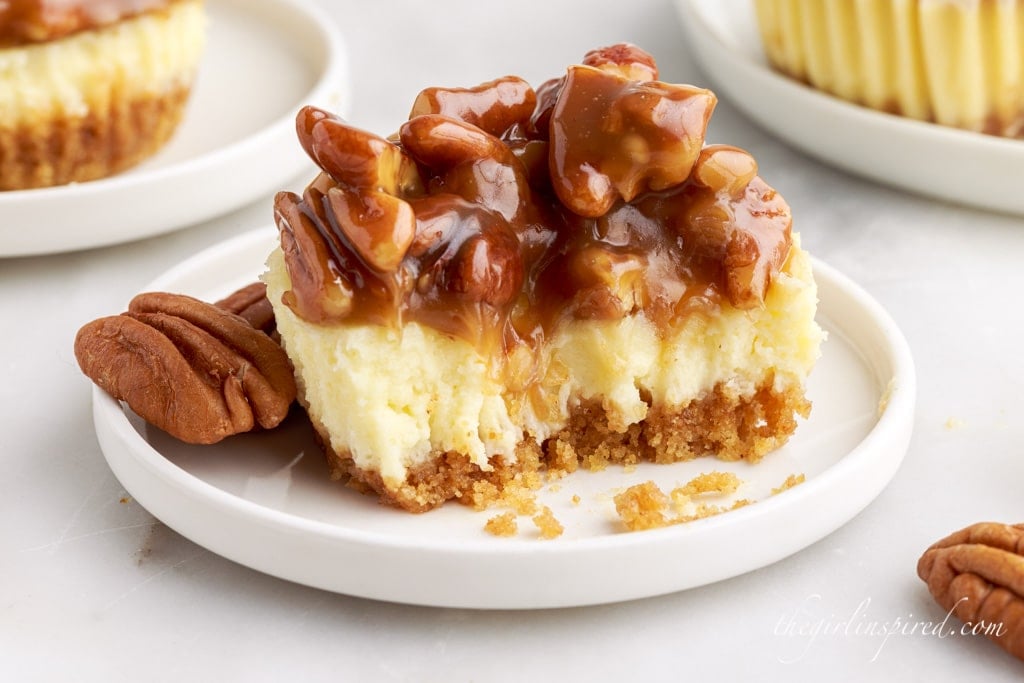 How to Make Mini Pecan Cheesecake Bites
Start with the graham cracker crust. Line a muffin tin with liners and preheat the oven to 325 degrees. In a medium bowl, combine the graham cracker crumbs, sugar, and melted butter. Add 2 tablespoons of the graham cracker mixture to each muffin cup and press down firmly.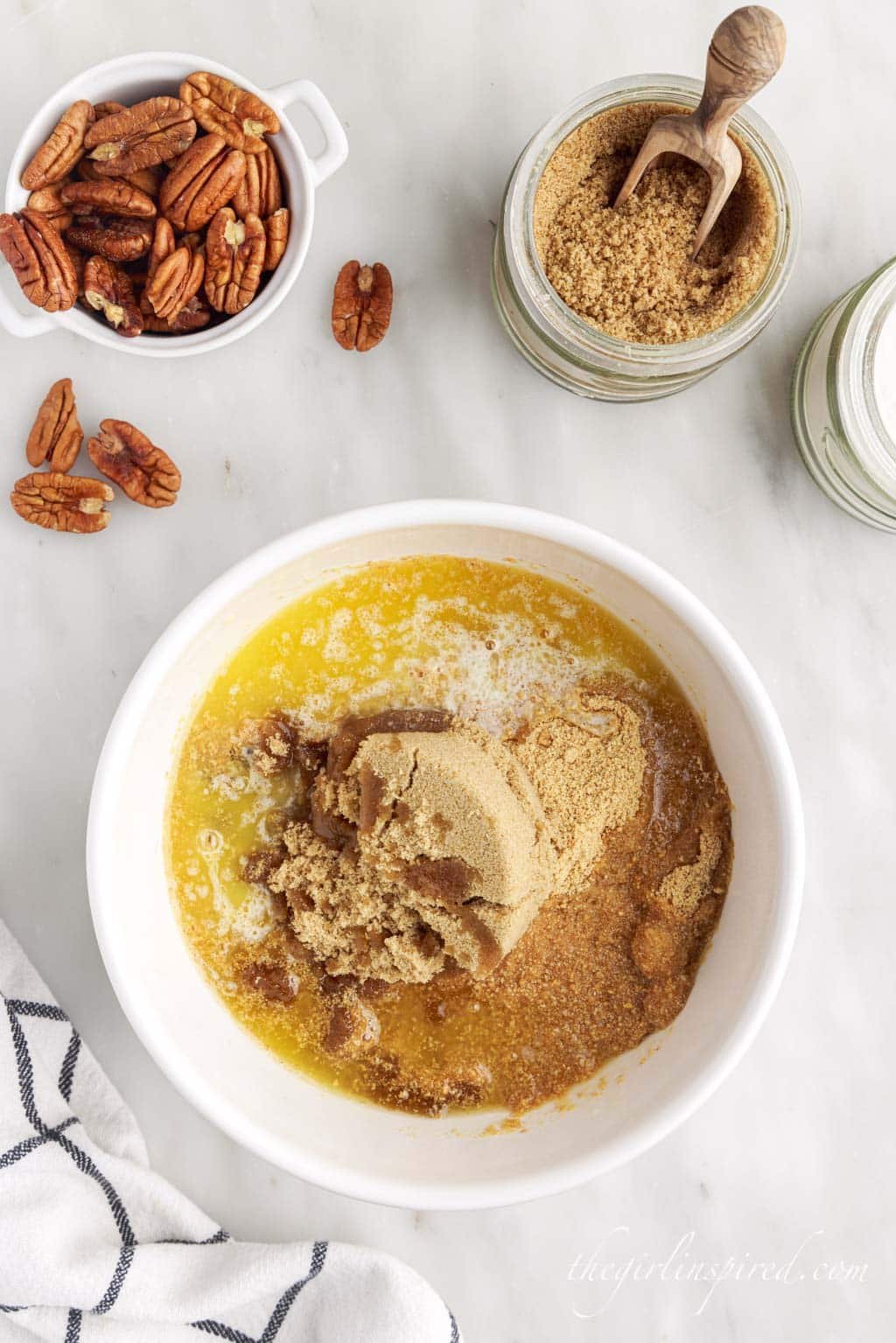 Make the cheesecake filling. Beat together the cream cheese and sugar using an electric mixer until fluffy. Add the salt, flour, and vanilla and mix until combined. By hand, stir in the sour cream and one egg at a time. Add the cheesecake batter to each muffin cup leaving a ¼ of an inch of space at the top. Using the water bath method. Place the muffin tip on a baking sheet that has sides. Fill the baking sheet with water and place it in the oven. Cook. Bake for 20 to 25 minutes until the mini cheesecakes are set. Cool. Remove from the oven and let them sit on the counter for 30 minutes. Transfer to the fridge to chill for 1 hour.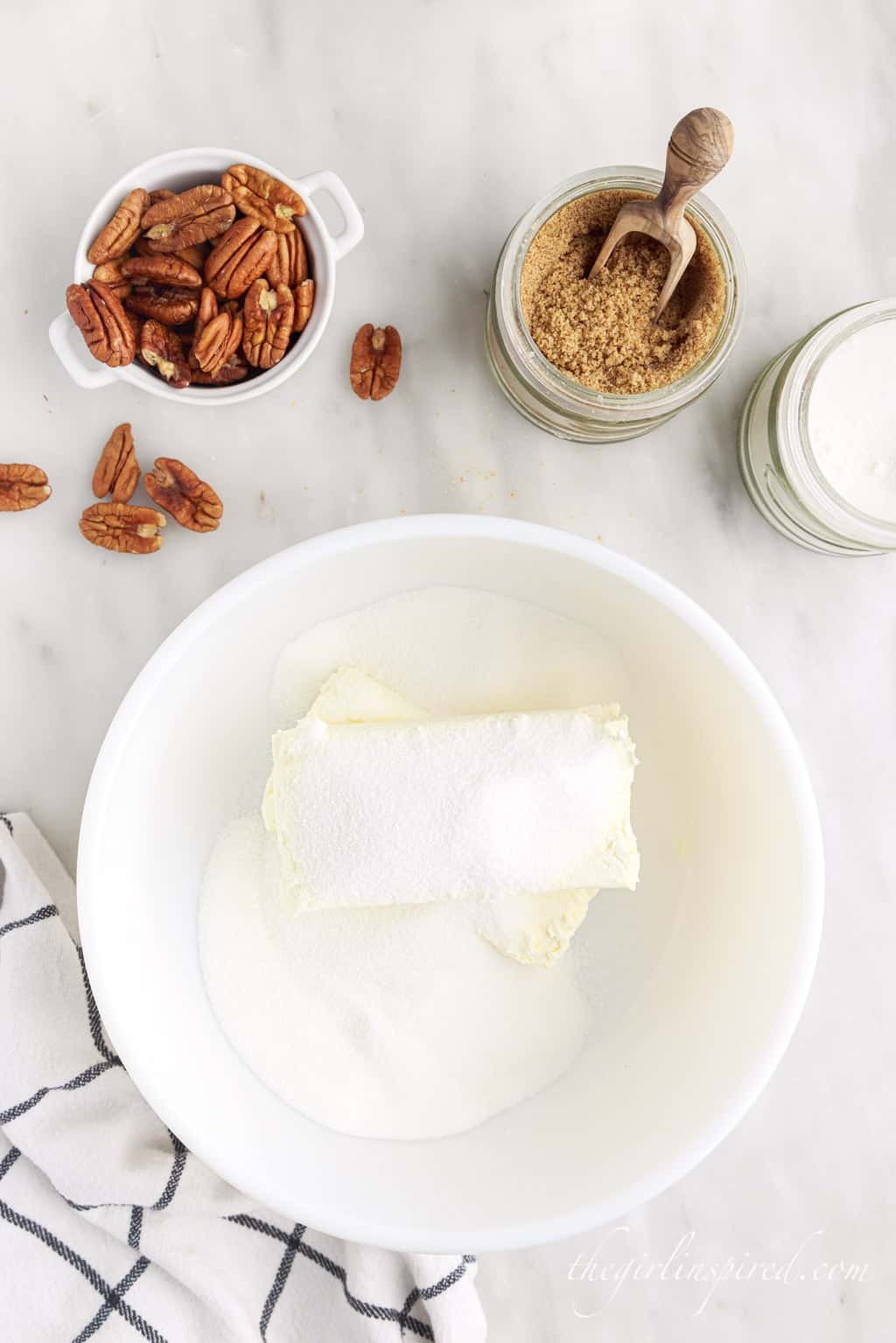 Make the pecan topping. In a small saucepan over medium heat melt the butter and brown sugar. Bring to a simmer and cook for 2-3 minutes. Pour in the corn syrup and cook for another minute. Remove from the heat and stir in the heavy cream and vanilla. Fold in the pecans. Add topping to cheesecakes. Spoon the topping over the chilled pecan cheesecakes and serve!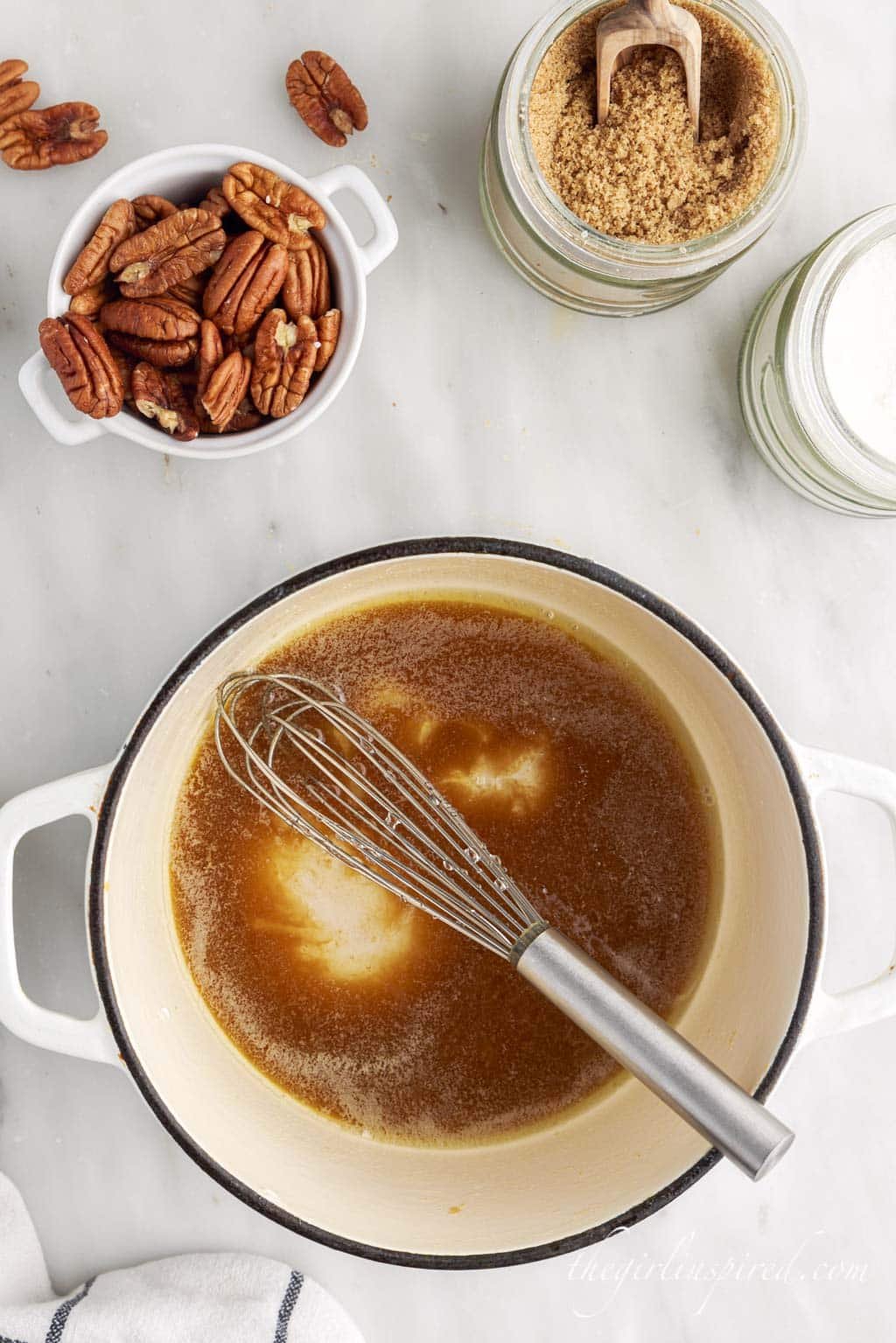 Substitutions and Variations
Crust: Change up the crust by using Oreo cookies and butter or Nilla wafers.
Topping: Substitute store-bought caramel sauce and fold the pecans in or just sprinkle on top.
Whipped Cream: If desired, add a dollop of whipped cream by combining heavy cream and a little powdered sugar. For an easier solution use Cool Whip.
To store keep the pecan cheesecakes in the refrigerator, loosely covered, for up to a week.
To freeze, place them on a baking sheet without the topping in the freezer for 30 minutes. Then transfer them to a freezer-safe container where they will stay fresh for up to 2 months. Thaw them in the fridge overnight.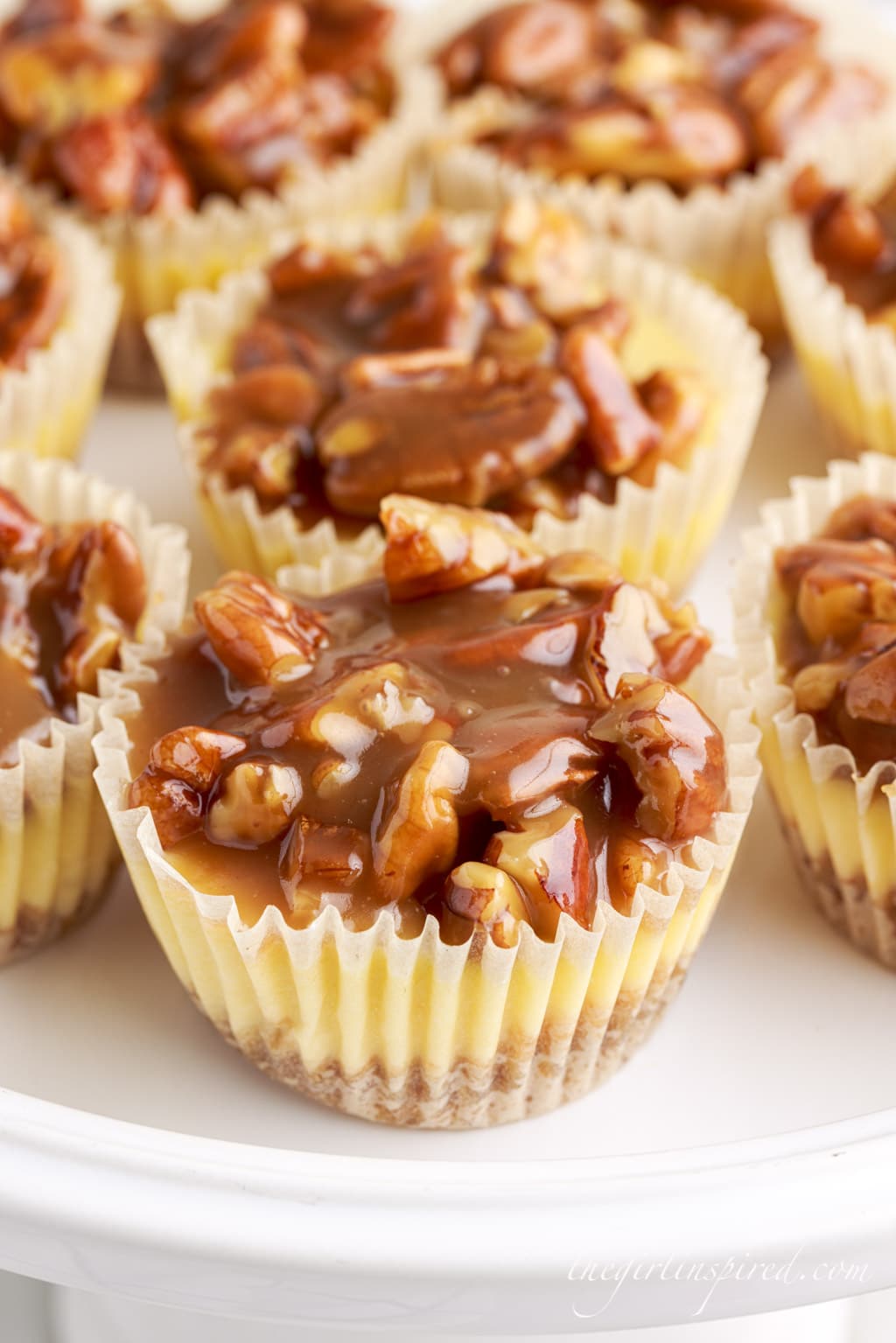 Common FAQs
Can I Make Mini Pecan Cheesecakes Ahead of Time?
Yes! Follow the instructions for freezing them. Then make the caramel pecan topping just before serving. Allow the cheesecakes to thaw overnight the day before serving.
How Do I Know When the Cheesecakes Are Done?
You want the cheesecake to have a "set" look, but also the center should be a little jiggly.
Do I Have to Use a Water Bath?
Nope, but it does keep the cakes moist and extra creamy. You can also add an oven-safe baking dish filled with water on the rack beneath and get the same results.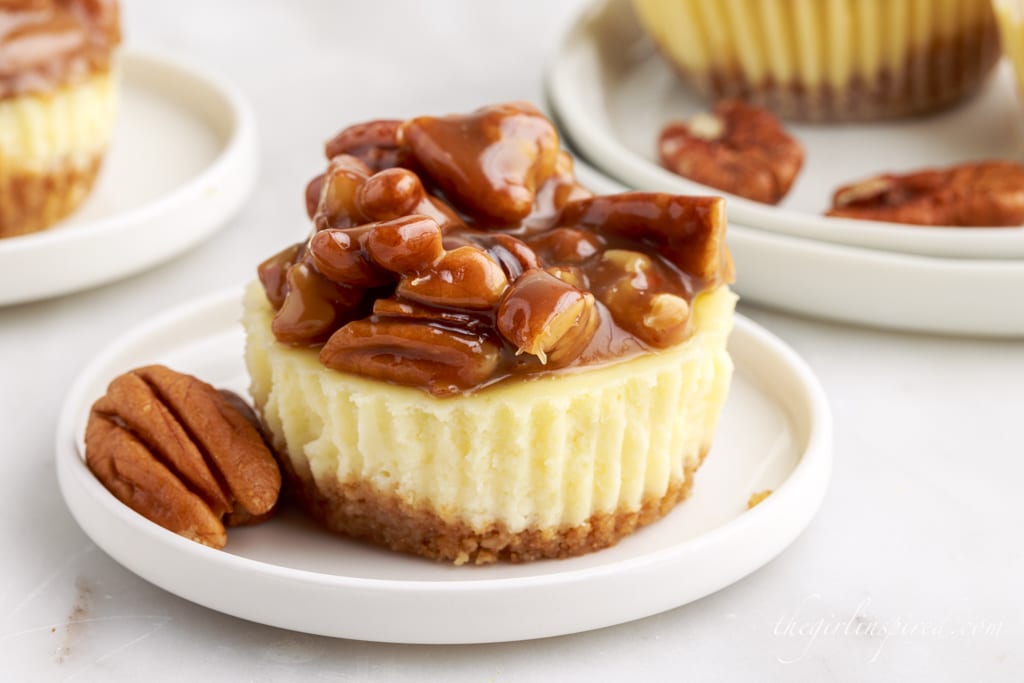 More Cheesecake Recipes You'll Love
Mini Pecan Cheesecakes
These bite sized pecan cheesecakes have a buttery graham cracker crust, creamy cheesecake filling, and are topped with a caramel pecan drizzle.
Ingredients
Crust Ingredients:
2 cups graham cracker crumbs either store-bought or use a food processor to create fine crumbs from whole graham crackers
⅓ cup packed light brown sugar
½ cup salted butter melted
Cheesecake Ingredients:
2 8-ounce packages cream cheese, softened
1 cup granulated sugar
¼ teaspoon salt
1½ tablespoons all-purpose flour
1 tablespoon vanilla extract
3 large eggs room temperature
½ cup sour cream
Pecan Topping Ingredients:
½ cup salted butter
⅔ cup light brown sugar
1 tablespoon light corn syrup
1 teaspoon vanilla extract
½ cup heavy cream
2 cups roughly chopped pecans
Instructions
Crust Instructions:
Cheesecake Layer Instructions:
Prepare the cheesecake filling by beating together the cream cheese and sugar until fully mixed and fluffy.

Divide the cheesecake filling between the muffin cups, leaving just about ¼-inch of space at the top of each cupcake liner.

Place muffin tins on a baking sheet with a rim. Set the baking sheet into the oven and fill the baking sheet with water to create a water bath for the cheesecakes.
Nutrition
Calories: 261kcal | Carbohydrates: 22g | Protein: 3g | Fat: 18g | Saturated Fat: 7g | Polyunsaturated Fat: 3g | Monounsaturated Fat: 7g | Trans Fat: 1g | Cholesterol: 50mg | Sodium: 153mg | Potassium: 85mg | Fiber: 1g | Sugar: 17g | Vitamin A: 377IU | Vitamin C: 1mg | Calcium: 31mg | Iron: 1mg