Along with the
skinny jeans pattern
I shared last week, I had been eyeing the Hailey Ruffled Up Jacket for quite awhile and I finally got to make it! My little one has been giving me such a hard time with her clothing lately, but she seems to really, really dig the jackets that I've made her. And she was all over the fabrics that I chose for this jacket.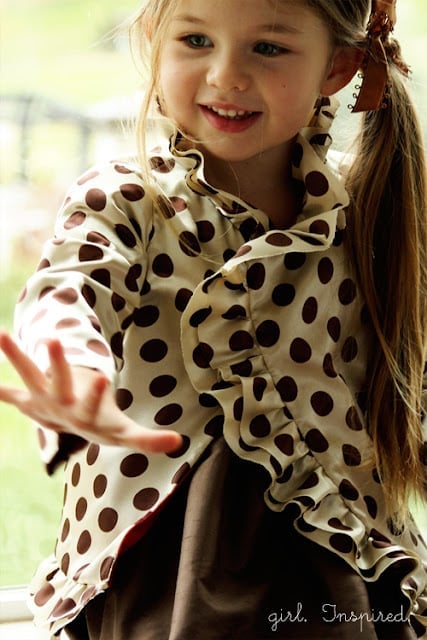 I used a silky synthetic for the outside of the jacket and a gorgeous Japanese cotton for the lining. Like all of Peekaboo's patterns that I've sewn, this one had clear, detailed instructions and the construction of the jacket came together smoothly.
The jacket is fully lined, which I just think adds a bit of fun and fancy to the design. In fact, with just a couple minor modifications to the pattern, you could have this jacket fully reversible! (And I realize you can't actually see the lining very well here, but between this strong-willed little girl and the terrible gloomy weather, we were lacking in the cooperation department).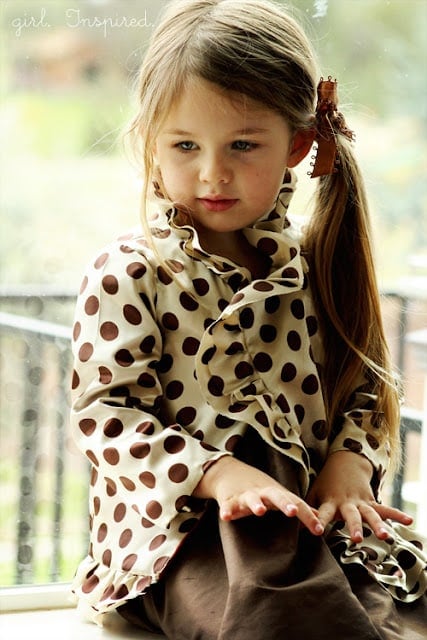 I especially loved the technique used for the ruffles on the jacket; they have just a tiny bit of fray and aren't overly bulky. The ruffle is small enough that it doesn't flop too much or brush up against the skin in an uncomfortable manner. It just stands up perfectly in a flattering curve around the neck and down to the hem. Love! When I sew this pattern again, I do need to be more careful about where the seams in the ruffle fall as I ended up with a seam right in the front under the chin – it's not so noticeable that I was willing to seam rip the whole jacket and do it over, but it does bug me. This was just a matter of me not paying attention to what I was doing.