A fluffy, glossy smooth frosting with an egg white base that holds its shape well and tastes like fluffy marshmallows!

This glossy white mountain frosting is a tried and true recipe from mom's recipe box, originally from Betty Crocker. It is a non-dairy icing that can be used to pipe gorgeous stiff peaks. This white frosting has no butter and is made from egg whites and sugar. It tastes like marshmallows and holds its shape wonderfully.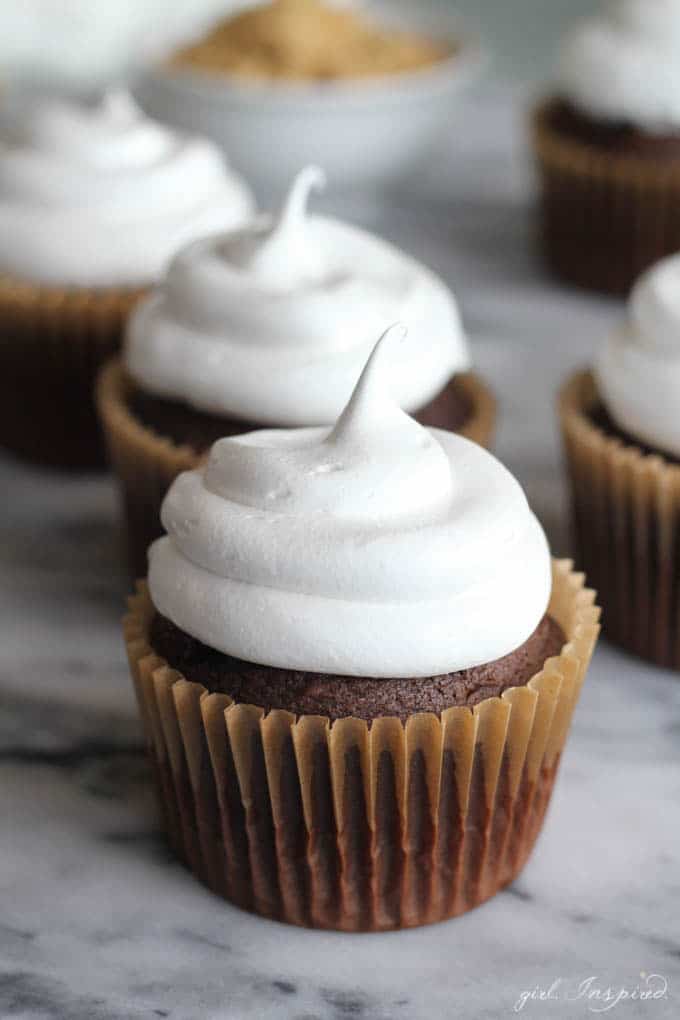 When it comes to whipping up frosting, it's always nice to have a few go-to recipes on hand that can be used for different decorating needs. You guys know how much I love buttercream, but today's frosting comes in handy when you need a gorgeous, glossy frosting and it's also perfect when you need a no-butter alternative. It holds its shape at room temperature for up to a couple days and has a light, meringue-marshmallow flavor.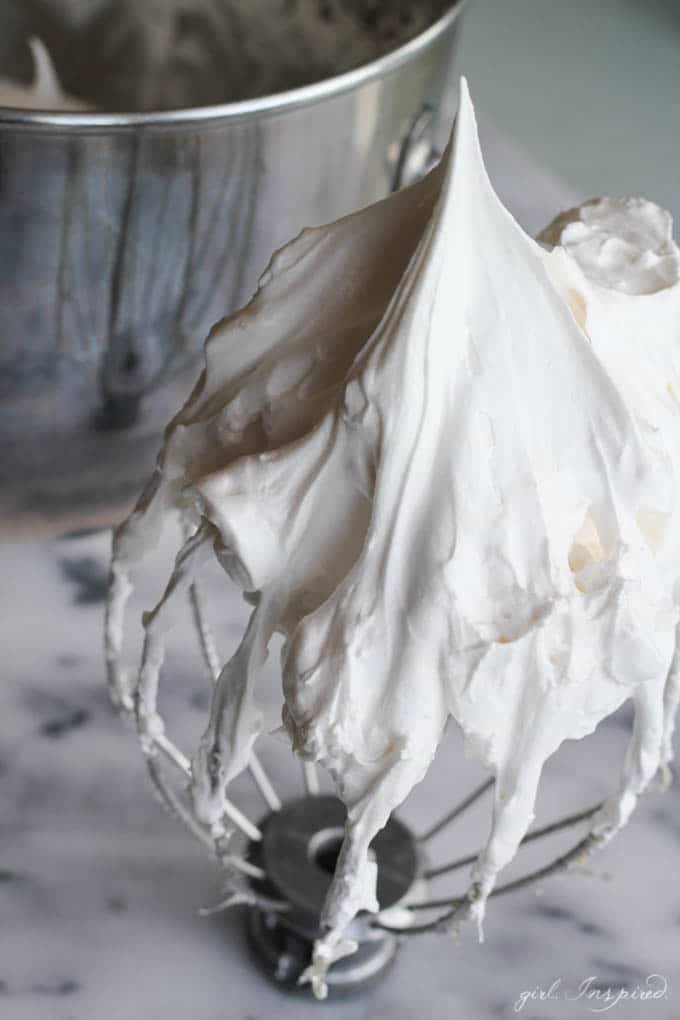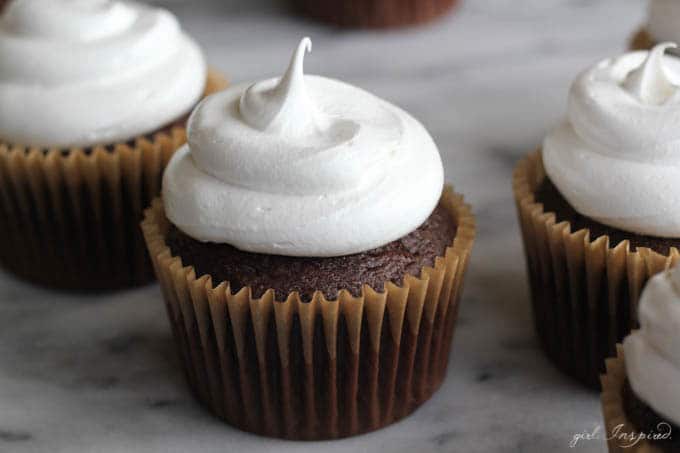 To make this meringue frosting, you'll beat egg whites into stiff peaks while simultaneously cooking a corn syrup/sugar mixture. By pouring the hot syrup into the whites while still beating, you get the fluffiest, frosting peaks!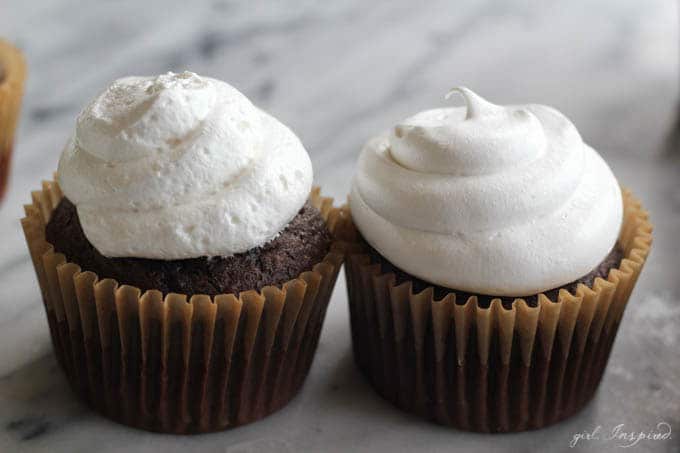 For simple cupcake decorating, I filled a piping bag with the frosting, clipped about a ¾″ opening in the end of the bag and made a simple swirl onto the cupcake – no piping tip needed! Because it took me some time between making the frosting and getting my cupcakes ready, the frosting didn't come out smooth and piped out with a lot of air pockets in it – as you can see on the left. No worries – I simply squeezed the bag of frosting back into my mixing bowl and whisked it up into a nice, glossy smooth frosting again. It piped out so much better – as you can see on the right. I've also used this frosting to cover cakes with some simple swoops of the spatula. It's easy and looks great because it's so glossy and will hold its shape forever!
White Mountain Frosting Recipe
Glossy White Mountain Frosting
A fluffy, glossy smooth frosting with an egg white base that holds its shape well and tastes like fluffy marshmallows!
Ingredients
2 egg whites at room temperature
½ cup granulated sugar
¼ cup light corn syrup
2 tablespoon water
1 teaspoon vanilla extract
Instructions
Begin by beating the egg whites in the bowl of a standing mixer using the whisk attachment until stiff peaks form. You can determine if the peaks are "stiff" by dipping the whisk into the mixture and pulling upward. If the egg whites hold their peak, they are ready. If they melt back into the bowl, whisk longer.

Meanwhile, in a small saucepan, heat the sugar, corn syrup, and water over medium heat. Stir well and cover with a lid until the mixture comes to a boil. Remove the lid and boil without stirring for about 5-7 minutes, or until the mixture reaches 242 degrees on a candy thermometer (firm ball).

With the mixer turned on to medium, begin pouring the hot sugar mixture into the egg whites in a slow stream.

Add the vanilla.

Continue beating for 10 minutes on medium speed or until stiff peaks form once again.

Spread over a 13x9 inch cake, frost and fill an 8-inch round cake, or pipe onto cupcakes.
Love how this frosting tastes like marshmallows? Well, it's also perfect for making some S'mores themed cupcakes!
Watch how easy this is! Crush some graham cracker crumbs – sprinkle onto piped White Mountain frosting!
Stick those cupcakes under the broiler (not too close and watch the peaks!) and watch them carefully to toast the frosting to a very light golden brown!
Wala! S'mores Cupcakes!!
Had I known how amazing they were going to look, I would've added some chocolate ganache to the middle of my cupcakes like my girls are always suggesting. (They're a tad obsessed with Cupcake Wars currently!)
Alrighty! Have fun! Can you tell we have a theme going on around here? Just wait – there's s'more!!