The blend between the caramel buttercream and the rich, coconut filling in these deluxe German Chocolate Cupcakes will make you swoon. They are SO good – if you like coconut, that is. My husband does not and it makes me sad because it's one of my favorite ingredients. Since he's not eating these cupcakes, I'm sharing them with you!
I've been kind of into filling cupcakes with something yummy lately. It's like a fun surprise between the crumbly cake and the fluffy frosting. In this case, the gooey center is a traditional German Chocolate Cake filling/frosting – made from egg yolks, butter, sugar, and coconut. But the caramel buttercream frosting added to the top leaves you with the whole package.
While I like to make decadent desserts and experiment with new flavors and recipes, it's nearly impossible to find the time to make everything from scratch. I use boxed cake mixes most of the time because they taste pretty darn good. Sometimes adding a few alternate ingredients can really dress up a cake, sometimes adding a homemade frosting is all that is needed to produce a delicious cake. And I should note that I always, always make frosting from scratch – that's the part I'd rather put my time into. Anyway…I used a boxed German chocolate cake mix for the basic cupcakes here. My mom makes a great German Chocolate cake from scratch, if you want to whip up the whole shebang.
For the filling, mix 2 egg yolks, ½ cup evaporated milk, ¾ cup granulated sugar, and ½ cup butter in a saucepan – cook over medium heat until the mixture thickens. Remove from heat and add 1 teaspoon vanilla extract and 1 cup sweetened coconut. Let cool. Scoop about a 1 teaspoon of cake out of the top of each cupcake (a grapefruit spoon works well for this). When the filling mixture has cooled, spoon it into the whole in the cupcake.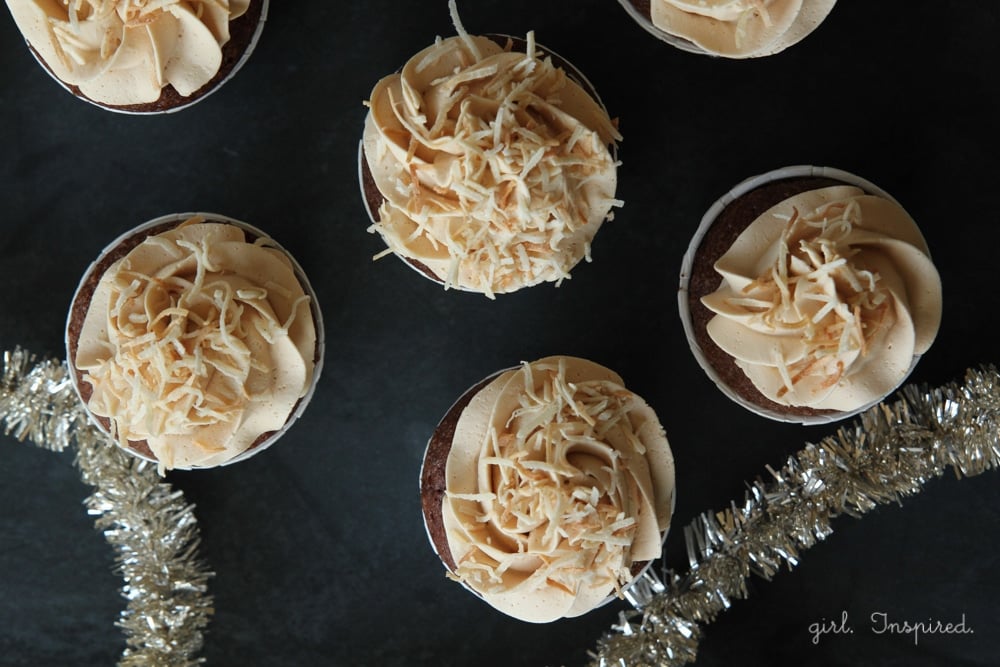 Finish the filled cupcakes with a piped swirl (use tip 1M) of Caramel Swiss Meringue Buttercream (to die for!!). Toast a little shredded coconut in the oven for 5 minutes or so, just until it starts to brown. Remove it from the oven and allow it to cool completely. Sprinkle cooled coconut over the top of the cupcakes – it looks fancy plus it gives people an idea of the flavors hiding within!
So tell me, do you like some filling in your cupcakes? Do you prefer to make the cake from scratch or the frosting or both…or neither?
Not into cupcakes (what??!?)? I have a really easy oilcloth gift card holder/coin purse sewing tutorial over at I Heart Naptime today – perfect for quick gifts!!