This fried cheese balls recipe is easy to make, only requires 3 simple ingredients, and are great party appetizers that are crispy and cheesy.
Deep-fried cheese balls are fried to a pretty golden brown, filled with gooey and melty cheese, and make great bite-sized snacks for school lunches or a perfect appetizer when you are looking for easy finger food recipes.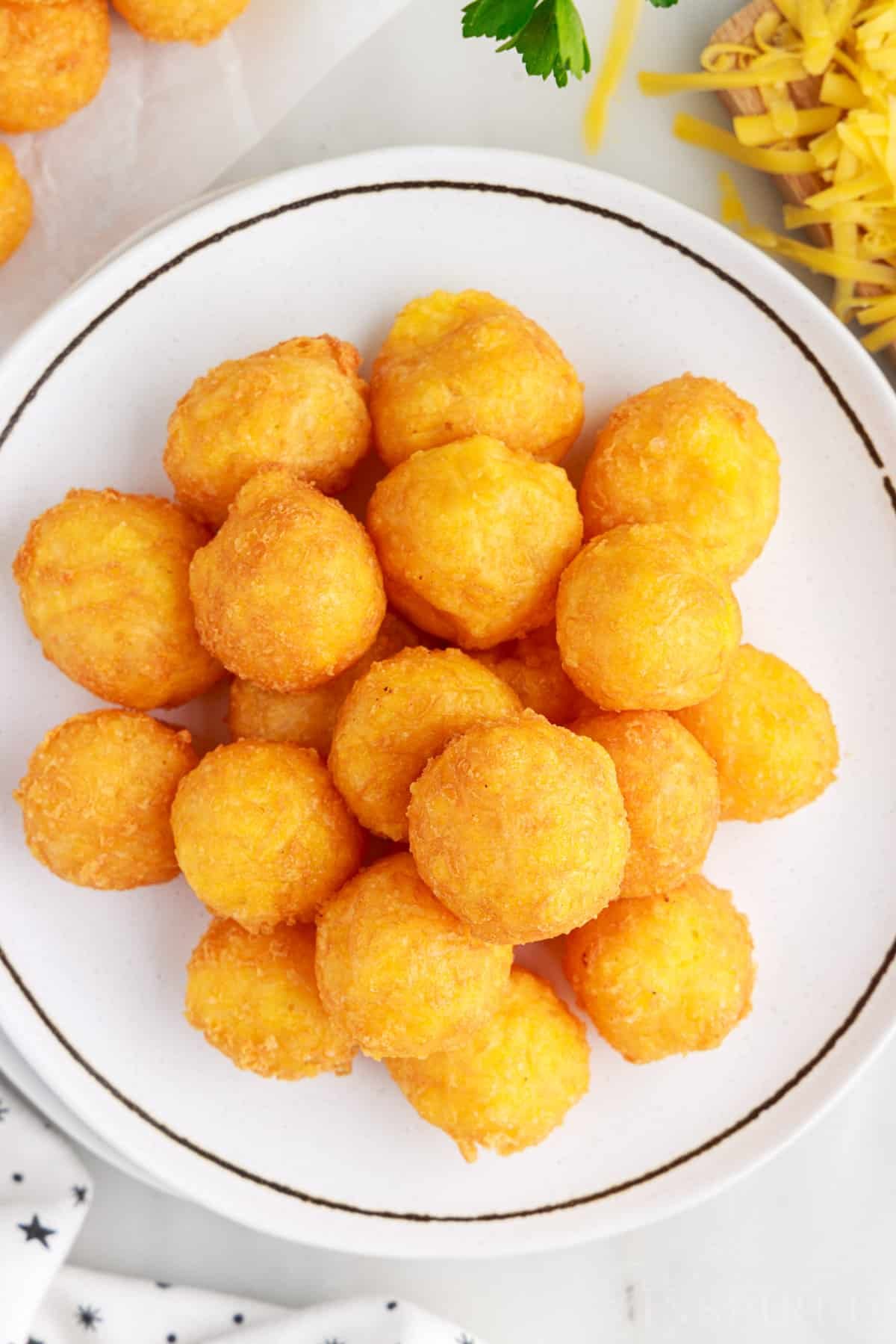 Compared to most deep-fried apps and snacks, cheese balls are some of the best! They are much easier to prep since we aren't using any breading like bread crumbs or flour. We will be using egg whites, but don't toss the yolks! Instead, make a half batch of stuffed ziti fritta.
If you like a good cheesy appetizer, you'll love bacon cheeseburger sliders, air fryer jalapeno poppers, and bacon wrapped mozzarella sticks. Any time we are hosting a game night, we always reference this big list of party appetizers. They are so delicious and there are so many to choose from.
What do I Need for this Recipe?
🧀 Ingredients:
egg whites – allow them to come to room temperature before using.
medium cheddar cheese – freshly shredded is the best.
Vegetable Oil – for frying
Optional Garnish:
The delicious cheese balls are perfect for dipping into tomato sauce or my easy marinara recipe.
Equipment Needed:
Mixer – an electric mixer is much easier to whip the egg whites compared to hand whisking.
Box grater – grating your own cheese is best because it melts better and doesn't have the coating that pre-shredded cheese does.
Large pot – we use a Dutch oven, but you can also use a fryer. If you have a large regular pot, that will work too. You just want to be able to add enough oil so while they are deep frying, you can stir them and they don't touch the bottom.
Variations and Substitutions:
Different kinds of cheese – any hard kind of cheese will work like Jack, pepper jack, and Gouda.
Spicy – add some red pepper flakes to the cheese mixture before chilling in the fridge.
Seasoning – if desired, throw in your favorite spices like garlic powder, onion powder, or ranch seasoning.
🔪 Instructions:
Step 1: Beat the egg whites in a large bowl using a mixer until you have stiff foam and they are white.
Step 2: Fold in the grated cheese until well-mixed.
Step 3: Use a cookie scoop to make the cheese bites into 1.5 tablespoon size balls and place them on a baking sheet.
Step 4: Chill for 30 minutes in the fridge.
Pro Tip: Be sure to use enough oil, or else the cheese will leak out and stick to the bottom of your pot/pan.
Step 5: While the cheese puffs are chilling, add at least 4 inches of oil to a Dutch oven or deep fryer. Heat oil over medium heat until it reaches 350 degrees.
Step 6: ​Roll the small balls between your palms, but not too tight. You want them to stay light and airy.
Step 7: Drop several into the oil at a time. Fry the cheese balls evenly on all sides until they are golden and crispy. Remove the balls from the oil using a slotted spoon and place them on a plate that is layered with paper towels to soak up the excess oil. Repeat for the next batch.
SERVE: Serve immediately with your favorite sauce.
Keep the oil temperature as even as possible maintaining between 350 and 375 degrees.
The egg whites make the cheese balls super light and airy.
Chilling the balls before frying gives them time to firm up so they hold their shape.
If they are not holding their shape when rolling them, add more cheese.
Soft cheese balls will fry up and taste delicious too, they are just more delicate and will deflate after cooking.
If the cheese balls deflate when you remove them from the oil, they need to cook a little longer.
Fun Fact
Did you know fried cheese has been around since the Medieval times?
Are fried cheese balls the same thing as cheese curds?
Fried cheese balls and cheese curds are not exactly the same thing, although they are similar in that they are both made of cheese and are fried.
Cheese curds are small chunks of cheese that have been separated from the whey during the cheesemaking process. They have a slightly rubbery texture and a mild, slightly salty flavor.
How to store this fried cheese balls recipe?
Keep leftover cheese balls in an airtight container in the refrigerator for up to 3 days. They can be reheated in the microwave or air fryer, except they won't be as gooey as they were when they were freshly fried.
More Easy Appetizers You'll Love
Fried Cheese Balls
This fried cheese balls recipe is easy to make, only requires 3 simple ingredients, and are great party appetizers that are crispy and cheesy.
Ingredients
2 large egg whites room temperature
5 ounces grated medium cheddar cheese about 1.25 cups
Vegetable Oil for frying
Instructions
With a standing or electric mixer, whisk or beat egg whites until stiff peaks form – egg whites will be white and form a stiff foam.

Fold grated cheese into the stiff egg whites until well mixed.

Use a cookie scoop (I used a 1 ½ tablespoon size) to scoop the "dough" into little mounds and place on a cookie sheet. Refrigerate for at least 30 minutes.

While the cheese balls are chilling, heat at least 4 inches of oil in a Dutch oven until it reaches 350°F. You will want to maintain the oil temperature between 350 and 375 degrees throughout cooking. The oil does take some time to heat.

Roll each mound of cheese "dough" gently to form a ball. You are not rolling them into tight balls; we want to maintain the light airy structure provided by the beaten egg whites.

Drop several cheese balls into the hot oil at a time – don't drop too many – if they touch each other, they will stick and will become misshapen.

Fry the cheese balls, turning it to help maintain a nice ball shape and to fry evenly on all sides to a golden crisp. Fry for about 1- 1 ½ minutes, turning in the oil constantly.

Use a slotted spoon to remove the fried cheese balls from the oil and place on a few layers of paper towel to absorb any excess oil.

Serve immediately.
Notes
Storage: Store in an airtight container in the refrigerator for 2-3 days. Fried cheese balls can be warmed in the microwave or an air fryer. They will still be tasty, but not quite as ooey-gooey as they are straight out of the frier. Notes: Keep the oil temperature as even as possible. Some people use a frying pan and just a couple of inches of oil, but I found it really helpful to have a deeper pot of oil so that I could roll the cheese balls around while they were cooking. If the oil is too shallow, the cheese may stick to the bottom of the pan. These taste so delicious. The egg white makes them ultra-light and airy and the cheese is just perfectly light and gooey. You can use any combination of hard cheeses. Jack, pepper jack and gouda would all be great. Refrigerating the mixture before rolling the balls really helps to firm the mixture up. If you have chilled the balls and they are not holding their shape when you roll them, you may need to add more cheese. Even soft cheese balls fry up and taste delicious, but they may deflate after cooking. They are softer and will puff into a beautiful round ball, but they tend to collapse a little more easily after cooking. If your cheese balls deflate when you take them out of the oil, they may need just a few more seconds of cooking. Look for a nice golden color all around.
Nutrition
Calories: 169kcal | Carbohydrates: 0.3g | Protein: 3g | Fat: 18g | Saturated Fat: 4g | Polyunsaturated Fat: 8g | Monounsaturated Fat: 4g | Trans Fat: 0.1g | Cholesterol: 9mg | Sodium: 68mg | Potassium: 14mg | Sugar: 0.1g | Vitamin A: 95IU | Calcium: 67mg | Iron: 0.02mg