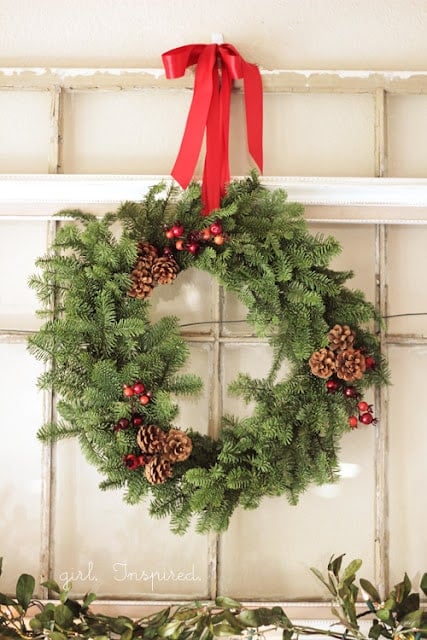 I finally tackled a project that I've been wanting to try for a couple years. Making my own evergreen wreath. Wreaths are just so beautiful and festive for the holiday season and I really like the freshness of an evergreen wreath over my mantle. Last year, I didn't have the time to try to figure out a wreath and I purchased a relatively inexpensive one from Costco. After Christmas, I examined the wreath frame and was able to disassemble it. I preserved the wire wreath frame and the pre-wired pinecone clusters and fake berries. Using the clippings off the bottom of our Christmas tree, I put together a fresh wreath for this year in no time (with a four-year-old helper, no less!) It's a cinch. Let's get started!!
This wreath form is really simple because you just pinch down the wires to hold your branches. You can also use a regular wire form and just wrap your branch clusters with wire. All of these materials are available at nearly any craft store. I used three sets of pinecones and berries and each pinecone cluster had three pinecones. My horticulturist mother taught me that plants always look good in groups of three – apparently, that applies even on wreaths! If you collect your pinecones from the yard, just wrap some wire around their centers to secure them in clusters and onto the wreath form.
With your gardening clippers, cut three small twigs off of your branches. Mine were about 6-9 inches long.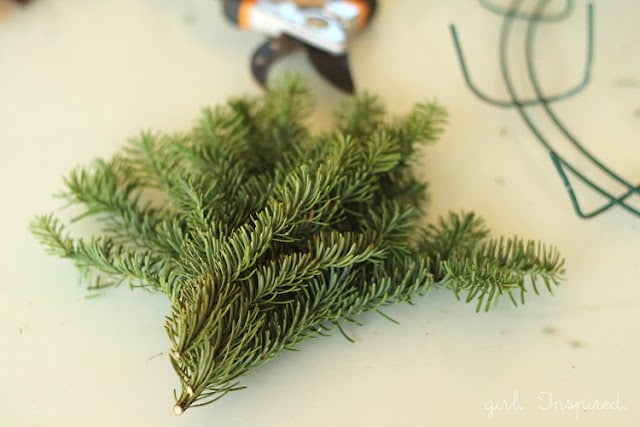 Stack your three twigs on top of one another, fluffiest at the bottom.
Place the bundle onto the wreath form with the base under the wreath "clip" and base pointed to the right. You're going to work in a counter-clockwise direction.
Bend down the wire "clips." If your wreath form doesn't have the clips, wrap wire here instead.
Gather another bundle of branches and place it into the next "clip" section on the wreath form. Make sure that the tops of your second bundle cover the base/wires of the first bundle. Continue adding evergreen bundles in a counter-clockwise direction.
If you are adding pinecone/berry decorative elements: Count the number of wire clips on your wreath form – I have twelve. Divide by the number of decorative groupings you have – I have three (I grouped one berry and one pinecone group for each decorative grouping. Okay, so twelve divided by three equals four – I'm going to add in a decorative group right with my evergreen bundle every fourth clip – the first grouping is shown above, clipped into the fourth wire "clip."
Continue around until you get to your last "clip." Simply lift the tops of your first bundle that are covering the final clip. Collect your last bundle of evergreens (and decorative elements) and slide them into that last clip. Lay the tops of your first bundle over the base of that last bundle and you're done!!
Hold up your wreath and make sure all the branches look even – add to any sparse spaces. Attach a ribbon or wire to hang the wreath and put that beauty up! You can easily adjust the fullness of the wreath by increasing the number of branches in each bundle.