How was your weekend? Ours was productive, but gloomy and rainy, which is not my favorite thing. I know we need the water and all, but I need the sunshine. So, I'm hoping we'll get a little sunshine today so that I can photograph this next collection of pretty things I've been working on.
Today, however, I am super excited to share with you another project I've been working on. A while back, I was given the opportunity to work with a brand new fabric line, Verona, designed by Emily Taylor for Riley Blake. Emily sent me a stack of fat quarters and told me to create anything I wanted.
Well….I couldn't choose between the beautiful prints, and so I created a patchwork dress for Miss Olivia. My absolute favorite part of this dress is the "ribbon" detailing on the seams of the patchwork skirt. I used one of Emily's prints and cut it into strips, which I pressed under to make vertical "ribbons." I think this detail just pulls the whole dress together.
Another fun detail is the row of bows down the center of the bodice. They remind me of ribbons on the end of kite strings.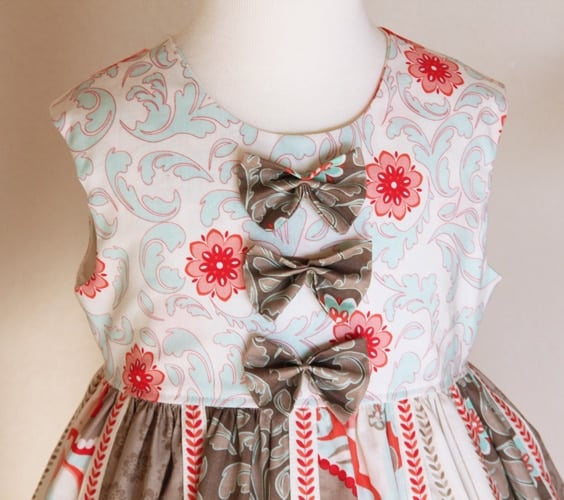 You can download the pattern for free on Emily's blog for a limited time. THEN….the pattern will be available for purchase! (Isn't that exciting?) So, run over and get the pattern quick! And check out all the goodies over at Emily's blog. I can't wait to hear what you think of "Olivia's Best Dress"!!