When I saw
Megan's
ruffle bumsie a little while back, I knew I had to pick up a package of white onesies and perfect my ruffling technique. I used her
tutorial
and serged each side of three 1.5-inch strips of fabric leftover from the aprons. On my sewing machine, I increased the stitch length and turned up the tension as far as it would go. I sewed straight up the center of each strip and it perfectly ruffled them. Then I pinned each strip onto the bottom area of the onesie and sewed them into place.
I wanted to embellish the front of the onesie, so I cut out the letter "A" (for Addie) from coordinating fabric that was printed with the alphabet. I used light weight Heat'n'Bond and ironed the letter onto the onesie using the package directions. Added a few rolled fabric flowers and two leaves to the bottom. Then I just used a regular stitch on the sewing machine and stitched around the edges of the "A" and the leaves, and over the top of the flowers.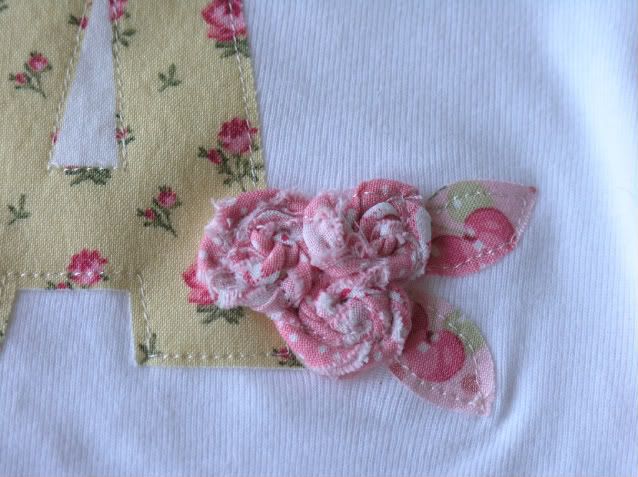 The whole project took about 2 hours, while watching TV and chit-chatting. I think Addie knew she was extra fancy in her onesie because she let me take a lot of pictures! That or she was happy that I was letting her suck on an eye drop bottle.
A couple notes:
1. On the next one, I may stretch the fabric on the bottom horizontally a bit while pinning the ruffles. When I put the onesie on Addie, I had to be cautious to make sure that the stitches didn't pop.
2. I will add at least two more rows of ruffles below the placement of these three on the next onesie. I love this one, but when she was crawling around, I thought it would be cute to have ruffles actually cover more of her bumsie.
3. I LOVE LOVE LOVE how the letter applique turned out. Now I want to order more of this fabric so that I can use it up and still have it.