I was really excited to sew up another dress from the Five & Ten Designs Volume 1 pattern book. This time, I chose "Look 5" which is a darling color block dress design by Delia Randall. I had this super cute fabric from Modern Yardage in these cooler-toned colors and they were just screaming modern to me. I think that Look 5 and these fabrics were just meant to be together.
About the dress pattern: as you know, in the Five & Ten Designs pattern book, we provide a single bodice block and then each of the ten designs provides instructions (and additional pattern pieces as needed) to alter the bodice block in order to create a unique garment. Look 5 teaches you how to create this rounded color-blocked piece on the sides of the dress – it gives the cutest shape to the dress and is so different! The instructions were easy to follow and I'm pretty happy with how my little dress turned out! However, I got pulled away from my project in the middle of cutting it out and I ended up cutting my front piece from the back pattern piece and my back pieces from the front pattern piece. So, I'm sewing away, completely finished the bodice and then realized my mistake. I didn't have enough fabric to re-do the whole bodice, so I was forced to improvise. I knew the front neckline was going to cut up into Addie's neck, so I decided to put a notch in the front as a quick solution.
I marked 1 inch to each side and down from the center front, drew a triangle, stitched along the triangle, and then cut the notch away with pinking shears. It turned out just fine and no one knows any different. (But please note that if you are making the same pattern, the back neckline will be higher and the front neckline will be rounded and lower.)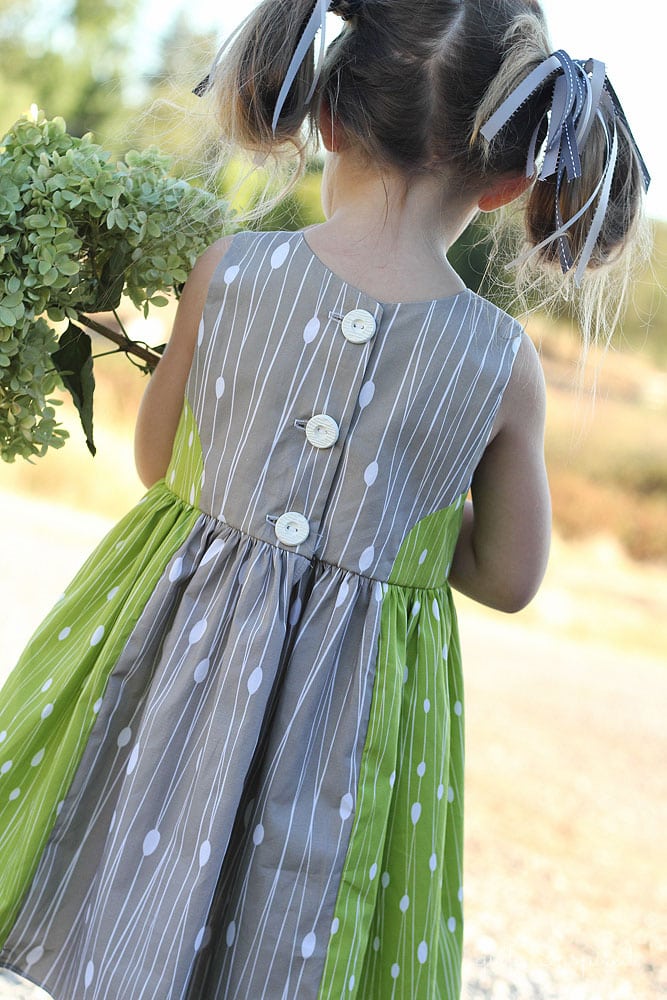 The dress pattern also calls for in-seam pockets that would have been a great addition. I skipped them because I had just cut and sewn the front as back and back as front and was a little frustrated and ready to move on. Do you ever have those days sewing where you make one silly mistake after the next? Hate that!
Now, onto the fabric. I was provided with the fabric for this project from the team over at Modern Yardage. They are a newer fabric manufacturer with whom I first became familiar at the SNAP conference back in the spring. The fabric from Modern Yardage is printed upon order – isn't that cool? No more wondering how much fabric to buy in case it goes out of print – Modern Yardage prints will ALWAYS be available!! Also, they use high-quality, PRE-SHRUNK, 100% cotton poplin. The fabric is supposed to be a little thicker than quilting cotton – the main difference I noticed was that it was a little slicker, a little crisper maybe. It ironed out really nicely, I LOVE that I didn't have to pre-wash it, and the colors are really vibrant. Actually, the colors are even more vibrant in person than they appear online. From the "Entangled by Heather Dutton" fabric line, I had chosen the colors in this dress (cobblestone and meadow) along with emerald and persimmon, but I didn't like all four colors together in person the way I did on my computer monitor. I would suggest that you order a fabric swatch (they sell individual fat quarter for just a few dollars) if you're trying to coordinate multiple fabrics or if you're going to place a larger order of a fabric. My main observation is that the colors for this particular fabric collection, "Entangled by Heather Dutton," were much more saturated than they appeared online. Another unique aspect of this fabric company is that they print the standard 44″ wide panel of fabric, but they print it on fabric that is 58″ wide. On the extra portion of the panel, they plan to print any number of things including: information about the designer, pattern pieces (cooool!!!!), craft ideas, or coupons! I think that's fun – something different in the industry, for sure!
Also, you get to choose the scale of the design on the fabric. If you look closely on this dress, you can see that the scale of pattern on the green side panels are smaller than the gray front and back sections. I think the change in scale works really well with a color-block design. I could see how it would also be helpful for other pattern-mixing projects. I think there are three sizes to choose from for every fabric that Modern Yardage sells.
Alrighty! I hope your Monday is off to a great start!