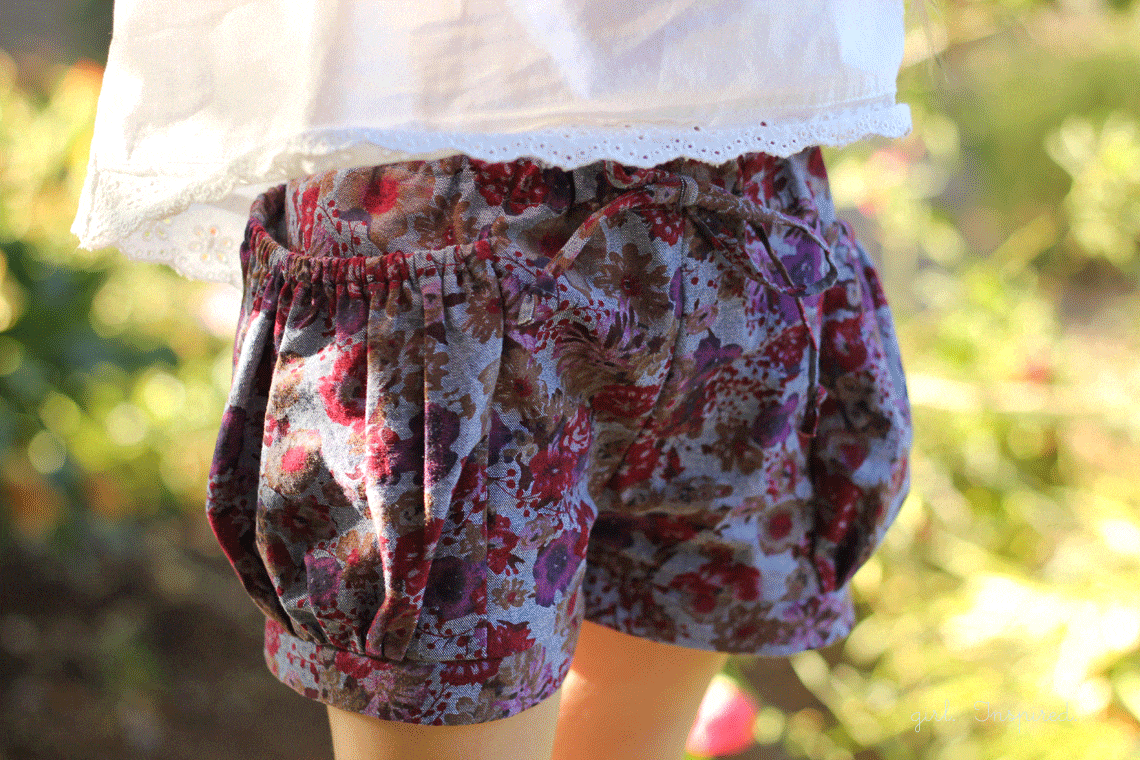 I am pretty darn excited to share today's project with you – these adorable little shorts that I made from the Elegance and Elephants Bubble Pocket Shorts pattern.
Heidi was so sweet to donate this pattern for me to use as part of the Shorts on the Line sewalong hosted by imagine gnats and small + friendly.
I made the shorts in a size ¾ and they fit Addie perfectly – she is falling right between sizes now, overlapping between a 3T and a 4T for most clothes. I made the shorts on a Saturday morning – the instructions were straightforward and the construction came together smoothly and quickly. I used a chambray for the main fabric, which I picked up last week on a quick trip to Stonemountain and Daughter in Berkeley. The fabric fits perfectly with this style of shorts and Addie agrees that they turned out super cute!! Don't you just love those fun, perfectly sized bubble pockets?
My favorite feature could be the contrasting band on the inside waist – I couldn't resist throwing black and white polka dots in there!
The pattern itself was simple to follow and very clear – I highly recommend it. You can create a very polished looking garment and the pattern provides all the instructions and tips you'll need to pull it off without a hitch.
Now…let's take a minute to admire my budding supermodel here. I pulled her out back at my mom's house just before dinner the other evening. Her hair was kind of stringy, wavy from playing in the pool all day and she was in a really good mood. If every photo shoot went this smoothly – well….I'd be out of wall space trying to frame every picture. I got a few of the goofy expression pictures, but mostly just the sweetest little face you've ever seen. Oh, I could just eat her up!
So, she's standing up on this little bench in the garden and the sunlight is filtering over the house behind her and into my lens for some yummy pictures (maybe not the best for seeing the shorts, but we already had those…) And then I ask Addie, if she were a supermodel, what would her signature pose be, so without skipping a beat, she gives me this pose….
and this…
Times like that – it's hard to stop taking pictures. I think the pretty, little shorts may have put her in just the mood to give me all the pictures I could handle. Thanks for humoring me with the showing off. Please check out all of the shorts that others are sharing throughout the Shorts on the Line series and as part of the sew-along. Here's the full schedule: