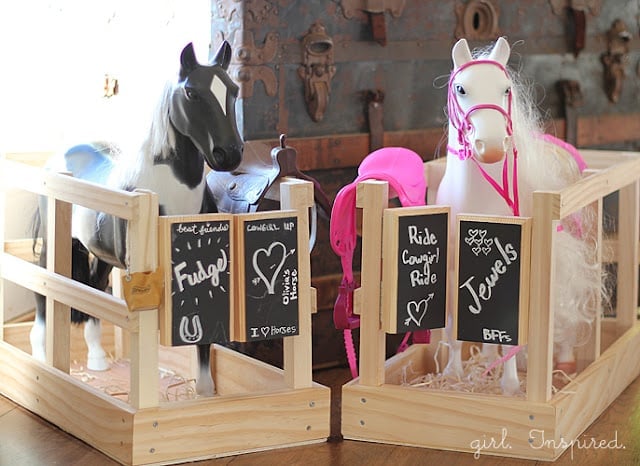 My girls Looooove their dolls and their Christmas lists this last year reflected that affection. We have a combination of American Girl and Our Generation (Target) brand dolls and accessories. Olivia and Grace, in particular, circled the entire American Girl catalog, with heavy pen marks around all the big ticket items: doll beds, doll cars, furniture, horse stable. Olivia wanted the horse stable most of all and I wanted to give it to her, but not for the big brand price tag. We decided to build one (and then we built another for Grace for her birthday.) Big Hit! I mean, BIG!
These horse stables feature a one-horse stall, a thin plywood base, wood slat siding, and swinging doors. My favorite feature? The chalkboard-front stall doors where the girls can doodle horse graffiti (my turn first, though!)
If you have a little doll and horse lover, you can build one of these stables, too! You will need the supplies pictured below, as well as a miter saw, wood glue, and screwdriver.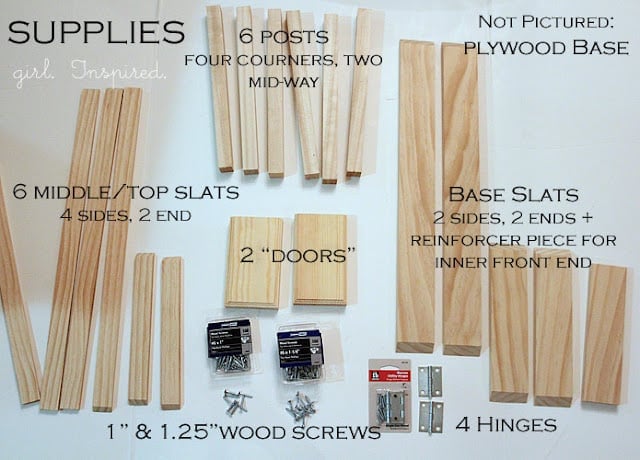 I think you can figure out how to put the stall together and you can certainly change up the design/size/materials to suit your preference. Our assembly approach was as follows: Attach base siding to corner posts, all four corners should meet at mitered points. Then, add two extra posts, midway between the corners on the long sides.
We added an extra base piece on the inside of the front base piece for reinforcement and aesthetics. Next, attach the top siding slats – we didn't miter these corners, they square up to one another in the back and set flush with the front – no siding slats in the front; the doors will go there.
Then the middle siding slats. Cut a piece of thin plywood to size and glue it with wood glue to the base of the stable. Finally, attach the hinges and doors and paint the front with chalkboard paint. We used small clamps to hold the pieces in place while screwing them together. Good luck!!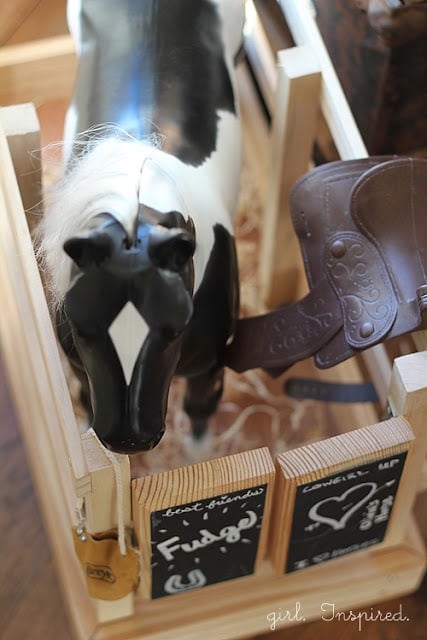 So, can you think of a little cowgirl that would love one of theses?