Nearly every weekend and sometimes on a good weekday, my husband makes German Oven Pancakes for the kiddos.  It's been a tradition in my house for many years and we use the recipe that my mom always used on holidays when I was growing up.
Since Graham took over breakfast duty a couple years ago, the kids have learned that he almost always says yes to a batch of oven pancakes and they remain a favorite.  Why does Graham make such a fancy breakfast so often?  Because they take less than five minutes to prepare and we can all get ready while they're cooking!  I've seen Oven Pancakes – or Dutch Babies, as many people call them – all over the place.  I'm sharing our family recipe with you today, not because it's unique, but because I posted a pic on Instagram a few weeks ago and got LOTS of requests!  I've been trying to document so many of our family recipes here on the blog, so I'm actually thrilled to include this favorite as well.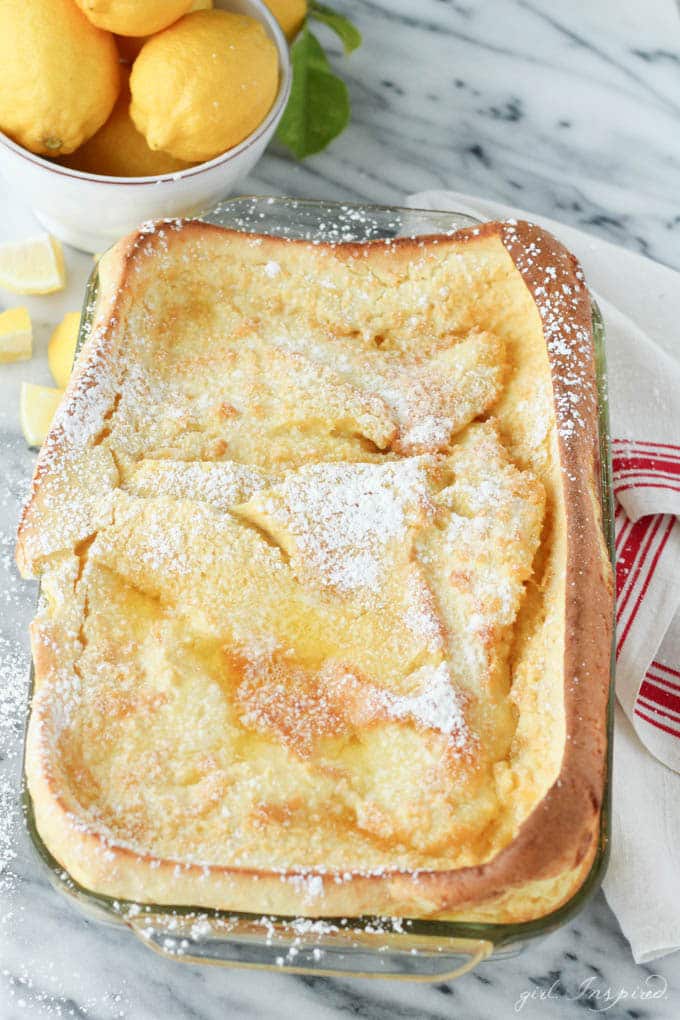 We make the batter in a blender, which makes the process SO simple.  Turn on the oven to 400 degrees and place a stick of butter (1/2 c.) in a 13 x 9 inch glass baking dish; place the pan with butter in the oven while it's heating.  Use real butter – you can reduce the amount if you're trying to cut back on calories, but the butter really is what makes these taste so darn incredible.  While the butter is melting in the oven, mix all the other ingredients together in a blender.  Once the butter has melted completely, pour the batter into the baking dish.  I was taught to pour the cold batter over a metal spoon into the pan so that the cold batter wouldn't crack the hot pan.  Wouldn't you know that my husband cut out that step and we haven't had a dish break yet, so…do as you like.
The pancake cooks up so gorgeous – with big, puffy golden brown edges and buttery crispiness across the top.  It takes about 30 minutes to bake – you'll know it's done when the edges are puffy and deep, golden brown.  Unfortunately, the pancake falls some within a few minutes of removing it from the oven, but it still looks cool! We douse ours with a bunch of lemon and powdered sugar.  Berries are good, too!
GERMAN OVEN PANCAKES Print this Recipe!
INGREDIENTS:
2 cups milk
4 eggs
1 teaspoon vanilla extract
1 1/3 cups all-purpose flour
4 Tablespoons granulated sugar
1/2 cup butter (melt in pan per instructions; do not blend with other ingredients)
1 lemon and powdered sugar (for garnish)
INSTRUCTIONS:
Place 1/2 cup butter in a 9×13 heavy glass baking dish.
Set baking dish (with butter) in the oven and preheat to 400 degrees.
In a blender, combine milk, eggs, vanilla, flour, and granulated sugar.
When the butter is completely melted (before it browns or burns, though!), pour the batter over a metal spoon into the baking dish.
Cook 20-30 minutes or until the pancake is set in the middle and the edges are very puffy and golden brown.
Remove from oven. Squeeze the juice of one lemon over the top and dust generously with powdered sugar.
Serve immediately!
Happy eating!!
Do you love comfortable, stylish clothes and a fun, friendly community of women with similar passions?  Join our VIP Facebook group here:
You might also love:
This super EASY Chocolate Kahlua Cake – it's rich and moist and one of the simplest recipes to make!
This Cheesy Egg Bake serves a lot of people and is full of flavor!