I've tackled a little more sewing for myself and I have to say, it is pretty darn exhilarating. This time, I got to jump on board for The Seafarer Top Pattern Tour. As soon as Abby at Sew Much Ado started flashing pictures of her latest pattern on Instagram, I wanted to try the pattern.
The Seafarer Top is a really, really quick sew. It only required two pattern pieces for the front and back and then the neckband, armbands, and waistband can be cut with the rotary cutter using provided measurements (there are pattern pieces for those if you prefer). The entire top can be sewn on the serger. For this top, I did not use the waistband and sewed the hem with a zigzag stitch, but otherwise did it all really fast on the serger. Instructions are provided for either method, so you don't need a serger – it just makes it even easier.
The top is super comfy. There are simple instructions for altering the pattern pieces for between sizes, which I put to good use. My top is smaller than my hips and I really wanted to take advantage of the long waistline of the pattern – I ended up adjusting the pattern pieces to a smaller size on top and larger size on bottom so that the fit isn't too baggy on top, but comfortably extends down over my hips.
I LOVE this finished top. Can't wait to sew it again. There are some really fun options in the pattern that I'm looking forward to incorporating. I'm also looking forward to seeing what some of the other ladies on the pattern tour do with their Seafarer Top! If you'd like to follow along the tour, here's the schedule!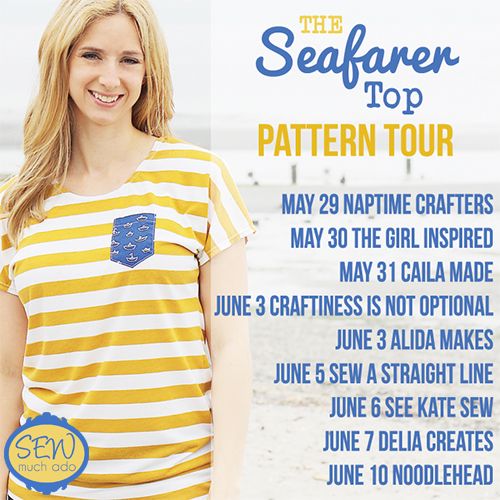 Aqua chevron knit used for this project was purchased from Girl Charlee!