If there's one thing my whole family can agree on, it's that we love candy! For me, the focus is on chocolate – and especially chocolate with stuff in it. What I don't love is making treats that produce so many dishes, the whole kitchen ends up in disarray and the treats are gone before the dishes are done! So I did a little experimenting and I came up with what is possibly the easiest, mess-free treat – S'mores Bark! Wait till you see how super easy it is to make!
Basically, the only cookware you'll need is an 8.5 x 11 baking dish and a sheet of parchment paper. Throw a 12 oz bag of chocolate (I used real chocolate pieces, but you can also use candy melts) and a 12 oz. bag of white melting chocolates/candy (Wilton even makes a marshmallow flavor!!) into your baking pan lined with parchment paper. Toss in a cup of nuts, too, if you like the added crunch (I always like crunch!!)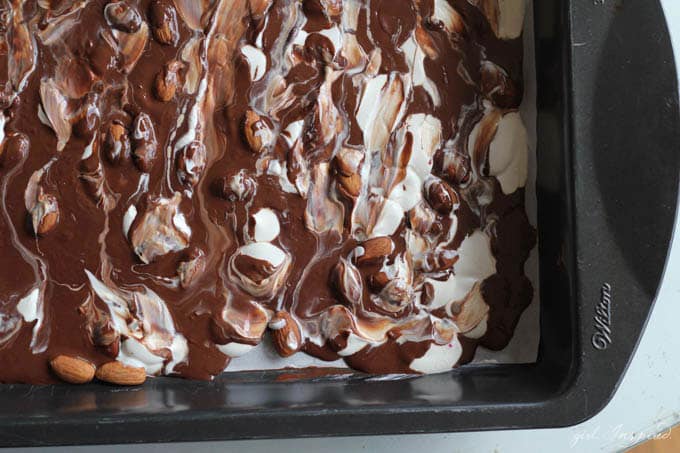 Next, pop the pan into the oven and turn it on to 350 degrees. No preheating required! After about 5-7 minutes, check the chocolates. They won't be fully melted, but they will be very soft all the way through and melty around the outside. Done! Pull the pan out of the oven and use a spoon or knife to swirl the candy together into a big melted puddle.
Sprinkle the warm chocolate with graham cracker pieces and mini marshmallows and place the pan in the refrigerator for at least 30 minutes.
When the bark has hardened completely, lift the whole sheet out of the pan by the corners of the parchment paper. Peel the paper from the bottom and break the bark into chunks! That's it! If you covered your pan well with the parchment paper, you may not even need to wash the pan!! Don't you love that?
I'm going to go with pretty awesome treat here!! I hope you love how easy this is! My girls were all kinds of crazy over this one! Have fun!
More from our S'mores Themed Campout!