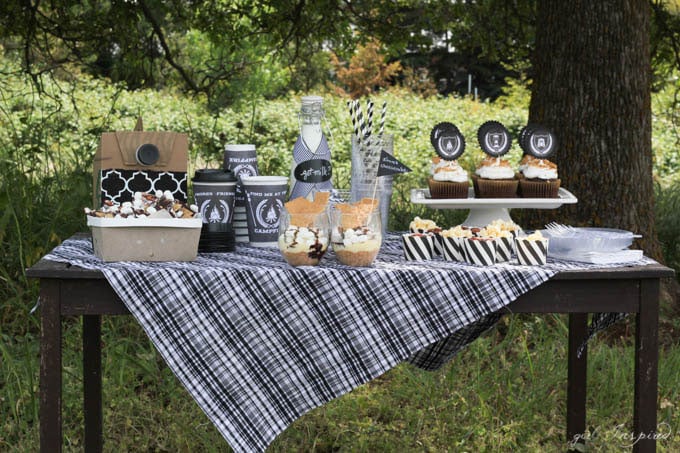 It's time to start thinking about summer and the outdoor festivities that come with my favorite time of year! One thing that our family enjoys, and I'm sure you'd agree, is the thrill of roasting marshmallows on a warm summer evening or making s'mores around the campfire. I have been wanting to organize a S'Mores Party for a long time, and with the help of Chinet®, I was finally able to do so! You may remember the Garden and Seed Exchange party and the Bunny Breakfast that we did last year. I continue to have a strong appreciation for Chinet® Cut Crystal® disposable tableware – it looks clean and classy, while also offering flexibility and reassurance, particularly when it comes to outdoor events! I like to supplement the disposable tableware with a few glass display pieces and some decorative accents for a cohesive and elegant overall look. Today, I'm sharing all the details of our S'mores Party, along with links to recipes and free printables. Plus, at the end of the post, you'll have an opportunity to win a great gift pack along with a gift card to throw your own summer event!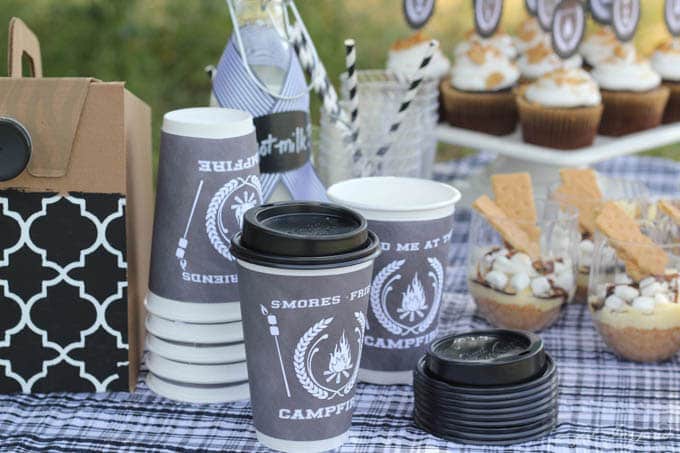 My jumping off point for this party came from the new-to-me Comfort Cup® by Chinet® Insulated Hot Cups – I created printable sleeves to fit a s'mores and campfire theme and the party developed from there! Love me a hot cup and they're disposable too for easy cleanup!! You'll be able to download and print the sleeves at the bottom of the post.
These jumbo S'mores Cupcakes make a great impact on the dessert table. With brown paper liners, toasted meringue frosting, graham cracker crumbs, and themed toppers, they are a total standout!
I dressed up the drinks by wrapping a ribbon sash around a glass bottle of milk and adding a chalkboard sticker label to the front. Stripey straws and clear, swirled glasses absolutely complete the look! I will say again how much I appreciate that Chinet® Cut Crystal® tableware is all coordinated and the clear "glassware" matches any theme – I really like every last thing to blend cohesively!
Nuts and popcorn in sweet little cupcake liners I snagged in Paris. So cute!
S'mores bark
keeps people happy. It adds dimension to the table and makes snacking easy for those less inclined to roast up their marshmallows and bite into sticky s'mores!
In addition to my excitement over the hot cups, I was also pleasantly surprised that the Chinet® Cut Crystal® line now includes stemless wine glasses! Having a good appreciation for drinking a nice glass of wine from a wine glass, I'm glad I no longer have to choose between a plastic cup and breakable wine glass. And what's more – these glasses make excellent parfait cups!! I used them for some easy
S'mores Cheesecake Parfaits
and they turned out just right!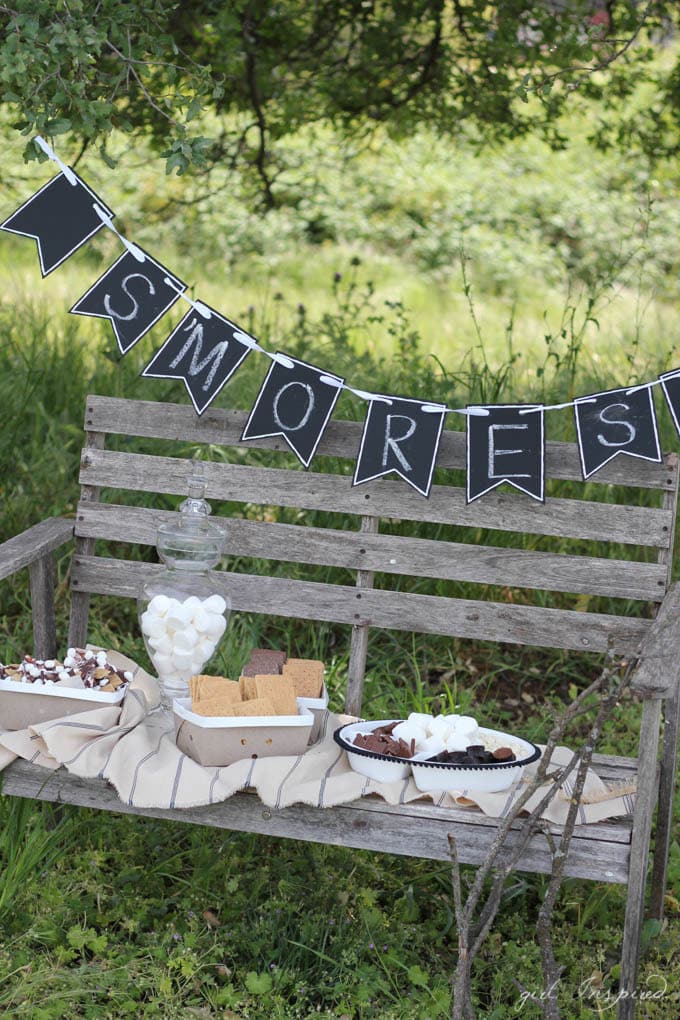 Now, let's talk about the s'mores station!! I am totally crushing on the new Chinet® Classic White® Chip & Dip party tray because it's also perfect for all your s'mores fixins!!! We have peanut butter cups, chocolate bars, marshmallows, heath bars, and white chocolate chips. Stuff the candy into the middle of your marshmallow before roasting or simply pop it between your graham crackers when you're smooshing your toasty sandwich together! This plastic tray is nice and sturdy and classic white – I hot glued on a little black pom pom trim to fancy it up. Frankly, I'd like to keep this on my table year round!
All the kinds of graham crackers in nifty little boxes were set out, too. I can't emphasize enough how much kiddos like choices!
If you would like to throw a S'mores Party of your own, I have included links to the recipes and free printables below:
S'mores Cheesecake Parfait Recipe – assemble using Chinet® Cut Crystal® stemless wine glasses
S'mores Cupcakes Recipe and Cupcake Topper printable
S'mores * Friends * Campfire Hot Cup Printable Sleeve – print onto card stock, cut out, tape at tab and slip onto hot cup (add a dab of glue between cup and sleeve to secure) fits Comfort Cup® by Chinet® Insulated Hot Cups
Meet Me 'Round the Campfire Hot Cup Printable Sleeve – (same instructions and product listed above)
Putting this party together was such a thrill! It's fun to create a celebration just for the sake of getting together with family and friends! I love combining a few specialty items with stylish, convenient disposable tableware to make party planning easier and outdoor entertaining more feasible.
More from our S'mores Themed Campout!