Panda Express fried rice tastes exactly like the real thing! The rice is fried to perfection, the eggs are fluffy, and it's filled with traditional flavors.
This copycat Panda Express fried rice recipe is an easy side dish that goes great with Asian-inspired meals and is ready in just 35 minutes, is restaurant quality and only calls for a handful of ingredients. The homemade version is perfect when you don't want to leave the house or just want to experiment with a copycat recipe.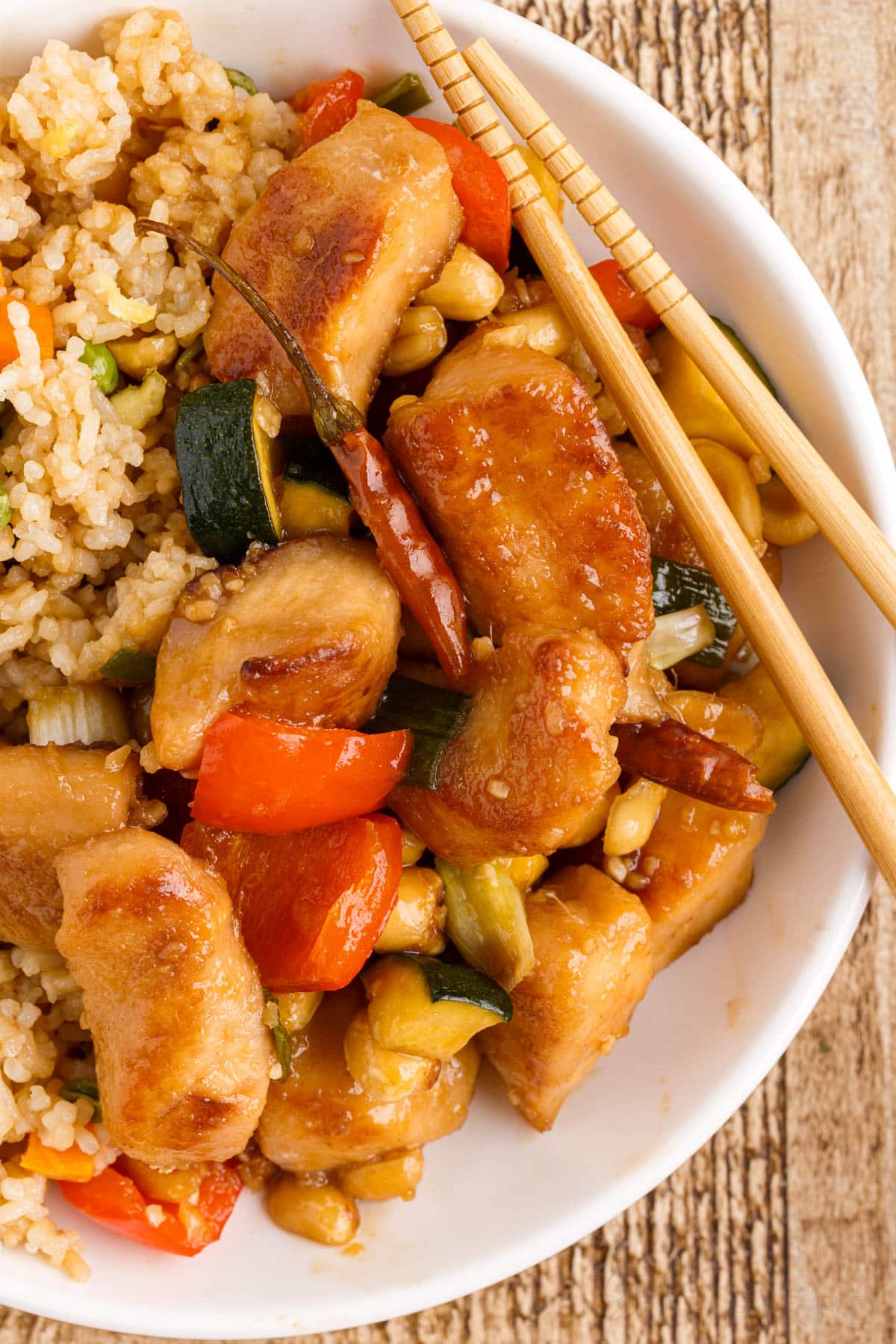 A while back I recreated Panda Express' mushroom chicken and kung pao chicken recipe, but always knew something was missing. What was it? Fried rice! It's the perfect recipe to make a full-on copycat meal and such an easy dinner recipe. You can easily turn this into a main dish by adding protein. Be sure to check out our recommendations below.
Serve this popular side dish with orange chicken, General Tso's chicken, or Instant Pot Teriyaki Chicken. Another side we can't get enough of is Chinese buffet green beans. They seriously taste just like the restaurant.
What do I Need for this Recipe?
🍚 Ingredients:
butter – we are using salted. If you use unsalted butter you may want to add a little salt at the end before serving.
eggs – we are going to scramble these just like the Chinese restaurants do!
oil – we used vegetable oil.
rice – long grain rice works well for this Panda Express recipe.
green peas and carrots – we like to use frozen so the veggies don't get soggy.
regular soy sauce – any variety will work, including low-sodium soy sauce.
sesame oil – don't skip this ingredient, it adds the signature flavor you love in Asian foods.
Optional Garnish:
Garnish Panda Express copycat fried rice with sliced green onions, sesame seeds, and black pepper.
Equipment Needed:
Large wok or skillet – a wok is meant for stir-frying and can handle the temperature of high heat really well. Plus, the tall sides allow you to stir the ingredients without them spilling out. However, you can use a large skillet as well and get the same results.
Variations and Substitutions:
Type of Rice: Any long-grain rice will work for this recipe, including white rice and jasmine rice. We do not recommend using brown rice, as the texture is not the same and it doesn't taste like Panda Express.
Leftover rice: Since the cooked rice must be cooled, feel free to use leftovers if you have them.
Make ahead: Use this pressure cooker jasmine rice recipe to make it a day or two before. Then follow the remaining instructions.
Veggies: Some like to add frozen corn and green beans to fried rice recipes.
Protein: Make a complete meal by adding cooked chicken, pork, or shrimp directly to the rice.
Vegan option: Omit the eggs (or use a substitute) and go with vegan butter instead of regular.
Coconut aminos: use in place of the soy sauce if desired.
🔪 Instructions:
PREP: Melt the butter over low heat in a large pan or wok.
Step 1: Beat the eggs in a small bowl, then add to the skillet. Cook over medium-low heat. Remove the scrambled eggs and set aside.
Step 2: Over medium-high heat, add the oil. Then add in the cold rice and veggies. Sautee for 1-2 minutes.
Step 3: Mix the soy sauce and sesame oil in a small bowl, then pour over the rice mixture.
Step 4: Fry the rice for 8-10 minutes. Then add the eggs back to the skillet and heat until warm.
Pro Tip: You'll want to use cold rice because, during the "frying" process, warm, fresh rice will become mushy.
SERVE: Garnish with onions and serve.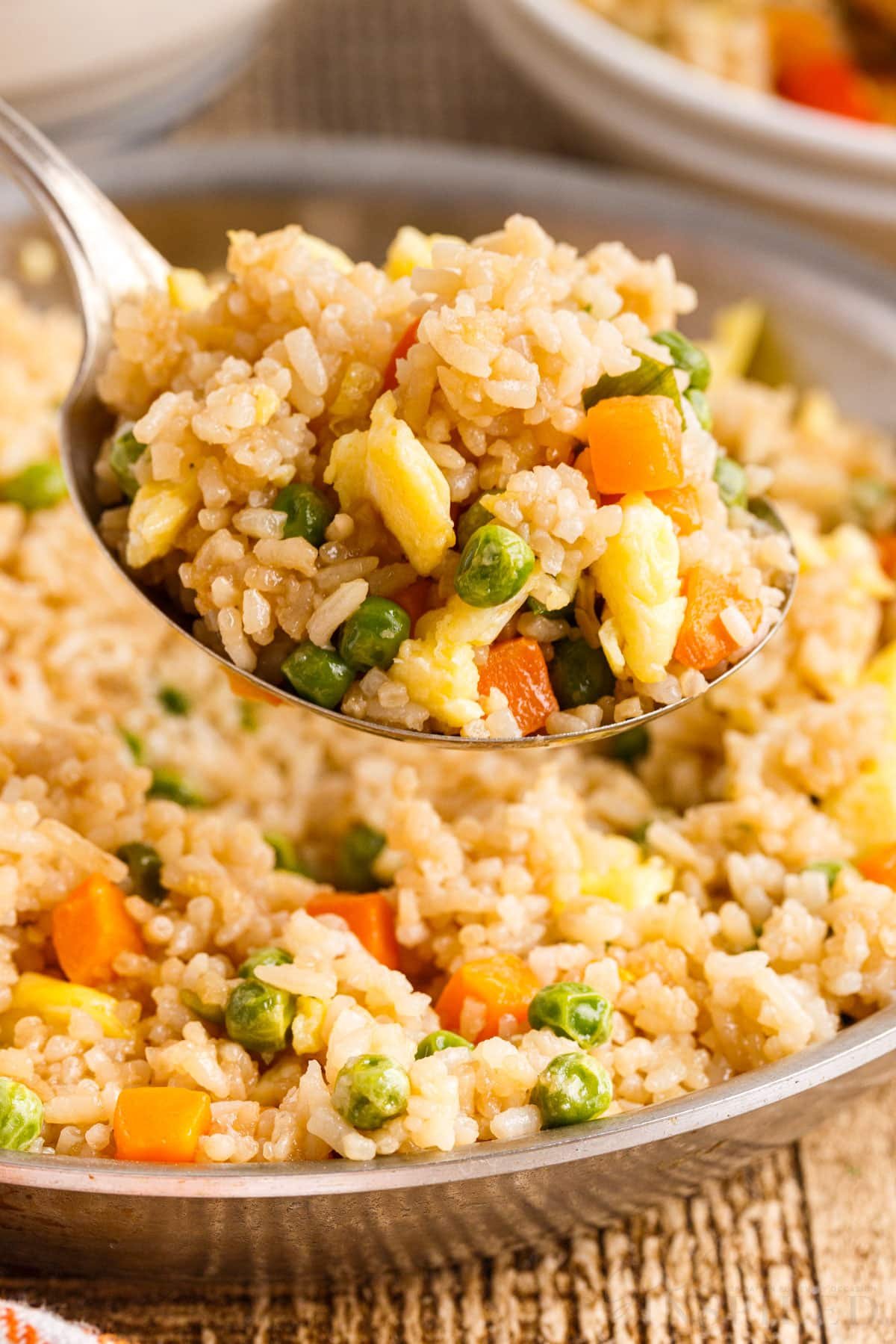 Before cooking the rice, rinse it well. This removes the starch making it less sticky.
Add more flavor to the rice by cooking it in chicken or veggie stock.
The rice should be completely cooled before placing it in the pan.
Avoid scrambling the eggs over high heat. This makes them dry, tough, and rubbery.
​Clean the pan to make sure all of the eggs are removed before adding the oil.
For the best results, toss the rice initially in the oil, then give it a few minutes in between stirs so it gets a little bit crispy.
Fun Fact
The fried rice was actually invented as a way to use up leftovers so they wouldn't be wasted.
What's the difference between short and long-grain rice?
Long-grain rice has a slender, narrow shape and tends to stay separate and fluffy when cooked. It is typically drier than short-grain rice and has a slightly chewy texture. Long-grain rice varieties include basmati, jasmine, and Carolina rice.

On the other hand, short-grain rice is plump and almost round in shape. It has a higher starch content than long-grain rice, which makes it sticky and creamy when cooked. It is often used in sushi and other dishes that require the rice to be sticky. Some popular short-grain rice varieties include sushi rice and Arborio rice.
How to store leftover fried rice?
Keep leftovers in an airtight container in the refrigerator for 4-5 days. We do not recommend freezing.
What is the secret to great fried rice?
Rinsing the rice before cooking, using cold/cooled rice, and making sure you use the correct kind of rice.
More Delicious Asian-Inspired Recipes
Panda Express Fried Rice
Panda Express fried rice tastes exactly like the real thing! The rice is fried to perfection, the eggs are fluffy, and it's filled with traditional flavors.
Cups
Ingredients
1 tablespoon salted butter
2 large eggs
1 tablespoon vegetable oil
4 cups cooked long-grain rice cooled
1 ½ cups frozen peas and carrots
3 tablespoons soy sauce
1 teaspoon sesame oil
3 green onions sliced, for garnish
Instructions
Melt butter in large skillet or wok over low heat.

In a small bowl, beat eggs. Add the beaten eggs to the skillet and cook over medium-low heat, breaking them up with a spatula, until cooked through. Remove scrambled eggs to a plate and set aside.

Heat vegetable oil in the skillet over medium-high heat.

Add rice and vegetables, sauteeing for 1-2 minutes to combine ingredients.

Combine the soy sauce and sesame oil together and pour over rice mixture in the pan.

Continue to "fry" the rice for 8-10 minutes more. Add the scrambled eggs back into skillet and heat through.

Serve hot, garnished with green onions.
Notes
Storage: Store in an airtight container in the refrigerator for 4-5 days. Notes: Rinse the rice well before cooking it. You can cook the rice in water or add a little more flavor by cooking it in vegetable or chicken stock. Rice should be cooled completely before making this recipe. Scrambled eggs are best when cooked "slow and low". If you cook them on high heat, they will fry up super fast, but they will be overcooked and taste tough and rubbery. If you'd like to cook them without butter, you can simply use a non-stick pan, a bit of nonstick cooking spray, or even a little vegetable oil. Remove all remnants of the eggs from the pan before frying up the rice. Heat the oil until it shimmers before adding in the rice. Toss the rice initially to spread the oil throughout the rice, but then give it a few minutes between stirs to get some good heat at the bottom of the pan and "fry."
Nutrition
Calories: 272kcal | Carbohydrates: 42g | Protein: 8g | Fat: 8g | Saturated Fat: 3g | Polyunsaturated Fat: 3g | Monounsaturated Fat: 2g | Trans Fat: 0.1g | Cholesterol: 71mg | Sodium: 682mg | Potassium: 193mg | Fiber: 2g | Sugar: 0.5g | Vitamin A: 4226IU | Vitamin C: 6mg | Calcium: 42mg | Iron: 1mg